The Best 3 Deodorants For Summer 2015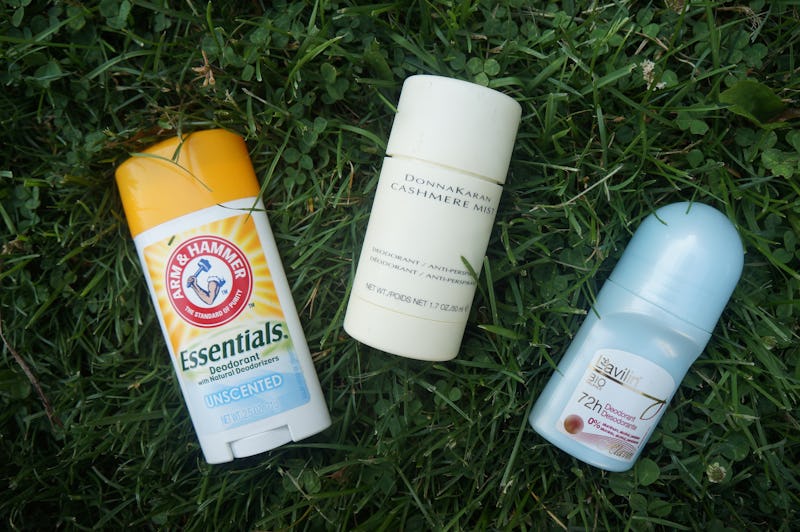 There's a lot of great things to love about summer: an excuse to shop for cute sandals and swimsuits, catching up on your reading list on the beach, and finally being able to enjoy as much iced coffee as you want without anyone judging you. However, the heat and humidity of summer can be a struggle at times, especially if you tend to be on the sweatier side, so finding the best deodorant early is key. There's nothing worse than traveling through the early morning heat to work, realizing your cardigan or blouse is much too heavy for the office temperature, then trekking out to happy hour — only to be all too aware of your deodorant failing you the entire time. So if you haven't yet found a reliable deodorant for the summer, it's time to act now before you find yourself in a public restroom trying to freshen up your pits with hand sanitizer and paper towels.
Here are three of my all-time favorite deodorants at three different price points: totally affordable, a little on the pricey side, and "you paid HOW MUCH for deodorant?" expensive. They're each awesome in their own way, so I keep these three deodorants around at all times to meet my various needs. Read on to find out why you need to try these deodorants if you haven't already.
Arm & Hammer Essentials Deodorant (2-pack), $8, Amazon
This has always been my go-to budget option for deodorant, but you know it's good because I continue to buy it even after trying (and liking) higher-end options. It contains no aluminum or parabens, so it's a great choice for those who prefer natural beauty products. A potent blend of baking soda and natural plant extracts work together to effectively fight odor. I've tried both varieties, Fresh Scent and Unscented, and I like both. Even if you prefer a fragrance-free deodorant, the Unscented version does have a slight, fresh scent to it (probably thanks to the natural ingredients like chamomile flower oil and orange peel oil). I like the smell of both varieties immensely, but if you're sensitive to fragrance, don't worry. Once it's on, it's barely noticeable and won't interfere with perfume.
As for its effectiveness, it works to keep me smelling fresh all day. You might experience some sweatiness because it's not an anti-perspirant, but I've never experienced serious sweat stains on clothes when wearing this. Plus, for $8, you can pick up two and keep one in your desk at the office or in your everyday bag for emergencies. I also love it for the gym, since it lets me sweat without any strong added fragrance or my own natural odors bothering everyone around me.
Lavillin 72-Hour Roll-On Deodorant, $16, Amazon
This is another great natural option if you're willing to spend more. It contains zero aluminum, alcohol, or parabens, although it does contain fragrance. I've tried both the roll-on and the cream variety of this deodorant, but I vastly prefer the roll-on just because of convenience (I found the cream too messy). This is fast and easy to apply, with no white or sticky residue left behind on skin or clothes. It does have a rather strong fragrance that, while clean and sweet, might be too much if you're sensitive to scents. If that's the case, then you'll want to try the cream version, which has a much lighter fragrance.
I don't know if this genuinely does stop odor for 72 hours without reapplication for me personally (although I've heard that it has for some people) but it definitely does keep me smelling fresh all day. This option won't stop you from sweating either, but if sweatiness isn't a huge problem for you and you want to avoid certain ingredients, then this is a great option. I wouldn't wear it to work out because the scent would probably give me a headache, but it's reliable for work or even a short trip.
Donna Karan Cashmere Mist Deodorant, $26, Nordstrom
I'm surprised that I ever tried this deodorant because I usually stay away from aluminum-containing anti-perspirants (just to be on the safe side), and of course because of the price. After a fellow beauty writer wrote a raving review of it, however, I had to at least try it. I popped into Ulta and gave the deodorant a sniff. With notes of orchid, lily, jasmine, and sandalwood, it smelled amazing and I was immediately sold.
Happily, it turned out to be worth the price because not only is it completely effective at keeping both sweat and odor at bay all day, but it also lasts for ages. You'd think the fragrance would interfere with perfume, but that hasn't been the case for me; it sticks pretty close to the skin. This is what I wear when I want to be sweat-free and smell amazing, even up-close (i.e. on dates). Something about this perfume just makes me feel very grown-up when I wear it, and that alone makes it worth the price.
Images: Kelly Dougher