How To Turn Your Rooftop Into A Summer Oasis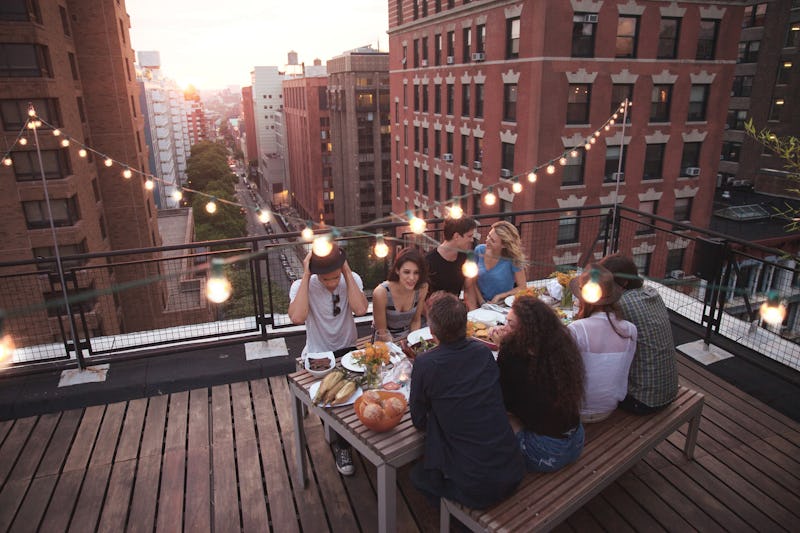 Why travel to the beach and beyond when you can turn your rooftop into a summer oasis getaway? If you have a rooftop or large patio, don't let the space go to waste, especially if you live in New York City where space is hard to come by in the first place. It should go without saying, but if you have your own rooftop, you're basically obligated to utilize that blessing — and the best time to do that is during these warm, lazy summer days.
Of course like any good thing, repurposing your rooftop into the private escape of your dreams is going to require a bit of time, effort, and a little money, because greatness doesn't come easy. But with just the right tools, there are so many ways to jazz up your roof to the point where you may never want to come down. Whether it be to host a party, tan, or just relax, make the most out of your rooftop experience this summer. Oh, and the best part about having a summer oasis above your home? You won't have to go far to get away or have a good time. Here are six simple steps to help you turn your rooftop or patio into a summer oasis getaway.
1. Start with creative patio furniture
First things first, start out with some fun patio furniture — a table, a few chairs, and maybe even some lounge chairs. Placing the furniture first will give you a better idea of where to put everything else. Then once you've got the big items out of the way, add a few chic outdoor summer decorations.
2. Add greenery
It just wouldn't be a summer oasis without a little greenery. Sometimes a simple plant or a couple of flowers in vases can make all the difference. But if you really want to be fancy, check out these easy steps to creating a rooftop garden. Plus, watering your rooftop garden just gives you one more reason to go up there.
3. Hang string lights overhead
Add a little twinkle to your night with some high-strung mini lights, because it doesn't need to be Christmas to add a little sparkle to your roof. Personally, being in a place full of fairy lights makes me feel like I'm in a Taylor Swift music video.
4. Add lanterns for those late nights
Sometimes, you just need a little more light for those late nights. Whether it's to light up the dance floor of your rooftop party or to set the backdrop for a romantic evening, lanterns are always the way to go, because they're less dangerous than candles, and way more whimsical than flashlights.
5. Add umbrellas for those bright days
Of course one of the greatest perks to having a resort rooftop is being able to appreciate the beauty of the vast sky, whether it be to marvel at the stars or find images out of puffy clouds. But on those days when the sky is a little less beautiful and a little more harsh, it's nice to have some shelter.
6. Always have a bottle of wine nearby
Because it's the simple things in life that matter. Whether you keep an ice chest on the roof or a mini fridge by the back door, just remember, a good host always has a bottle of wine on hand.
Looking for more instant ways to beat the heat this summer? Check out these genius cooling tricks, and for more life hacks, visit Bustle on YouTube.
Images: Chris Ford, Gary Knight, Jordan Johnson, Tony Webster, PVKS, Rob Wilson/Flickr