Outdoor Party Ideas Better Than Your Usual BBQ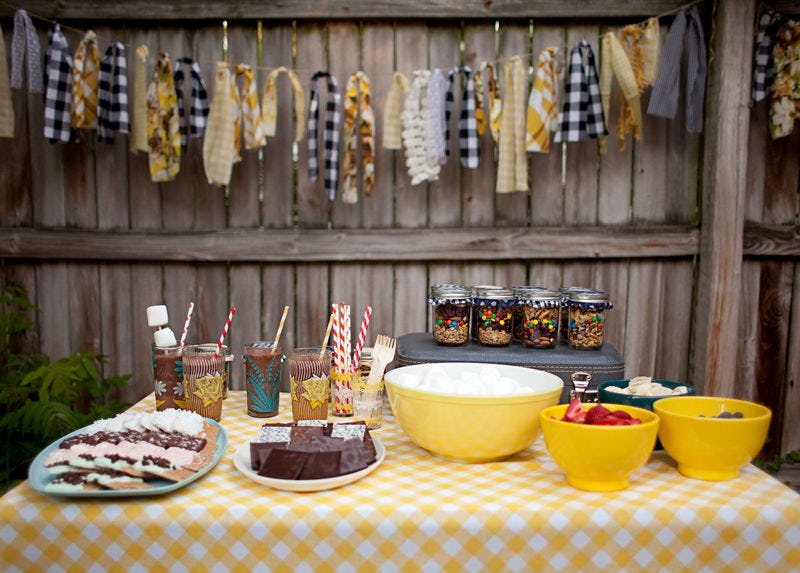 Summer is the time to take your fun outside, and while there's nothing wrong with hosting a good old-fashioned barbecue, these outdoor party ideas will convince you that there's much more to life than just hot dogs and burgers. If your place has a deck, you've pretty much hit the millennial housing jackpot, and you need to take advantage of this summertime luxury. Have access to your building's rooftop? Have nothing but a teeny tiny fire escape? We can work with that, too. The point is to get you outside. Whether your outdoor space is small, spacious, or somewhere in-between, there's one thing that is a definite, universal truth — now is the time get out there and milk this gorgeous weather for everything it's worth.
That being said, decks in particular can be a hard box to think outside of, because barbecues and backyards are somewhat synonymous. But barbecues are overdone, overplayed, and, well, a little boring. And you're none of those things. You have no time to settle for anything less than fabulous.
It is time to think way outside the BBQ box — here are a few ideas to get you started. I promise, there's not one hot dog or hamburger included on this list. You're welcome in advance.
1. Christmas in July
Christmas is great; summer is great — so why not combine the two? Make all of your friends dress up in their red and green Santa garb, and make some eggnog. They'll probably hate you for it, but once they see everyone in festive outfits and hear "Jingle Bell Rock," they'll wonder why they never had a Christmas in July party on their deck (that is, if they're even ~*cool enough*~ to have a deck).
2. Host an outdoor brunch for your friends
I know that you have an entire board dedicated to fancy brunch recipes you've probably never tried, because you never had a sweet deck to entertain on and, also, Hollandaise sauce is super intimidating. Well, it's time to face your fears, because no two things go better together than boozy brunch and a deck. Take warning — your friends will probably flock to your place like pigeons every Sunday. Try these brunch recipes next weekend.
3. Host a crawfish boil
I learned about crawfish boils when I went to Charleston for the first time. It was the coolest thing, ever — basically, you boil a bunch of delicious things in a giant pot, and dump it on a newspaper-covered table. AND PEOPLE EAT IT WITH THEIR HANDS. As an added bonus, there are no dishes for you to clean — just crumple up the paper, and toss it (there won't be any leftovers, I promise). This boozy iced tea would be the perfect accouterment to a spicy crawfish boil.
4. Sangria and tapas
Was there ever a more delicious combo? I think not. Skip the regular barbecue fare, and play around with a few other exotic flavors. To really kick your party up a notch, take these sangria recipes from The Kitchn for a spin.
5. Summer solstice party
You don't have to be a hippie goddess to celebrate the beginning of summer. Invite all of your friends to wear white and/or flower crowns. Serve up summer-inspired food, and decorate with tons of fresh flowers. Need some more inspiration? Here's how the Swedes celebrate summer solstice.
Images: A Beautiful Mess; Cozinha Dal Bó/Flickr; Steamy Kitchen; The Kitchn; Giphy (2)