6 Times Kids Got Overly Emotional About Surprises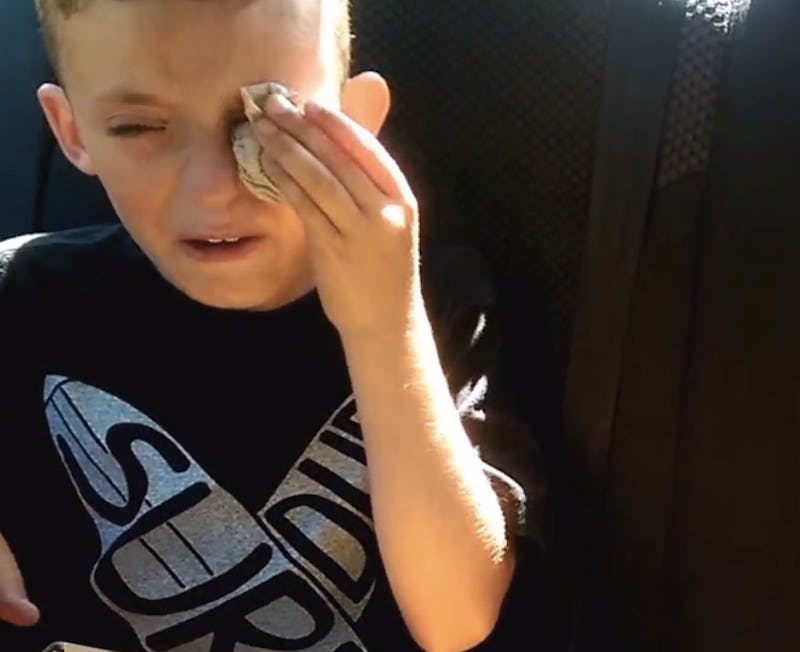 A childhood that was complete with a trip to Disney World was a #blessed childhood. If you were lucky enough to have a family that took you on the famed pilgrimage down the coast to the one place in Florida where the magic is REAL, then your life was off to a beautiful start. This video shows the classic story: Parents announce a trip to Disney world (a surprise), and extreme euphoria follows. But then the kid cries tears of joy about going to Disney World and the whole adorable mess just explodes into more greatness than you ever saw coming. To say he's overcome is an understatement. He's absolutely bursting with feelings about the prospect of his family leaving IMMEDIATELY for seven days at the theme park in Orlando.
I recently visited Disney Land (not World) for the first time since I was about 9 years old. And let me tell you, the experience HELD UP. While I would've appreciated having the stamina of the 7-year-olds racing by me, I still had enough stamina to eat my way through a jalapeño cheese filled pretzel (yeah, that exists in California). I also thought the Finding Nemo ride was pretty panic-attack-inducing, so maybe I really am a child at heart.
Going back to the actual kid, though. His parents took him out of school early and then presented his Disney World wrist band. He FLIPPED, tears ran down his face, and it was a moment Mickey should've been a part of.
Let's live it:
~~**Zac Brown Band plays softly in the background as I tear up at this hug.**~~
Watch the full video:
Still waiting for someone to kidnap me from work to take me to Disney. Anyone? Please? I'm super fun to road trip with...
Seeing as it seems unlikely that I'm going to be kidnapped and brought to Disney world, I'm left to the second best alternative. There is no shortage of emotional children on the Internet, and we are eternally grateful, because what else makes us feel better about our lives than children that are simply overcome with the world?
Here are 5 children whose emotional reactions rival the boy who cried about his Disney surprise:
1. Lily gets a Disney surprise too
Lily and Chloe are a dynamic duo that have been Internet famous for 2 years. They need a play date with the two kids from the FIRST Disney video. Obviously, the teddy bear will be invited too.
2. Kids bawl their eyes out over a surprise vacation
If it's good enough for America's Funniest Home Videos, it's good enough for me.
3. Boy cries over Zayn leaving One Direction
I'm convinced this counts in the "surprised children" genre because, hey, Zayn leaving took a lot of people by surprise. And his reaction is irrational and hilarious (even though he's 19).
4. Child reacts to a snow day and makes us all feel like kids again
This exact feeling is what the song "What A Feeling" was originally about. Trust me. The cast of Flashdance would back me up on this one. (Maybe.)
5. Girl experiences ice for the first time
There's one very prominent truth in my life: This is my all time favorite Internet video. I've forced most people I know to watch it, and love referencing it in other Bustle posts. That's how much it makes my heart tick. Her reaction is pure bewilderment, and this chick is the original reaction shot poster child, in my humble opinion.