This Man (Yes!) Needs to Win an Emmy and Here's Why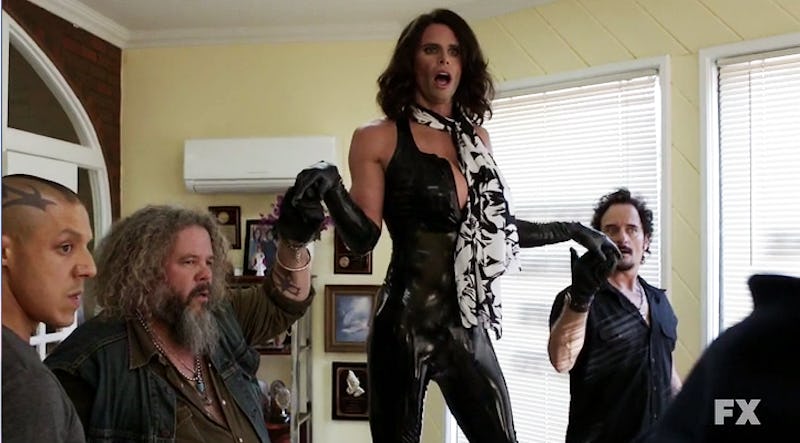 If the name Walton Goggins doesn't immediately ring a bell, let me jog your memory. The actor always stars in a secondary role, has been in a decent number of cowboy movies, and is currently best known as Boyd Crowder on FX's Justified. He's this guy:
But he's also this lady:
Yeah, I know. As a Sons of Anarchy fan, this episode was a standout in a dark season in which we lost bearded sex god and a personal favorite Opie. Goggins is generally a man's man, playing cops, cowboys and more cops n cowboys, but he owned that latex catsuit and won my heart. I love me some Jax, Tig, and the crew, but it was almost impossible to take your eyes off Venus Van Dam, and actually impossible once she started riding a naked obese man.
The Emmy for "Best Guest Actor in a Dramatic Series" generally goes to Hollywood heavyweights or small screen mega-stars, but I'm solidly in camp Van Dam this year after hearing news that FX has submitted Goggins for award consideration. The Emmys should award actors for freshness and novelty as well as skillful acting, so I'm sure Michael J. Fox was moving/awesome or whatever on The Good Wife, but Walton Goggins was all woman in that episode. It would be refreshing to see an Emmy go to a character that wasn't in a suit — TV these days is too suited up, and, personally, I'm ready for more ass-less chaps and breast plates.
Image: FX (2)