'The Making Of The Mob' Combines Facts & Narrative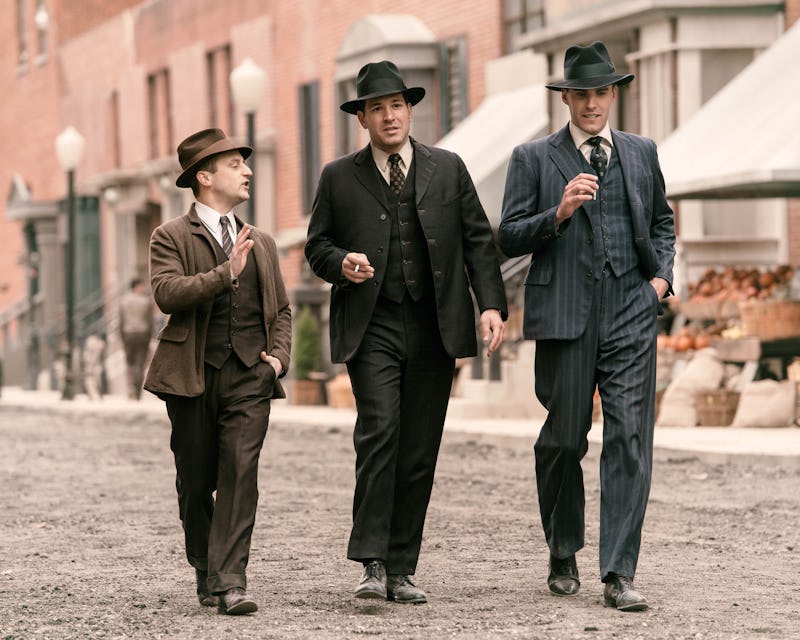 When watching Hollywood's classic mobster films, do you ever find yourself wondering what really happened during that time in history? AMC's new docu-drama series The Making of the Mob seeks to answer that question. The eight-episode miniseries follows the formation of the alleged crime families and classic mobsters of New York City. Narrated by Goodfellas' Ray Liotta, the show uses historians and those heavily interested in the subject to provide testimonials about the events, mixed with reenactments of various scenes. But is The Making of the Mob accurate? Though adding narrative scenes into the mix may make you question it, the miniseries definitely packs in as much factual history as possible.
The first episode of the series follows Lucky Luciano (who was memorably portrayed on Boardwalk Empire), beginning with his first days in New York City after immigrating from Sicily in 1906. The miniseries shows that Luciano quickly found himself a group of partners in alleged mobsters Meyer Lansky, Benjamin "Bugsy" Siegel at first, followed by Frank Costello, and Vito Genovese, which matches the events described in Selwyn Raab's 2006 non-fiction best-seller, Five Families. Both accounts claim that Luciano then began working for Joe Masseria, before finding a mentor in Arnold "The Brain" Rothestein, who was widely believed to be responsible for fixing the 1919 World Series, though he was never indicted and denied any involvement.
The series claims that Luciano then had a problem with Masseria, as he was unhappy with giving Massera a huge cut of his earnings. This also matches the narrative found in Five Families, as Raab claims that Masseria was asking for upwards of $10,000 per person from anyone working a side business, so he could maintain his stature as the "Joe the Boss."
This is where the show could get interesting in terms of accuracy. The first episode ends with Lucky planning to kill Masseria and lead his own gang, but the history books tell a more complicated story. Supposedly, at this point Masseria and another alleged mob boss, Salvatore Maranzano, started a war between alleged mob bosses and families in New York, which was famously called the Castellammarese War. By the time it ended in 1931, Maranzano was killed by men some believed to have been hired by Luciano, though that has never been proven. Masseria was also killed by hitmen who were never officially identified, though rumors linked them to Luciano and other associates.
I have no doubt that The Making of the Mob will give audiences as much truth as it can, but it'll be interesting to see if the narrative scenes receive any extra punches of fictitious writing to give the history more depth. The show already includes scenes where Lucky's group meets and talks things through, and considering that we can't know what was actually said behind closed doors, we'll never have the complete truth of such situations.
However, the additions of these scenes is not at all a negative. They actually allow the audience to appreciate the struggles, joy, and various emotions these people must have faced throughout their lives — especially during this time of tension. The Making of the Mob is a fascinating study of a tumultuous time in American history, and thankfully, it's mostly accurate and interesting.
Images: Lawrence French/AMC (2)