The Guys Attacked Nick On 'The Bachelorette'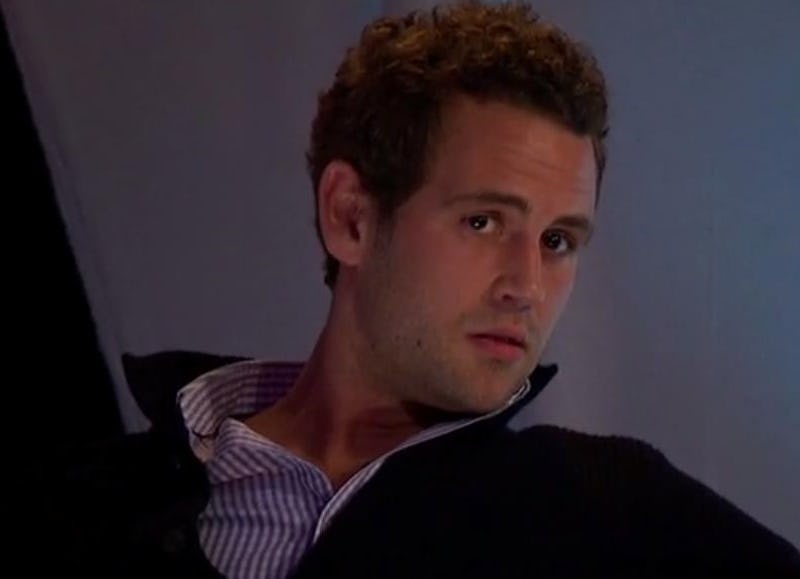 Nick Viall is perhaps the most hated man in America. OK, that may be a stretch, but he is most definitely the most hated man on The Bachelorette this week. As a continuation from last week's episode, Nick rolled his little wheelie suitcase into their swanky New York hotel (the Knickerbocker, for those of you paying attention in the last episode) but not into the hearts of the guys on the show. He was thrown into the hot seat almost immediately, and all of the other contestants immediately called him out on the obvious attention seeking that is Nick entering The Bachelorette four weeks in.
Ben H. led the charge against Nick, questioning the last time he was with Andi (Nick had seen Andi a few weeks prior, but Nick insisted they were just hanging as pals), why he's on the show, and what his intentions are with Kaitlyn. Next, Joshua joined in to question why Nick refers to Kaitlyn as "a cool chick" and not "an amazing woman," which is one of the stupidest things ever, because that's just semantics. But, Joshua punches hay bales when he's angry, so I think sometimes he has trouble verbalizing. Also, Jared looks like he's going to cry the whole time. Yikes.
At the group date, the questioning continued, with the guys planting seeds in Kaitlyn's head about what a horrible person Nick is. All in all, Nick got raked over the coals, and for good reason: He's joining this program in progress, and it's really not fair to the other guys who have been there since the beginning. Shawn B. mentions in a voiceover that it's also not fair that Nick and Kaitlyn have had a texting relationship before the show, because that's just one teeny leg up on the guys who haven't spent much time with her yet.
That all being said, Nick didn't murder anybody, so maybe the guys should treat Nick like one of them (since they are all forgetting that they are still in competition with each other) and get in the game for Kaitlyn's heart.
Images: screengrab/ABC