8 Books To Bring On Your Next Beach Trip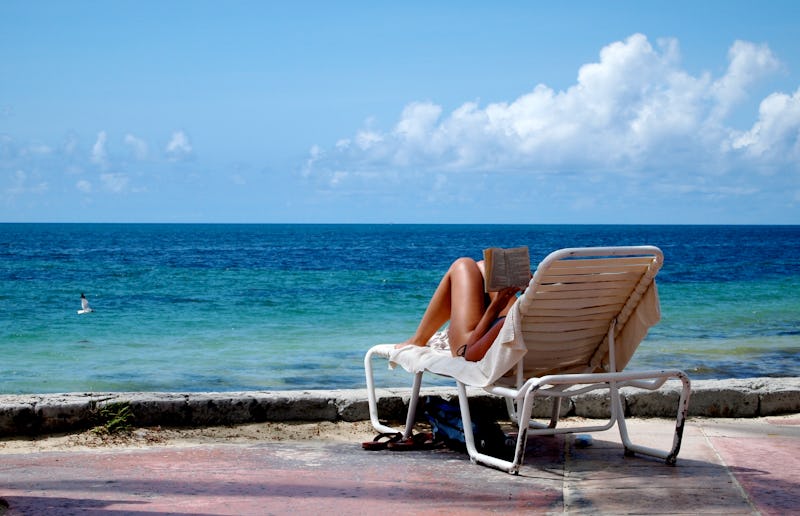 We're closing in on summer, and you're not alone if you're already daydreaming about your next beach vacation — real or imagined. Beach trips provide the perfect excuse to lounge around all day, listening to the waves lapping at the shore, sipping on an ice-cold summer cocktail, and absorbing some lovely Vitamin D. Basically, they're the ideal time to relax, as long as you can deal with some sand with your sun and know how to handle your hair.
Although sunblock should probably be the top item on your packing list (safety first!), engaging reading material is a close second. After all, there are only so many hours a day you can nap, even with the heat zapping away your energy by the minute. We've partnered with Oyster to make sure your phone (or your tablet!) is loaded with quality reading material this summer so that you'll be ready for a trip to the coast at a moment's notice. There's nothing better than a good books to help you recharge and enjoy the calm.
If you're headed to the shore this summer or even if you're just going to hang out in a hammock in your backyard and pretend you are, below are eight e-books available on Oyster that you'll want to download ASAP.
Oyster is an app for reading books on your smartphone or tablet. Discover new books, download them in seconds, and even read them offline. Buy books on Oyster or subscribe to Oyster Unlimited—dubbed the "Netflix for books"—to get access to over 1 million books for $9.95 a month. Click here to get started with a free trial of Oyster Unlimited.
Written by two former bartenders, Cocktail Therapy provides descriptions of comical yet common crises that call for a drink. Using their mixology experience, Leanne Shear and Tracey Toomey offer the ideal concoction to solve each problem. It'll make you laugh, but it'll inspire you to up your cocktail creation game.
In his debut novel Crazy Rich Asians Kevin Kwan brings us to Singapore, where Rachel Chu is meeting her boyfriend's family for the first time — only to discover that the world he comes from is much different than she expected. Thrown into the world of the über-rich, she has to win over her boyfriend's disapproving mother and contend with scheming socialites. It's a hilarious and sharp look at class warfare and culture clashes. If you can't make it to a far-away destination this summer, you'll at least get to read about one.
The first in a trilogy by New York Times best-selling author Mary Alice Monroe, The Summer Girls is a story of family. Three half-sisters and their grandmother are reunited at a South Carolina summer house and given the chance to sort through their old issues and build stronger relationships. You may even find yourself wishing you'd invited your own family along on your trip.
Randall Munroe, the man behind immensely popular Web comic xkcd, answers fan questions in What If? , a book full of strange hypothetical situations. His answers to these questions (like: "If there was a robot apocalypse, how long would humanity last?") are well-researched yet easy for a layperson to understand. Broken into digestible chunks, this book is perfect for when you want to alternate reading with important summer activities like napping and swimming.
New York Times best-selling author Mary Kay Andrews sends a woman back to her hometown with her tail between her legs in The Fixer Upper . Down but not out, she takes on the restoration of an old family home, but she soon finds that choosing paint colors isn't all she'll have to worry about. Distant relatives, FBI agents, and more come out of the woodwork. You'll be able to enjoy the DIY process and the drama without having to leave your lounge chair.
Written by Melissa Rivers, The Book of Joan gives readers a closer look at her mother, late comedian Joan Rivers. With life lessons and off-camera hijinks that are every bit as outrageous as you'd expect from a woman who considered Valium to be a food group, you won't be able to read this book with a straight face. It's also perfect to read out loud to your travel companions.
Jenn Marie Thorne's debut novel The Wrong Side of Right is a smart YA novel with a likable protagonist. Kate Quinn is forced to move in with her uncle after her mother (and only known parent) dies. Her world is turned upside-down again when her father appears in her life and turns out to be a Republican presidential candidate. Summer vacation is always an easy time to reminisce about your childhood, so Kate's struggle to remain true to herself can build on your nostalgia.
Prodigal Summer is acclaimed author Barbara Kingsolver's fifth novel. She seamlessly weaves together three stories that take place during summer in southern Appalachia, integrating human nature with actual nature. Though it takes place far from the beach, her vivid descriptions of farmland and mountains will offer an enthralling contrast. It might even inspire your next vacation.
Images: Steve Bennet/Flickr; Gallery Books; Knopf Doubleday Publishing Group; Gallery Books; Houghton Mifflin Harcourt; HarperCollins; Crown/Archetype; Penguin Young Readers Group; HarperCollins