So Cowboy Boot Sandals Are A Thing Now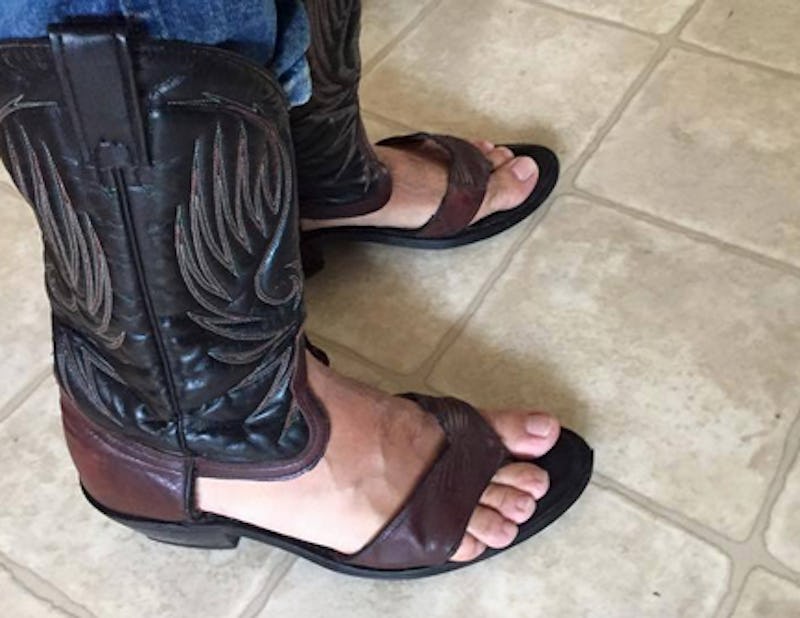 Fashion mashups are so commonplace, especially with high x low collabos, but some things just don't go together, like, say, cowboy boots and flip flops. They are either one or the other but can't be both... until now, because cowboy boot sandals are a thing. Yes, really. These mandals, which can also be made for women, really do defy any sort of categorization and inspired plenty of chuckles when I stumbled up on them on Facebook.
When they first crossed my feed, my immediate emotional response was, "Those cannot be real." Oh, real they are. I giggled mightily, since they just look so strange and are the aesthetic antithesis of fashionable. Then I dug a little deeper and found that people are actually ordering (and loving) these.
It may be a niche market, but it exists. It's just not a summer shoe trend I want to try.
Despite being utterly confounded by the boot sandals, I'll accentuate a positive. I can't deny that a level of craftmanship and care has gone into transforming a pair of cowboy boots into a hybrid of boot and sandal. The cowboy boot sandals are certainly unique, as well. I, for one, have never seen anything like them. And that's to the creator's credit.
But they also sort of defeat any purpose. Cowboy boots are... boots, with intricacies in the leather and the toe tips. They can be worn in any season, but seem best suited for cold weather and activities where a sturdy show is necessary.
Cowboy boots are also fashionable, depending on how you style them, and they are not just for fans of country music or those who live in the south, either.
Flip flops are summer shoes, designed for outdoor activities and casual, hot days. They can also be dressed up or down but are decidedly for summer and to allow the leg and foot to breathe freely.
So I don't get why you need a boot transformed into a thong sandal. WTF?!
According to the company, ladies are even requesting them for weddings and special events, so these aren't strictly mandals, either. Some folks wear them at the rodeo, lake, beach, or casual events. The Facebook page notes that "One summer afternoon Scotty Franklin was sitting on the beach, at the Gulf, when an idea struck him, to manufacture and market, Boot Sandals."
Here's how to get a pair, if you so desire. You send a pair of boots, either new or used, to Redneck Boot Sandal Company and they will re-manufacture them, and buff them out, for $50, plus $25 shipping and handling. It takes about two weeks, approximately, to complete the process.
Personally, I can't think of any outfit that I would wear these with... ever. I also think they're not fashionable in a non-ironic way. They are like the shoe version of Kate Gosselin's famous haircut. I just don't get it.
But if you dig 'em, then do it up!
Images: Billy Boy Cowboy Boot Sandals/Facebook (2); Getty (2)