5 Father's Day Poems To Celebrate Dad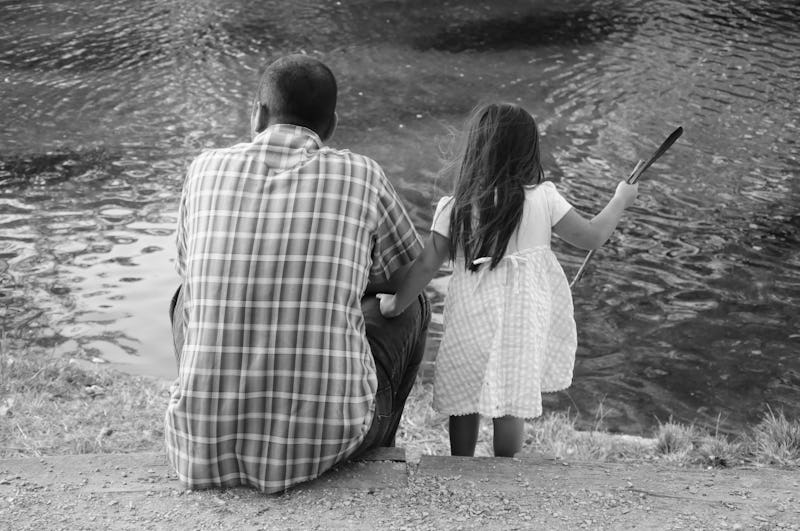 There's no doubt about it — Father's Day is upon us, and this is definitely one of your favorite holidays for a reason. Father's Day is all about celebrating how amazing your dad is, and letting him know how much you love him. You can do this with a thoughtful gift, a sweet card, or — wait for it — a few classic, heartfelt Father's Day poems. That's right, way back in the day, many people expressed their feelings and emotions using poetry. Since then, the art form definitely isn't as prominent — unless you count the always popular "liquor before beer, you're in the clear," or "be a sweetie, wipe the seatie" rhymes of today.
All joking aside, poetry is still alive and well, and there are plenty of ones that are perfect for honoring fathers. Here are five excerpts from poems — both new and old — to remind you of the special bond that you and your dad have. Whether you're still scrambling to figure out what to buy, are just putting the finishing touches on your card, or have been preparing for this day for months, go ahead and share one of these poems with him this Father's Day. Just be prepared for any waterworks that might ensue.
E.E. Cummings
My father moved through theys of we,singing each new leaf out of each tree(and every child was sure that springdanced when she heard my father sing)
— "My Father Moved Through Dooms of Love"
Edgar A. Guest
Only a dad but he gives his all,To smooth the way for his children small,Doing with courage stern and grimThe deeds that his father did for him.This is the line that for him I pen:Only a dad, but the best of men.
— "Only a Dad"
Karen K. Boyer
He never looks for praisesHe's never one to boastHe just goes on quietly workingFor those he loves the mostHis dreams are seldom spokenHis wants are very fewAnd most of the time his worriesWill go unspoken tooHe's there.... A firm foundationThrough all our storms of lifeA sturdy hand to hold toIn times of stress and strifeA true friend we can turn toWhen times are good or badOne of our greatest blessings,The man that we call Dad.
— "Silent Strong Dad"
Michelle W. Emerson
The depth of a father's love shows in his daughter's eyes.What's known is what's shown from sunset to sunrise.A foundation built on more than just what is spoken.It's commitments kept and promises that go unbroken.An emotion so immense that nothing in this world can erase.The permanent impression of love is tattooed upon her face.A relation so peculiar that only the two can understand,Yet so immaculate it's obvious that, by God, it was planned.
— "In Her Eyes"
Sue Skeen
There in every memorySee his love and careStrength and hands to count onFreely he does shareProvider, toil so faithfullyTo make our dreams come trueGive strong and tender disciplineThough it is hard to doA Father is God's chosen oneTo lead the familyAnd point it to His will for lifeOf love and harmony...
— "A Father Is"
Images: amboo who?, Andy Mort, Shandi-lee Cox, Elaine, Aaron Gilson/Flickr