How Cleansing Oil Changed My Face Washing Routine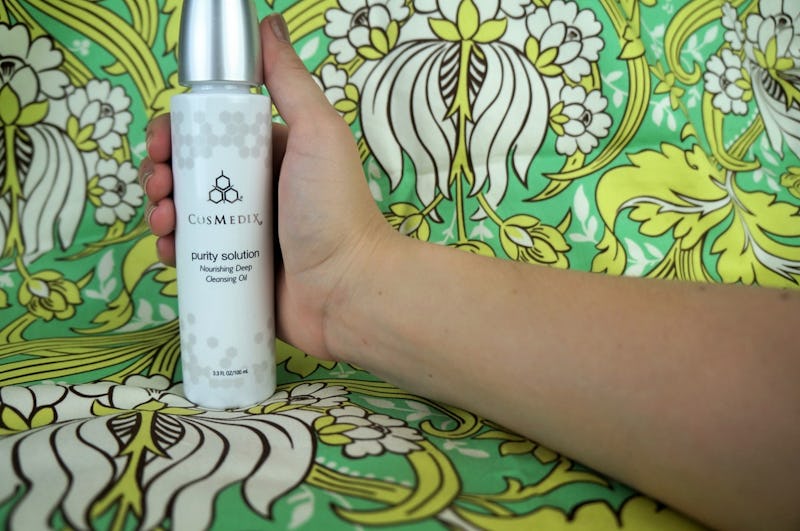 I have heard a lot about the oil cleansing craze lately, such as how it's great for those with dry skin and great for those with acne. Some prefer to use their own blend of essential oils alone for cleansing, while others try the double-cleansing method. As someone with dry skin who is in no small part obsessed with using oils in my beauty routine, I was completely game to try washing my face with oil. For a while, I simply did a lazy girl's version of double-cleansing in which I grabbed whatever oil I happened to have on hand (such as this awesome oil blend by Oil Essentials) and massaged that on my face before rinsing with my favorite regular cleanser. This was a pretty effective way to remove my makeup without drying out my skin.
However, when I got the chance to try a genuine cleansing oil, I jumped at it. My hope was that Cosmedix Purity Solution Nourishing Deep Cleansing Oil could give me an opportunity to cut my face-washing time and products in half. So I put it to the test, switching out my regular cleanser for this oil-based option for a week.
Cosmedix Purity Solution Nourishing Deep Cleansing Oil, $28, Skinstore
What It's Made Of
If you're concerned about the negative impact beauty products can have on your skin and the environment, then this cleansing oil is a great alternative to your typical cleanser that might be loaded with artificial fragrance, alcohol, and sulfates (all of which can be irritating and drying for skin). Cosmedix formulates their products, this cleanser included, with plant-based ingredients.
Also, I personally always try to support cruelty-free brands whenever possible. All Cosmedix products are cruelty-free (meaning no testing on animals).
Cosmedix Purity Solution is formulated almost entirely with oils such as olive, argan, safflower, and orange flower oil as well as plant extracts such as Melia Azadirachta extract. It does not contain any irritants such as synthetic fragrance and alcohol. You can see the full ingredient list here.
How To Use It
This cleanser is easy to use but you may find it's a little bit different from your usual face-washing routine. As instructed, I massaged a "generous amount" (for me this was anywhere from one to three pumps, depending on whether I was wearing makeup) onto dry skin. The cleanser looks and feels like oil, with a slippery and light consistency and a fresh, natural scent of oranges.
I massage it on my face for about 30 seconds, sometimes more if I'm wearing a lot of makeup. Then I rinse it all off with warm water and pat dry with a towel. At the end of it, my makeup is effectively removed and my skin feels soft and clean, not dry or irritated.
Sometimes I have to go back with a towel to make sure I get any excess mascara or eyeliner that smeared around my eyes, but the cleanser does the job of breaking the makeup down so I can easily swipe off any leftover smudges.
Here's an example of how well this oil cleanser works to remove makeup. On my arm I have a lip stain, eye shadow, bronzer, foundation, waterproof eyeliner, and waterproof mascara.
Then I massaged a couple pumps of the Cosmedix Purity Solution onto my arm:
After massaging the makeup with the oil cleanser for 30 seconds and then rinsing with water, my arm was completely makeup-free. Even the stubborn eyeliner was gone.
The Verdict
In the end, I would definitely recommend the Cosmedix Purity Solution if you're interested in trying a cleansing oil. I actually think it would work for any skin type. It didn't bother my dry, sensitive skin and at the same time I can't see it harming those with oily, acne-prone skin. It left behind zero residue: no greasy, oily feeling on my skin at all. After all, putting more oil on oily skin can actually be beneficial, since it slows down your glands' natural production of pore-clogging oil.
It may seem paradoxical to use oils to cleanse your face, but I'm happy to report that in practice it makes perfect sense. I've been using it for over a week now and my skin is cleaner, calmer, and more hydrated. I can't imagine going back to my usual foaming, water-based cleanser and I know I will happily use this bottle up.
Maybe I will look for a good drugstore version when it's gone but I imagine I will be hard pressed to find its equal. Many cleansers that call themselves oil cleansers rely mostly on mineral oil rather than natural oils or don't even contain any oils, just oil-like ingredients.
So don't be fooled by a cleanser that has the words "oil cleanser" in its name; always check the ingredients list before buying.
I also love that this cleanser is fragrance-free and cruelty-free. All in all it's worth the price. If you're thinking about switching to an oil cleanser but you're not sure where to start, I suggest trying this one out!
Images: Kelly Dougher; Giphy