Steal 'Scream Queen' Chanel's Scary Good Style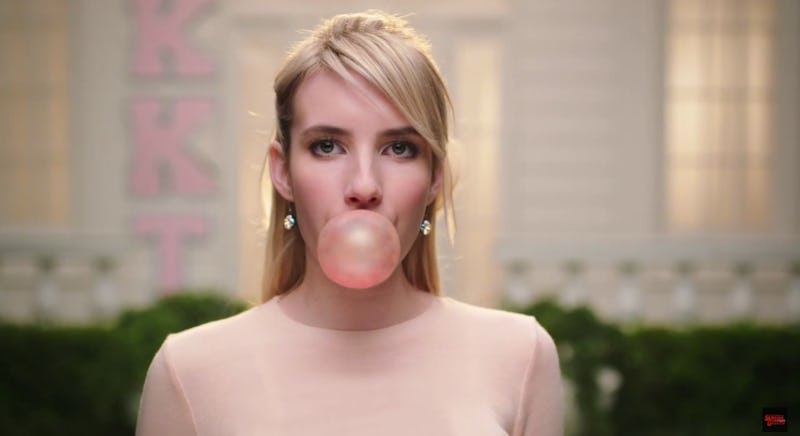 The sweltering days of summer may be in full swing, but I know that some of you are already checking the off the days on your calendar until the premiere of Scream Queens this fall, even if only to see the stylish wares of fictional sorority sister Chanel, played by Emma Roberts. Judging from the latest Scream Queens trailer, I would kill to raid Chanel's closet. Thanks to these copycat pieces, I can do just that without having to break the bank.
Chanel's preppy pastel pink style is always at the forefront of the Scream Queens teasers that we've seen so far, and if looks could kill, well, Chanel would slay us all. I can't wait to see Roberts rocking the full arsenal of Chanel's sunny designer fashions come fall. But until then, we have a brand new trailer to delight in and spook us all silly.
With style so good that it's scary, I've been lusting after all of Chanel's pastel knit sweaters, punky pink fur shawls, and perfectly preppy collegiate pieces. If you're in the same boat, never fear — I've tracked down all of Chanel's Queen Bee looks from the trailers so you can have a closet fit for a Scream Queen! Check out the looks below and get ready to shock your friends with your terrifyingly perfect style.
Pearl Statement Necklace
SapphireLane/Etsy, $55
Pleated Yellow Floral Dress
Macy's, $99
Pink Fur Shrug
Amarcord Vintage Fashion, $795
Sorority Queen Sunnies
Sunglass Hut, $445
Pale Pink Sweater
Forever 21, $22.90
Ostrich Feather Cocktail Dress
UsTrendy.com, $129
Soft Blue Blazer
Macy's, $109.99
Images: Youtube.com, Courtesy Brands