Bartenders Share Their Best Dating Advice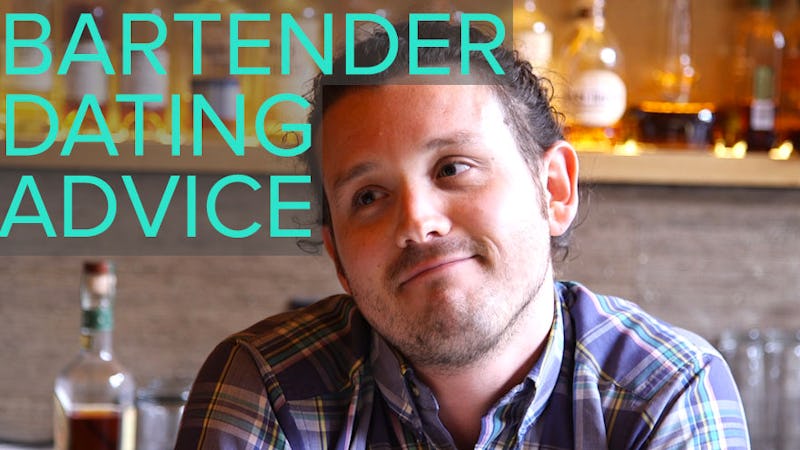 That person manning the bar at your favorite happy hour hub has seen a lot, especially when it comes to the emotional train wreck we call dating — and these dating tips from bartenders just go to show that there's probably a lot you could be doing to beef up your game. Warning: these aren't your mom's dating tips. Dinner dates? Psshh. Ain't nobody got time for that. Today's city singles meet at bars for a quick cocktail, and bartenders have front-row seats to some of the most awkward first dates. So, what better way to find out what not to do on your next Tinder meet-up than to chat with the servers subjected to this cringe-worthy love ritual? This isn't just advice, you guys — these are important nuggets of information.
Curious to collect some valuable insight, I set out with Bustle's camera crew in tow to visit some of Manhattan's top watering holes: the southern-inspired Bourbon hotspot Maysville, the downtown go-to Snafu, and the trivia night to end all trivia nights at Flatiron Hall. The bartenders I met have seen the good, the bad, and the not-so-smooth-moves. (But, let's be real, the latter is our favorite!) I heard it all — each bartender spilling like a 16 year old sneaking champagne at a wedding about the worst first dates they've ever witnessed on the job.
Out of hours of interviews on embarrassing moments, strange conversation topics, awkward pauses, bad recoveries, accounts of a**holes who overbook dates (apparently every bar's got one), and the legendary cocktail-order-fail in the form of a Long Island iced tea (in the words of one rooftop bartender veteran: "It's trash"), we took away five main dating tips that will get you closer to having a better second date without being the entertainment of the evening:
1. Order the right drink
One thing all of our bartenders agreed upon was that the more knowledgeable you are about wine, sprits, and beer, the sexier. Nothing is more embarrassing than pronouncing a Cabernet like Cabhornette — true story. And, ordering the college-freshman signature like Long Island iced tea or cranberry vodka is a sure sign you're on a date with someone less than sophisticated, and typically looking to do one thing: party and get as drunk as possible.
2. Have an exit strategy
Let your roommate or best friend know that when you text her the code word, it's time to call you screaming bloody murder that there's a tampon stuck in your toilet's drain, and you've gotta run home to save her from a menstrual flood. Hopefully, the person you're on a date with can hear the drama through the speaker, and will already be nodding understandably that you have to leave. Just don't do the great escape to the bathroom, where you sneak out of a backdoor or window (again, true story) never to be seen or heard from again. Though, apparently, the guy or girl left high and dry is usually taken care of by pity drinks from bartender onlookers.
3. Be a little less obvious about online dating
Just walk in. Don't do the creepy peering in the windows thing where everyone can see you but you can't see them. And, don't walk in flipping through your date's Tinder pics to make sure you've got the right person. All you're doing is setting up the other patrons to settle in for a spectacular show that's about to start in just a few minutes. Who can concentrate on good conversation with someone you're into when you feel every eye in the room staring at you?
4. Cover your tracks
If you're going to set up a dating headquarters at your neighborhood bar, booking time slots throughout the day for coffee in the a.m. and drinks in the p.m., and breaking only for lunch and dinner, please remember to update the bartenders and servers with the new girl or guy's name. Otherwise, advise them to just refer to all of your dates for the day as "hun." Also, be sure to leave a cushion between date arrival times and departures so that you aren't caught kissing your first date goodbye when your next date walks up to greet you. The bartenders would appreciate not having to pick up broken glass following your trip to the hospital for being an idiot.
5. Be yourself, darn it!
The only way to play it cool on a date is to be cool with yourself. Don't hide your tattoos, don't hold back your dolphin-like laugh. Those are all of the things your friends love about you. And the only way to find out if you'll have a real romantic connection with someone is to show them exactly who you are: a kick-ass lady.
Check out our video on YouTube, and then try to tell me you don't want to date the bartenders now instead of the guy or girl you're meeting up with tonight. Chyeah, we don't blame you. Happy online dating, everybody!
Video: Bianca Consunji and Kenny Suleimanagich/Bustle; Giphy (3)