Stephen Colbert Brilliantly Parodies Donald Trump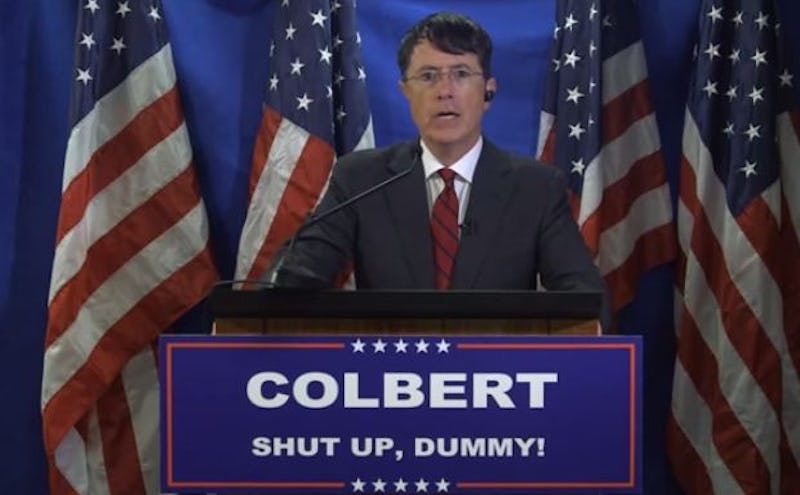 Even though his new show, The Late Show, doesn't start until Sept. 8, Colbert just couldn't resist announcing on Tuesday that he had a very important announcement to make. Stephen Colbert hilariously parodied Donald Trump's presidential campaign announcement with a video on The Late Show's YouTube page. He started out by having "American workers" roll him onto the stage in a "human trashcan" in front of four American flags. Colbert even rocked Trump's signature, kind-of-gross comb over.
After announcing his announcement — that the Donald has announced he is running for president — Colbert continued to talk about the campaign in a Trump-like voice with hand gestures to match. In the video, he says this campaign will be the "finest, most luxurious, gold-plated, diamond-encrusted campaign that will give hope to a weary nation until together we reach that fine, fall day when the new season of Celebrity Apprentice premieres."
Then Colbert jumps into criticizing Trump's claim that, if elected, he will be the "greatest jobs president that God has ever created." But that's not just any God, Colbert says. He's the "almightiest God, omnipotent in the most luxurious heaven imaginable." Like, a heaven with "cloud-side bottle service." Like, a really nice heaven — the best, richest heaven. Because in his campaign announcement, Trump felt compelled to remind everyone of his business triumphs by literally saying, "I'm really rich."
Colbert says Trump's campaign for president isn't just great for America, it's also great for late-night television, "because Donald's presidential campaign has inspired me, Stephen Colbert, to announce that I will still be hosting The Late Show on CBS." Upon applause, he says, "Thank you. You're welcome. Somebody has to, right?"
But then he turns serious. He tells the people around him to "cut the music" because his "mouth has more to say." He talks about China and calls them "the greatest menace to American livelihood, and I love them, OK?" He says the Chinese are "eating our lunch," and asks what Americans are going to eat because he "doesn't want to eat their lunch," because he's seen it. "Does it come with egg rolls? Who knows? And this administration is doing nothing to find out," Colbert says, joking about Trump's claim that China is stealing jobs from U.S. citizens.
He then makes references to some of Trump's other ridiculous views. He says "Show me the birth certificate," in a nod to Trump being a "birther," or someone who believes in the conspiracy that President Barack Obama isn't actually a U.S. citizen. But then he makes jibes at Trump's appearance when he made the announcement:
I love Donald, you know. I'm gonna say he looked great on television. I saw him when he came out and thought, "He looks like he fell into a river and they raked his body out of the surf down in Cape May three weeks from now, but the important thing was that the crabs had not gotten to his eyes." And that sends a message of confidence to voters that if you vote for him, he's not physically dead.
Colbert's six-minute impersonation of Trump after his announcement seems to show that he is too excited for the premiere of The Late Show, and that the opportunity to roast Trump with an announcement of his announcement was too good to pass up.
Images: The Late Show with Stephen Colbert/YouTube