Watch Robin Williams In His Final Live-Action Role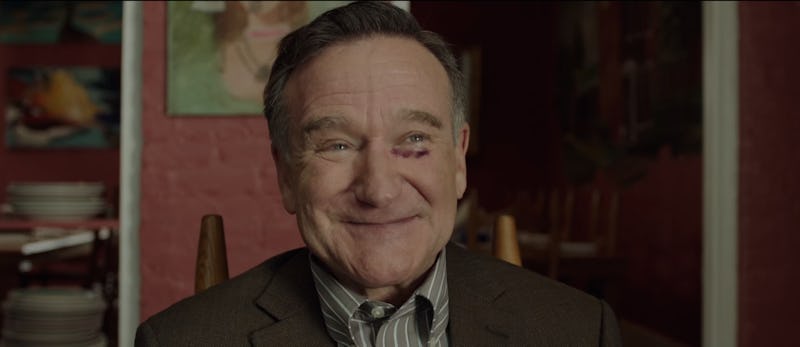 Everytime I think I've found a way to deal with my sadness over the fact that a phenomenal actor and comedian like Robin Williams passed away at age 63 in August 2014, something happens to bring back that shock and despair. After all, Williams had projects that were in progress, or recently concluded, at the time of his death, and those have yet to debut yet. While he appears in the U.K. sci-fi comedy Absolutely Anything as the voice of a dog, the trailer for Boulevard previews Williams' final live-action film role — meaning we get to see the face of the man who has made us laugh and made us cry at many points over the course of a film career that ranges from the dramatic to the comedic. The fact that these two genres are the final two that Williams lent his considerable talent to is thus fitting, and Boulevard is definitely as dramatic as you can get.
The film, which premiered at the Tribeca Film Festival in 2014, will be released in theaters by Starz Digital on July 10th. It follows the story of Norman Mack, a banker whose life is in a decades-long rut until he meets a troubled youth named Leo. That meeting becomes a pivotal turning point in Norman's life, and he began to grapple not only with keeping Leo a secret but also facing the facts of who he really is. It is clear throughout the trailer that Williams is truly embracing the character and the story, because he utterly makes you feel for Norman with just a few facial expressions and voice overs.
But don't take my work for it. Here are the seven best moments from the trailer.
1. This Emotional Drive
He walks a lonely road, the only one that he has ever known.
2. When Norman Is More Bored By His Job Than We Are
Banking is not exactly a hub of excitement and activity.
3. But Then There's Leo
What do you do when a teenager asks you for a ride at night? Adopt him as a son or something, of course.
4. His Relationship With His Wife
If you're guessing that things between them are complicated, then you'd be absolutely right.
5. Robin Acts With Just His Eyebrows
This is about as far as I got in the trailer before I started tearing up.
6. When He Defends Leo
And you're not sure which one of them you want to hug first.
7. When You Wanted To Be In That Sandwich
So you could hug Robin Williams, too. Duh. We might have lost an icon, but he'll always live on in his films — and, in July, we'll all have another one to enjoy.
Check out the trailer below.
Images: Starz Digital (8)