Movie Theatre Proposal Is A Cinematic Gem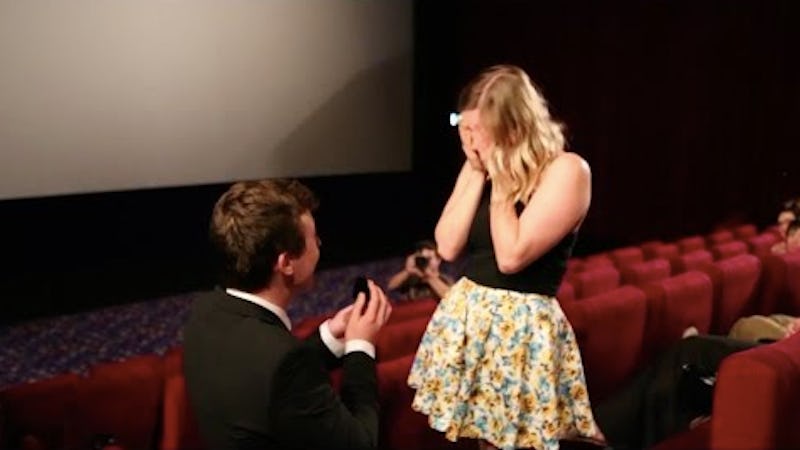 Apart from the winter holidays, when the family is all gathered, the summer months are prime proposal season. Love is in the air, weddings are on everyone's mind, and it's the perfect temperature to take a trip, have a picnic, or meticulously plan an epic viral proposal. This guy created an entire cinema experience for an action-packed movie theatre proposal. He found a way to make it touching, and involve close friends and family. And he sings (or at least makes a bold attempt at lip singing), which shows that he loves bravely, and has enough faith that his now fiancée will love him even if his voice cracks. That's love, guys.
Here are the main reasons this proposal is working for me:
You know what took his approach to the next level, and made this viewing experience infinitely more pleasant? The Australian accent. Speak to me in an Aussie accent for 7 minutes, even during a YouTube video in which you're proposing to someone else, and I'm yours.
It incorporates a MOVIE THEATER. Pure genius, because nothing puts a lady in the mood quite like buttered popcorn, am I right? (That's not sarcasm, guys. The smell of fake butter really does something for me.)
He COMMITS to the song. Am I loving the song choice? Not my favorite. (When did Elton John love songs go out of style, people?) But I do appreciate that he owned it. He didn't just glide along to the song, he reenacted the damn thing, and that's something to admire.
He even commits to the ~why you gotta be so rude~ bit:
Grit and determination.
Watch the full video:
C'mon. You know watching that was worth having this song stuck in your head for the rest of the day.
Images: YouTube(2)