Why I'm Reclaiming My Tackiness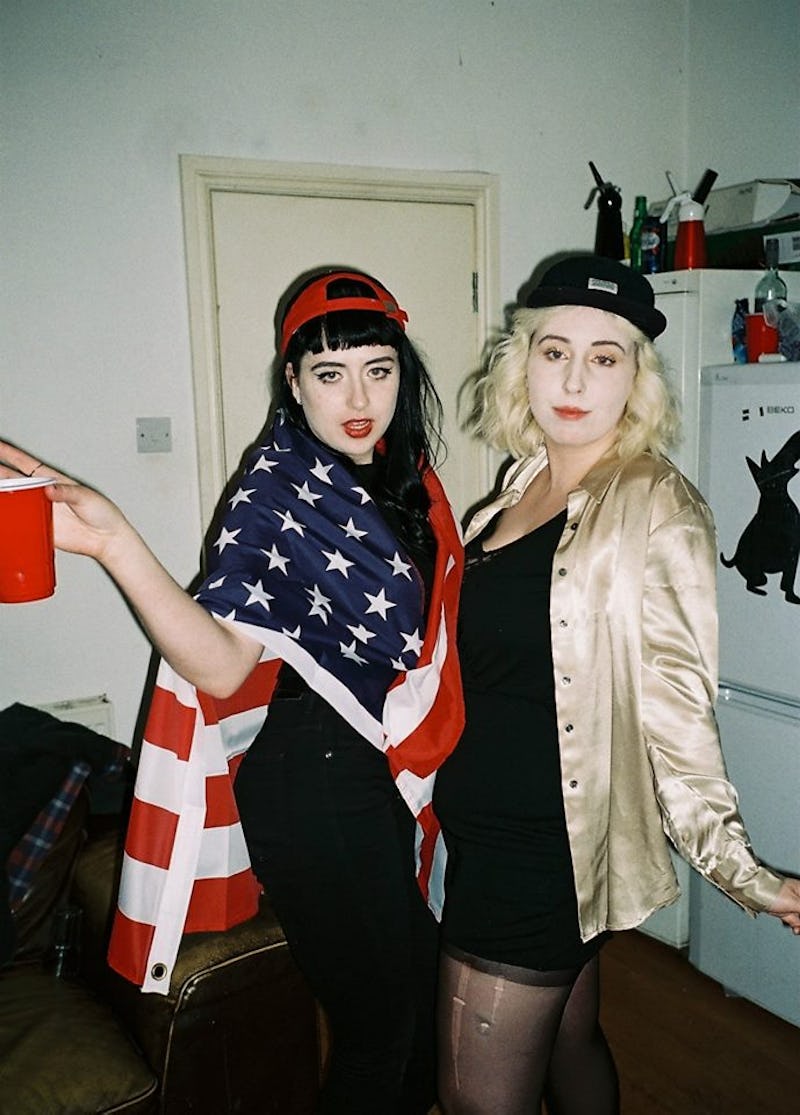 For my last shift at my retail job, I went in wearing a glittery jumpsuit, red lipstick, a leopard-print coat, and an excessive amount of rings. Being it was my last day of employment there, I wanted to ensure that my final impression was undeniably me — tacky and trashy, over the top, and ridiculous. Sometimes (rarely) I'll opt for something chic and minimal, if I feel confident enough in my fat self to pull it off. Most of the time, however, I look overdressed and sparkly. Even when I wrote an article about going commando, most of the negative feedback I faced was about my OTT fashion sense.
Things haven't always been this bedazzled, and although I was a huge advocate for all things pink and fluffy as a kid, when I reached the edges of puberty and for the huge majority of my teenage years, I opted for a goth and eventually an emo scene look. Even then, though, I took it to extremes that others in my tiny hometown wouldn't (or couldn't, due to strict parents) dare to try. I loved the more ridiculous aspects of these styles — from massive, back-combed hair to a black satin waistcoat to bright blue skinny jeans with a purple lightning bolt pattern, excessive amounts of eyeshadows, and hair bows.
(I should be embarrassed, but I kind of love my commitment.)
Now, my fashion tastes aren't dictated by my music tastes, but are more a representation of who I am as a human. I wear glittery eyeshadow every day because I'm a glittery kind of gal. I'm ridiculous, dramatic, and over the top — and so are my clothes! Think Edina Monsoon in Absolutely Fabulous, because that's who I'm destined to be.
But tackiness isn't just an expression of self, but a whole subculture within itself. Silly style and pairing old-fashioned, sex-symbolic clothing like knee-high boots with huge hoop earrings and red lipstick — that will be all over everyone else, not just myself, by the end of the night — isn't just about pretending to be Courtney Stodden. It's far deeper than the pretense of being "trailer trash" and symbolic of being an outsider.
That being said, the term "trashy" is undoubtedly problematic. It's assumed that if you dress this way it's because you have to, you can't afford not to, or you're somehow not smart enough to buy into the slicked-back, effortless but costly chic style world. But firstly, it's not like you can't re-create high fashion with chic looks for cheap; and secondly, these assumptions based on my tacky wardrobe are exactly what I want. They're a shout-out to my personality and my past, but also my participation in a community. A community of kids a bit too late to watch John Waters films as soon as they're released, but looking for a way to express their outsiderness nonetheless.
(All gold everything.)
John Waters summed up this mantra best:
"You don't need fashion designers when you are young. Have faith in your own bad taste. Buy the cheapest thing in your local thrift shop — the clothes that are freshly out of style with even the hippest people a few years older than you. Get on the fashion nerves of your peers, not your parents — that is the key to fashion leadership. Ill-fitting is always stylish. But be more creative — wear your clothes inside out, backward, upside down. Throw bleach in a load of colored laundry. Follow the exact opposite of the dry-cleaning instructions inside the clothes that cost the most in your thrift shop. Don't wear jewelry — stick Band-Aids on your wrists or make a necklace out of them. Wear Scotch tape on the side of your face like a bad face-life attempt. Mismatch your shoes. Best yet, do as Mink Stole used to do: Go to the thrift store the day after Halloween when the children's trick-or-treat costumes are on sale, buy one, and wear it as your uniform of defiance."
(A comment on my personality and my aesthetic from my commando piece — I want this in my obituary.)
Trashiness was basically invented by John Waters and for many, John Waters films are the first way we found out about a world outside of the dominant culture. We could be smelly, strange, weird, and still be wonderful. We didn't have to keep buying the same outfits as our friends and wonder why they just didn't feel right. Maybe it was the spanx, maybe it was that I have a deep, burning hatred for the color brown, but it wasn't until I made it my quest to be compared to Divine that I felt truly comfortable.
The great thing about trashiness is that it comes in so many forms as well. I may never wear sequin, knock-off Uggs, but I love the women who do! I may never wear a velour tracksuit, but I hope the people in them know that I adore their Juicy Couture.
We're decidedly not fitting in: We're doing it in our own way and we're looking fabulous whilst we do it. My costume jewelry and fried blonde hair are a sign that I don't want to (and don't need to) fit into other people's ideals of beauty. I have the utmost respect for the women dressing like Kim K every day — I'll never have that kind of focus or skill — but that doesn't stop me loving my tacky, trashy, terrible self.
Images: Georgina Jones