Boo & Pennsatucky Are The Best BFFs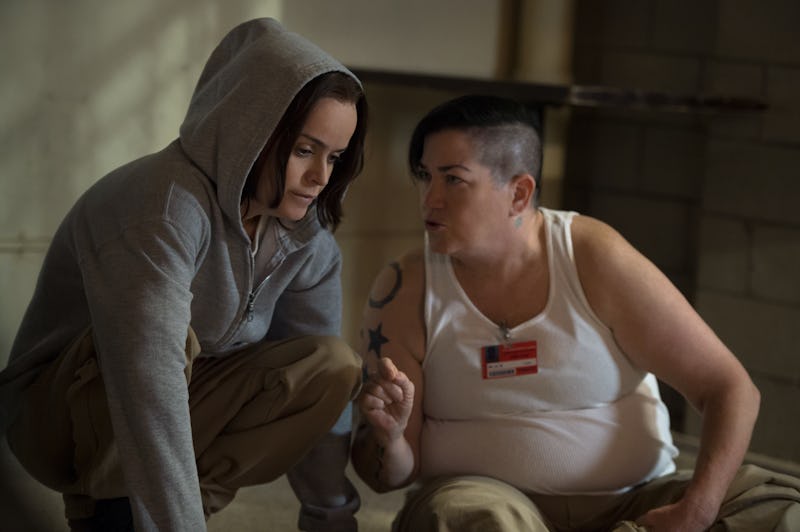 I never would have believed that Tiffany "Pennsatucky" Doggett would be one of my favorite characters on Orange is the New Black. Taryn Manning's character was horrifying in the first season, but after letting go of her faux religious zealotry and generally hostile attitude, she's become rather likable. One of the best aspects of OITNB Season 3 is Pennsatucky and Boo's blossoming friendship. They really do make quite a team.
Sure, what they have now is not as strong as Taystee and Poussey just yet. Nor are they a budding romance like Poussay and Soso or Maureen and Suzanne. In fact, the platonic relationship between Big Boo and Pennsatucky may have come as a surprise to fans. It wasn't long ago that Pennsatucky tried to lay hands on Cindy (a.k.a. Big Boo) and condemned her for her sins. They started getting closer last season. Now they're pretty chummy after a few shared experiences and heart to hearts. We also got to know each character a little better separately in flashbacks this season. They may have had different histories, but in Litchfield they've been able to find common ground.
Caution — if you haven't finished Season 3 of Orange is the New Black on Netflix yet, walk away! There are big spoilers ahead for the entire season.
When Boo Explained The Secret Lesbian Agenda
We got a hint of what could be between Cindy and Tiffany in Season 2 of Orange is the New Black when Boo jokingly gave Doggett a rundown of the top secret plan to enslave all men. At this point, Cindy is mostly amused by and able to deflect Doggett. However, the two were already there for each other when Leanne and the laundry girls kicked Doggett out and Red's clique rejected Big Boo.
When She Talked Doggett Down About Her Abortions
In the Season 3 premiere, set on Mother's Day, Tiffany held a quiet service for all of her aborted fetuses. Boo came over and used this as an unconventional teaching moment. She basically told her to stop beating herself up and that her choices were probably for the best.
When Boo Found Out Why She Was Really In Jail
...and respected her for it! Tiffany wasn't a fanatic, she was just pissed off. Boo can relate to that.
When Tiffany Was Honest About Boo's Makeover
When Cindy tried to scam religious organizations to support her "conversion" from homosexuality, part of the process included getting a "girly" makeover from Sophia. While Morello and the others fawned over her transformation, Doggett told her the truth — she looked ridiculous and not like herself. That's what friends are for!
When They Shared Toothpaste
Sharing is caring, y'all!
When Doggett Was Surprisingly Accepting
She's come a long way from "they lesbianing together," huh?
When Boo Found Out The Truth About Donuts
While this was another one of Big Boo's unconventional teaching methods, by pretending to solicit her, Boo ultimately got Doggett to open up and admit that what the guard had done was rape and not okay.
When They Went All Girl With The Dragon Tattoo
It may not have been the best plan, but watching Boo and Pennsatucky team up to get revenge on Tiffany's rapist and abuser was pretty epic.
When They Made The Perfect Chicken Team
I can't wait to see how this friendship progresses in Season 4! Especially now that Maritza is in danger from Officer Donuts. This Dream Team may need to come to her rescue and fast.
Images: JoJo Whilden/Netflix; punkrockrobbins(3), ainokiseki (2), connorwahs/Tumblr; Giphy (3)