A Definitive Ranking Of Kardashian Animals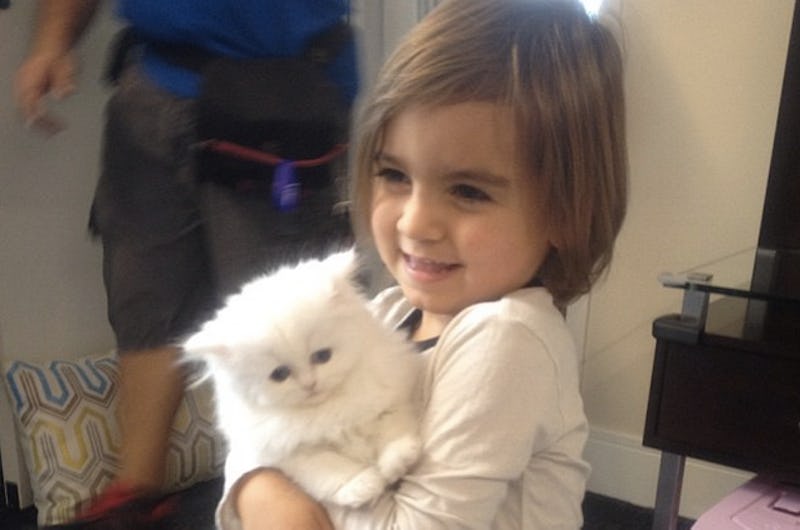 If you watch Keeping Up With the Kardashians, you already know that the show isn't just about the famous family — there are a lot of supporting players, too. Malika Haqq, Jonathan Cheban, Scott Disick's hilarious alter-ego, Todd Kraines. And then, there are the animals. Over the past bajillion seasons of the show, we've met tons of the family's four-legged (and otherwise) friends, which isn't too surprising since the Kards do have a soft spot for animals. And whether the creature in question was a pet or just an animal the Kardashian-Jenners happened to encounter in their travels or daily life, their interactions with them are usually hilarious, like just about everything the Kardashians do. Obviously, there's only one thing to do at this point: Take the time to appreciate all the animals of KUWTK .
Because, let's be real, if you're anything like me, you're probably paying way more attention to whatever amazing outfits Kendall and Kylie Jenner have put together or whatever ridiculous thing Kim Kardashian's talking about to spend much time thinking about that cat that just walked across the screen. It's time to give these animals their due, because they've all had to put up with Kris Jenner just like the rest of us.
Here are the animals that have been featured on KUWTK or have, at some point, been a part of the Kardashian-Jenner family, ranked. And yes, even the elephant who ruined Kim's Thailand selfie is on this list, so you can officially rest easy.
21. Kendall Jenner's Horses
When they were younger, Kendall and Kylie used to ride horses all the time. Now, not so much. But we might see them with horses again soon, since Caitlyn offered to build a stable if they wanted to buy horses again.
20. Kylie's Dog, Adam
That dog hasn't been heard from in years, but at least Kylie let Kendall borrow him for a photo shoot.
19. Louis & Vuitton
For Christmas 2011, Kendall and Kylie got puppies, which they promptly named Louis and Vuitton (duh). Unfortunately, these two haven't been heard from in awhile, so I have a feeling they may have found another home.
18. Kendall's Great Dane, Blu
Another dog given as a gift, Rob presented Kendall with Blu for her birthday almost two years ago. She hasn't been seen on Kendall's Instagram lately, though. Where do these pets go?!
17. Rocky
Remember that time Kim was dating Reggie Bush? They shared a dog, Rocky, and he was ridiculously cute. After they split, Kim got custody. No word on whether he's still around, but she did at least keep him long enough that he and Mason met.
16. Jackson
Kendall, Kylie, and Khloe adopted this rescue dog together, and he is precious. Yet again another animal whose fate is undiscovered. Where are these pets, and how can I adopt them myself?
15. Gabbana
Guys, Gabbana has been around for years, and he was still in the picture as of April 2015 — thank goodness. And, um, he's not shy about doing his business on national television, so points for him!
14. Dolce
Unfortunately, unlike his counterpart, Gabbana, Dolce went missing in 2012 and hasn't been heard from since, even though fans launched a massive #HelpFindDolce social media campaign. Dolce, wherever you are, I hope you're happy. Maybe it's where the rest of the forgotten Kardashian pets go.
13. Princess
This is one of the sweetest animal stories ever told, so if you're feeling emotionally delicate, you may want to skip the story of Princess. Kim found Princess outside of a nail salon and decided to adopt her, but when she took her to the vet for a check up, she found out that she was actually pretty sick and needed emergency surgery and constant care. Since Kim couldn't provide that with her busy schedule, the vet assistant took Princess in and she finally found her forever home. I'm not crying, you're crying.
12. Bernard
When Khloe and Lamar were together, they adopted Bernard, named after boxer Bernard Hopkins and affectionally nicknamed B Hop.
11. Normie
Does it surprise anyone that Kylie Jenner's dog actually has an Instagram, and that he has almost 400k followers? What are the rest of us doing with our lives?
10. Bambi
Bambi was (apparently) Normie's Instagram counterpart, but unfortunately, she seems to have gone the way of most Kardashian pets: into the mysterious void.
9. The Pig That Kendall Babysat
And since Kendall was babysitting, that turned into Kris babysitting, which turned into Scott babysitting, which is the Kardashian-Jenner circle of life.
8. Kris Jenner's Chickens
One of my favorite KUWTK moments was the time Kris thought it would be a good idea to keep her own chicken coop and harvest the eggs herself so the family would eat healthier. Clearly, that didn't last long, but it was hilarious while it did.
7. Petey The Peacock
Petey — full name Peter Pan — wandered into Khloe's backyard one day and she decided to adopt him. Normal.
6. Bella
Another moment of KUWTK gold. Kendall really, really wanted a dog, but her parents were totally against it. So she took matters into her own hands and bought a dog herself and hid her as long as she could in her bedroom. This is a plot I wish I could have executed as a kid, but always chickened out of. Kendall was brilliant. Unfortunately, she eventually gave Bella up, and now she's found a home with a pastor.
5. Mercy
Mercy was Kim Kardashian's kitten from Kanye West, and she was adorable, but she met a sad ending. Not long after she was adopted, Kim gave Mercy away to Khloe's assistant because she was allergic, and soon after, Mercy ended up dying after contracting a virus. Poor baby!
4. Charli
Another Kardashian Kat, Charli is a bengal that belongs to Kourtney and Scott, and she's super beautiful, as told by Scott and Kourtney's frequent Instagram posts that feature her. Like, if they ever decide they're done with her, I want her.
3. The Monkey Kris Baby-Sat
OK, I'll admit it, this episode of KUWTK made me want to participate in the whole monkey rental thing, too. Even though the monkey was way too much work for Kris, it was still hilarious trying to watch her wrangle her. I love you, Susie.
2. The Elephant Who Ruined Kim's Selfie In Thailand
This one basically speaks for itself.
1. Mason's Fish That Died
So, you know, Kourtney just replaced it. And then bought a zillion more to protect Mason from fish death in the future.
In conclusion, the Kardashians have had zillions of pets — and these are just the ones we've seen on KUWTK. Most of them are MIA for all eternity, but wherever they are, I hope they're happy, there are plenty of dog bones to go around, and no one forces them to participate in Instagram unless they want to.
Image: Kim Kardashian/Instagram