Watch Kandee Johnson Transform Into Barbie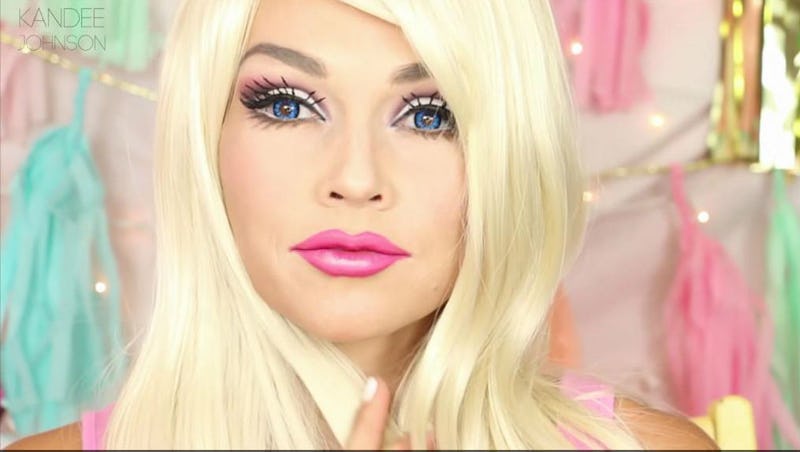 If you've ever wanted to master Barbie's signature look, complete with bold blued-eyes, pink lips and blonde locks, you're not alone. Thanks to makeup artist Kandee Johnson's "Hi-Speed Barbie Transformation" tutorial, becoming Barbie-fab has been made doable, no plastic surgery required.
For over fifty years, doll-obsessed little girls have admired Barbie for her versatile career and ability to do literally everything in heels, not to mention her signature bubblegum pink makeup look.
Recently, however, Mattel has given Barbie a groundbreaking makeover. Your childhood favorite now comes in different skin tones, complete with a variety of hairstyles, eye colors, and — gasp — adjustable ankles that allow her to wear flats. The legendary doll has come a long way, making it easier for little girls to relate to their favorite toy. But although I'm all in favor of Barbie progression, I'll always have a soft spot for the original Barbie I spent hours upon hours playing with, and it would be kind of cool to pose as her for Halloween.
It really is fascinating how a little makeup can go a long way. I've given you a step by step recap of how Johnson transforms into Barbie.
Step 1: Insert Blue Colored Contacts
Unless you have blue eyes, in which case you can skip this step, obviously.
Step 2: Cake On Face Makeup
You've got your primer, cover up, foundation, toner — the works.
Step 3: Trace Eyelid Crease With Dark Shadow
Eye shadow powder or pen will work fine.
Step 4: Trace Above Dark Shadow With Pink
Bright pink, because Barbie.
Step 5: Apply Sleek Eyeliner
Simply outline the bottom of your top eyelid. Barbie is not all about that winged eyeliner.
Step 6: Eyebrows On Fleek
Lighten or darken your eyebrows to match the light brown coloring on your favorite doll.
Step 7: Create Eyelash Illusion With Eyeliner
I would have thought to use fake eyelashes, but this is way cooler and is the perfect exaggerated look.
Step 8: Make Way For The Wig
Unless you have blonde hair, in which case, again, you can skip this step.
Step 9: Apply Bright Pink Lipstick
For a bold lip, apply lipstick, then outline your lips with lip-liner pencil. Top it off with a shiny, clear gloss.
Final Product:
Hello, I'm tour guide Barbie.
Make sure to check out the full tutorial below and if you're feeling adventurous, I encourage you to try this at home.
Images: Screenshots