10 Ways To Combat Loneliness In A New City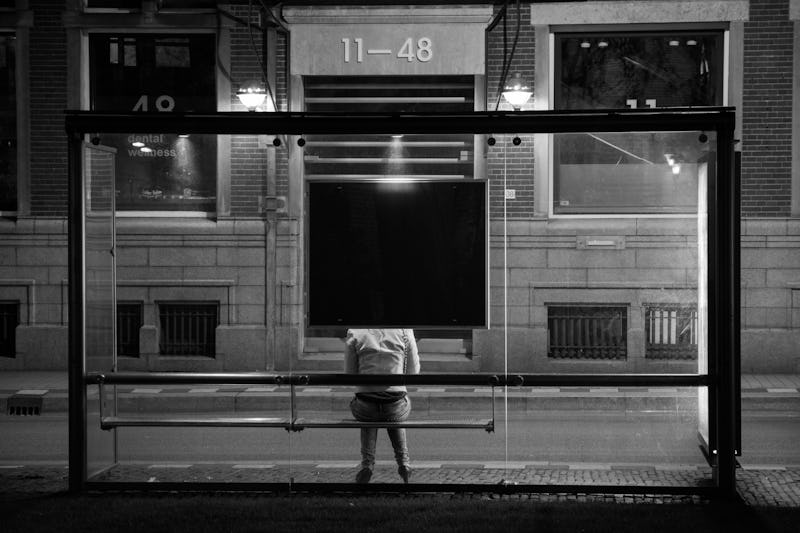 Nothing screams "adulthood" more than packing up your bags and relocating to a new city. But what people sometimes forget to mention is that after the liberation high wears off, it can be quite challenging to adjust and find your "new normal" — especially if you've made the decision to move out on your own. Unlike college, where you lived with people who were going through the same transitions as you, you're now dealing with roommates, coworkers, and friends who are all at very different points in their lives. I've been living in Manhattan for a few months now, and I'd be lying if I said there were never moments when I didn't feel completely lost and alone in this city of eight million people.
Whether your move is taking you to a big city like New York or just the town over from your childhood home, loneliness happens. But, in my experience, you can use your loneliness as an inspiration to explore your new home and feel yourself fall in love with it over and over again, every day. Here's what worked for me.
1. Bring Indoor Activities Outside
Once a week, I make a conscious effort to bring my favorite books and magazines to the park for an outdoor reading session. Set up a picnic blanket and enjoy your favorite quiet activities; like reading, writing, or playing guitar surrounded by others. If it's too cold or rainy, go to a coffee house or nearby bookstore. Besides being a source of creative inspiration, you're bound to chat with at least one or two people when you're outside.
2. Befriend Your Roommates (Or Neighbors)
If you're starting out on your own, a roommate is more of a necessity than an option, especially in expensive cities. Instead of making a checklist of things they do that irritate you, try and embrace living with someone new — while my roommates and I don't socialize outside of the apartment all that much, we do make an effort to check in on one another and ask about work and life in general. Sometimes, after a long day of battling coworkers and messing up at the morning meeting, a simple "how are you," or "do you want to order pizza tonight?" can completely alter your mood.
3. Find A Routine
As a self-proclaimed Type A personality, the biggest way I fought loneliness in a naturally overwhelming city was by creating and maintaining, a basic routine. Days in New York are never boring and are hardly ever the same, so having a few small tasks you can depend on every day can be more comforting than you even realize.
4. Utilize A Guidebook
Find a guidebook or travel blog you love, and use the author's recommendations as starting points for your adventures. It's so easy to get lost in basic and bland tourism traps, especially in big cities, so I tend to shy away from mainstream guidebooks and instead listen to recommendations from travel bloggers or writers who target more than just the "essentials." The next time you're bored and looking for something to do, think of a random number, flip to that specific page in your guidebook and go visit the place on the page — no questions asked.
5. Phone Home
Seriously. Whatever your definition of "home" is, call someone from there. Laugh, cry, and complain about life and the responsibilities that come with growing up. The simple act of talking to someone who knows your past experiences and can share them with you will help you feel less alone.
6. Go It Alone
Fighting loneliness by going out alone exploring your new city on your own is both exciting and empowering. Want to spend four hours at a museum? Do it. In the mood to go on an obscure walking tour or eat out at restaurant that serves interesting cuisine? Then go! When you travel alone, you're completely in control of your itinerary, and you only have to worry about making yourself happy. Consider yourself a traveller in your new city. You'll not only be developing a deeper relationship with your city, but with yourself, too.
7. Sign Up For A Class Or Club
We all have passions and hobbies we don't always get to nurture because of our chaotic work lives and commitments to family and friends. By signing up for a class or club, you're not only going to meet people with similar interests, but you're promising yourself some time each week to do something that you truly enjoy. My coworker takes comedy improv classes once a week after work; I've been cycling and am looking forward to taking ballet and cooking classes with friends this summer.
8. Find Your Own Central Perk
Having a "spot" (other than your apartment), can really help your city feel like home. There's a sense of security in having a go-to place in town to escape the stresses of everyday life. Try and find a local coffee shop, bar, or bakery that reflects the character of your city. Order their most popular dish, people watch, and invite your friends to join you so you can make your own sitcom-worthy memories.
9. Go Antiquing
There's no better time than the summer to check out your city's flea markets and antique shops. You'll naturally engage with people as you learn about the culture and history of your city (and score some one-of-a-kind gifts and apartment finds, too). Get there early, when you'll have the biggest selection of items to pick from, and make a day of it. If sifting through other people's old items isn't for you, farmer's markets are a great alternative. Use your fresh fare to host a food and wine pairing party with your friends and roommates that evening.
10. Just Say 'Yes'
When you say yes — to dinner, a date, a spin class, a concert in the park — the opportunities are endless. By saying "no," you shut down any chance of something spontaneous, unexpected, or serendipitous happening to you. Predictability can be nice, but it can also be stifling. I'm not telling you to say yes to everything (that might be dangerous) — but whenever you have to pause and think about what your choices, try just saying yes a few more times than you say no — and see where it leads you.
Image: SkitterPhotos/Pexels; Giphy