How To Apply Lipstick With A Lip Ring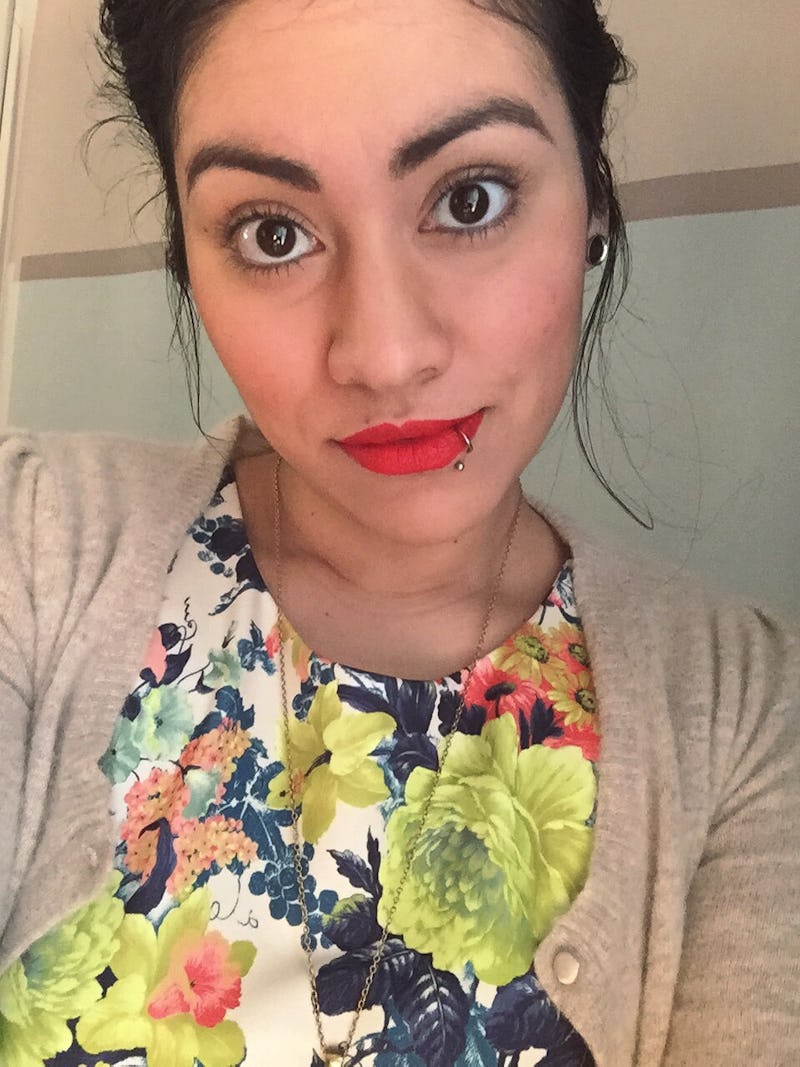 Both lip rings and lipstick can take a plain Jane look to a whole new level of awesome. A bold red or a subtle pink can accent your outfit perfectly, while an infinity ring or a horseshoe ring can add a bit of flare to the traditional accessories. However, pairing both of these together can be a challenge, and learning how to apply lipstick with a lip ring in the way can become an even bigger problem than avoiding lipstick on your teeth!
I've had my lip pierced for almost seven years, and ever since then, I've struggled to apply any kind of lipstick or lip balm. If I'm doing my makeup in a rush, I've ended up with dented lipsticks or uneven looking lips. I've also had my lip ring move right after I've smacked my lips together (which covers the ring in lipstick), leaving me with a smudge on the upper part of my mouth and making it look like I can't apply lipstick. The worst part is that I love wearing lipstick , especially reds, and it is annoying that my piercings seem to get in the way.
But after countless dented lipsticks and uneven looking lips, I've found an easy and simply way to still properly apply your lipstick even with a lip ring! It takes a couple extra steps (depending on how you do your lips), but it is totally worth it.
Things you'll need:
Lip scrub
Lipstick primer
Nude or clear lip liner
A color lip liner (that matches your color of choice).
Concealer
Thin lip liner brush*
Q-tips*
*these are the products that will specifically help you with your lip ring.
Step 1: Exfoliate
Whether you have a lip ring or not, exfoliating is a crucial step to rocking lipstick. It will remove all that dead skin off your lips, while also keeping your lips from drying out and looking cracked. I use Lush's Mint Julep Lip Scrub, but there are some other ones that work just as well.
Step 2: Outline your lips
Once you exfoliate, outline your lips (line the outside of your lip) with a nude or clear lip liner. When you get to the area where you have a lip ring, simply move the lip ring from side to side and apply as best you can. Afterwards, apply just a tad bit more liner by the sides of your lip ring (almost like you're lining the piercing hole) to make sure that no lipstick will get transferred to that area if some of it gets on the ring and the ring moves. Because of this, I prefer using a clear lip liner like MUA's Anti-Feathering Lip Liner.
Step 3: Prime your lips
Once you've outlined your lips, apply a lip primer to moisturize your lips and help the lipstick look smoother. This is where I like to use a lip liner brush. When it comes to priming the area around your lip ring, brush some of the primer onto the brush and use that to apply. This is best for the outer corner of your lip next to the lip ring, as it is harder to use the primer applicator. To get under the lip ring, I simply move the ring around.
Step 4: Inline and apply lipstick
After you've primed, line the INSIDE of your lips and shade them in. Because you're using a pencil, it is easy to work around the ring.And, now, finally, apply your lipstick! Keep your mouth open when doing so and resist the urge to close your lips until you've applied it completely.
Use the lip brush to apply the lipstick the same way you did for the primer. Be extra careful if you're using a bold color like a red or purple when you go around the lip ring.
Step 5: Pop, Then Set
Rimmel Stay Matte Pressed Powder, $6, Amazon
To avoid lipstick on your teeth, stick your finger in your mouth and pull it out. This will remove the excess lipstick on the inner part of your lips.
Following the "pop," set your lipstick with a translucent powder. This is really helpful to avoid having some of it smudge from your lip ring if you purse your lips or smack them together (also good if you want to kiss your SO without leaving lipstick marks!). I place a thin layer of tissue between my lips and then lightly brush some of the powder over my lips. I use Rimmel's Stay Matte Pressed Powder or Soap and Glory's One Heck of a Blot. Then, I use the q-tip to remove an excess lipstick that's gotten on the lip ring.
Soap and Glory One Heck of a Blot, $14, Target
Once I've done this, I can feel confident that none of it will smudge
Step 6: Concealer just above your lip ring
Sometimes, even these steps can't prevent your lip ring from smudging. If this happens, use the q-tip to clean up the area (usually on the upper lip) and then apply a little bit of concealer.
Images: Giphy; Author's own