9 Book Clubs That'll Inspire You To Start Your Own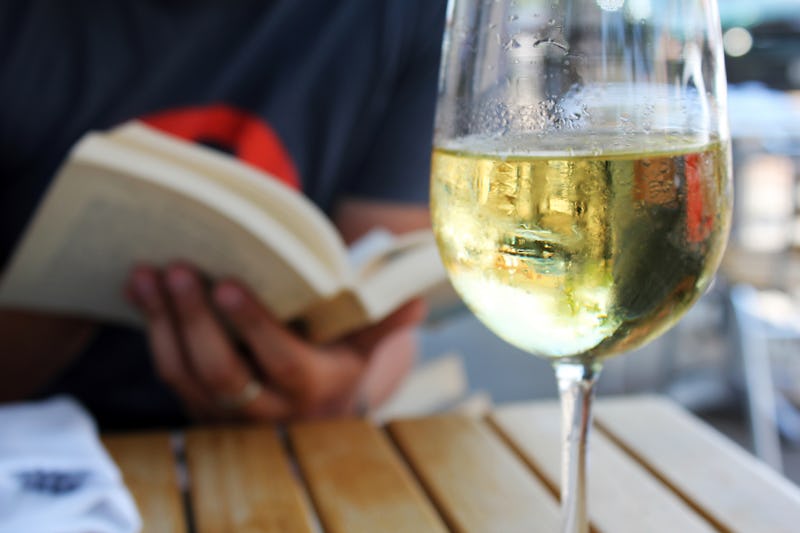 I've always been intrigued by the idea of attending a Gertrude Stein-style salon — and really, what diehard book lover isn't? Great minds, impassioned conversation, a steady flow of vino… now that's my idea of a party. And also, maybe, heaven.
But if you're anything like me, and your dream salon scene feels like a time machine trip away, you still probably try to turn any social occasion into an excuse to talk about what you're reading: Cousin Fred's middle school graduation, your significant other's office holiday party, lounging at Aunt Trini's new condo. In my opinion, all occasions are made better by books, and the only thing that makes the books themselves better is a group of friends to talk about them with, aka your own personal book club.
While there are tons of great articles listing book club-friendly books what about checking out some books about book clubs themselves — you know, to inspire the hostess/debate moderator/inner-Gertrude-Stein in you? These novels and nonfiction titles are all about book clubs. From a life-risking reading group in the heart of Iran's capital city, to a book club that meets in a quaint coffee shop in suburban America, the literary gatherings in these books were legendary enough to spark stories of their own, and might even inspire you to host your own book club, too. Happy reading!
Playing With Light by Beatriz Rivera
When Rebecca Barrios begins hosting a weekly tertúlia — a traditionally Cuban assemblage of women, who discuss culture, literature, and life — the gatherings quickly turn into a book group for the hostess and her best gal pals. But when the first novel they choose, the Havana-based historical novel Playing With Light, seems to have an eerie effect on their real lives, the distance between fact and fiction becomes a little bit smaller.
The Jane Austen Book Club by Karen Joy Fowler
The members of The Jane Austen Book Club spend their monthly gatherings doing exactly what you'd expect: discussing the genius of the one and only Jane Austen. Naturally, each of the six members have their favorite book — Jocelyn, who loves Emma, is the founder of the book club, and responsible for bringing everyone together. As the months go by, each member shares not only their literary musings, but their specific personal connections to the work of Austen, as well. Whether or not the club will last beyond the works of Austen isn't certain, but this novel was definitely fun while it lasted.
Reading Lolita in Tehran by Azar Nafisi
The memoir, Reading Lolita in Tehran , tells the story of teacher and writer Azar Nafisi, a woman who dared to defy the national book bans imposed by the government of the Islamic Republic of Iran, and hosted a reading group in her house that focused on the classics of Western literature. The women of Nafisi's book club risked their lives every week for over two years, by reading the works of authors like Jane Austen, Henry James, and F. Scott Fitzgerald — if their bravery doesn't inspire you to start your own book club, I don't know what will.
The Guernsey Literary and Potato Peel Pie Society by Mary Ann Shaffer and Annie Barrows
You will fall absolutely in love with the characters of The Guernsey Literary and Potato Peel Pie Society , even before you hear how they used literature to change their lives. The novel, told through letters, focuses largely on Juliet Ashton — a writer who composed amusing newspaper columns during World War II, to brighten the spirits of readers whose homes were being destroyed around them. Now that the war is over, Juliet is interested in pursuing her true calling towards more serious journalism. This leads her to Guernsey, and an amazing cast of characters whose lives were literally saved by reading.
The End of Your Life Book Club by Will Schwalbe
The End of Your Life Book Club is the moving and inspiring memoir of Will Schwalbe and his mother, Mary Anne, who started a book club of two after Mary Anne was diagnosed with fatal pancreatic cancer. As Schwalbe's mother temporarily escapes her illness through the mesmerizing power of the books she loves, the two share Tuesdays With Morrie -style stories and wisdom that tackle issues ranging far beyond the books they are reading. This is a memoir of love, loss, and the lifelong lessons that can be found in literature.
The Accidental Book Club by Jennifer Scott
Jean Vison started a book club by accident — but her informal monthly gatherings have quickly turned into cannot-miss events for her and the five other women who meet over books (and of course, a healthy dose of wine and friendship.) Each of the women in The Accidental Book Club couldn't be more different from one another, but what they have in common is their shared connection with literature, and the ways that the books they read help them better manage their lives off the page as well.
The Hemingway Book Club of Kosovo by Paula Huntley
A year after almost a million Kosovo-Albanian refugees sought safety from the violence of their homeland, writer and teacher Paula Huntley traveled to the tumultuous region to teach English, and try to make a positive difference. Huntley asked her students if they would like to venture an "American-style" book club, and with the first page of The Old Man and the Sea , the Hemingway Book Club was born. The story of The Hemingway Book Club of Kosovo is taken directly from Huntley's journals during the months she taught, and describes a group of students and refugees for whom literature became crucial to survival.
The Naughty Girls' Book Club by Sophie Hart
Every reader needs to break out of her shell once in a while, and what better way to start getting in touch with your inner-goddess than with a spicy little book club? (Some things are better on the page than in practice, after all — at least at first.) Small business owner Estelle Humphreys sets up a book club in her suburban café, and fills the reading list with titles that are sultry, sassy, and maybe even a little scandalous. The Naughty Girls Book Club is not for the faint of heart.
Reading with Oprah: The Book Club That Changed America by Kathleen Rooney
A list of book club books wouldn't be complete without a little nod to the woman who put the book club back en vogue, and, for better or for worse, got EVERYONE talking about literature at one time or another. Reading with Oprah digs into the deeper story behind the Oprah Book Club, and the cultural tour-de-force that is Oprah Winfrey. If she builds it, readers will come.
Image: Quinn Dombrowski/Flickr