13 Books That'll Be Perfect For Your Book Club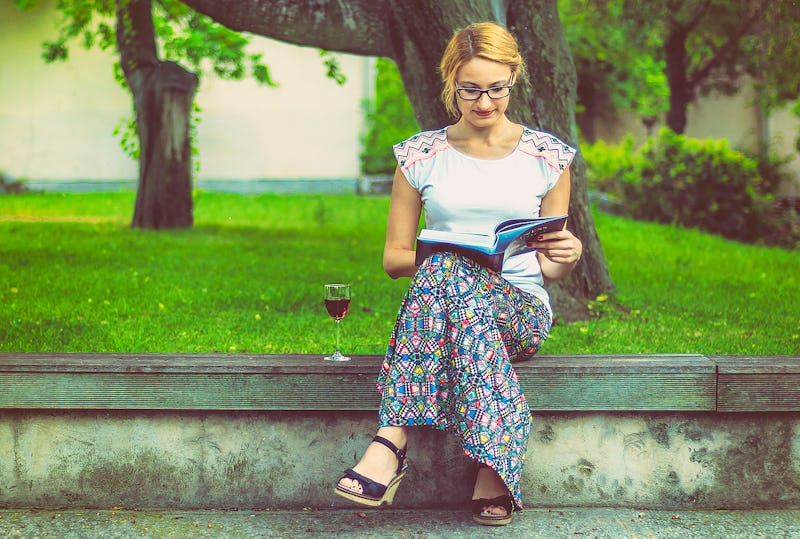 Reading on your own is old news. Everyone has a book club these days: Oprah, Mark Zuckerberg, your neighbor in the apartment next door. Even Lauren Conrad shares her recommendations. Isn't it time you see what all this hype is about?Or maybe you're already in on the secret of book club life, and you've been searching for your next dynamite read that's going to be like a shot in the arm to bring your group back from the dead. I get it — between schedule conflicts, or a book that just doesn't really hit all the right notes, sometimes even the most well-intentioned group can stall out.
Whichever camp you're in, I have your solution: If you're ready to zap some life back into your own book club, or start up a new one, here's a list of what women around the nation are reading in their book clubs right now. There's a huge range of literary thrillers, remarkable memoirs, fun YA, and essay collections that will get your whole group thinking. Regardless of what you pick, the best part about these books is that they'll spark discussion in a big way — and ain't that the whole point? (Oh, yes, the wine and cheese. That's the other point.)
Take a peek over the list, and consider sharing with your book club members. Hopefully you'll find your next read from the 13 below!
The New York Times bestseller is recommended for those who liked Gone Girl. There's a secret that main character Rachel sees during her daily commute in London that changes multiple lives forever, and you'll all be on the edge of your seat reading. Let your imagination roll with the twists and turns in the plot, and talk about the twist together.
After Mindy Kaling's and Tina Fey's funny memoirs, Amy Poehler's book was highly anticipated — and it delivered. Who doesn't want to hear anecdotes going from Upright Citizens Brigade to Parks and Rec from one of the smartest women in entertainment? There's so much to talk about if your group are fans of Amy.
Amanda Lindhout backpacked her way around the world and became a television reporter before a group of masked men in a conflict zone kidnapped her. This harrowing story of one hostage's strenuous time in captivity and her brave escape is an incredible pick for a group riveted by true-life accounts.
The Signature of All Things is decidedly different from Eat, Pray, Love, but carries similar themes of adventure and travel. This work of fiction spans the turn of the 19th century when a scientist named Anna Whitaker and a spiritual painter named Ambrose Pike discover the evolution of love.
An IT guy named Lincoln monitors company email before Y2K. Readers in Austin get glimpses into his thoughts as Lincoln reads exchanges between Jennifer and Beth, who work in a newsroom. Lincoln grows interest to one of them. If Attachment were to turn into a contemporary rom-com, today's chatty equivalent would be gchat or Slack.
Across the country, friends are gathering to take in Ng's debut novel. The mysterious disappearance of the eldest daughter in a Chinese American family in Ohio provides insight into how dysfunctionally distant the surviving members seem. You're hooked from the beginning.
With all of that crazy snow piling up on the sidewalks, we can only dream of summers in New England now. Here's a YA novel that even the adult set are lining up to read: We Were Liars . Family reunions spent in the privacy of Beechwood Island reveal surprising oddities — and a twist you'll never see coming.
An 11-year-old boy named Michael boards a ship crossing the Indian Ocean and the Suez Canal. Sounds like Life of Pi, but in this tall tale form the seas, parts of the story are retold in his adult years, recalling seatmates at the "cat's table" far from the captain and the ragtag adventures with his fellow shipmates. It's harrowing — and this one won't be a story you and your friends will want to quit on.
If you want to get lost in discussion in your group, here's your read by activist Rebecca Solnit. The collection of varied essays comically discusses the Mars vs. Venus dichotomy in the assuming conversations between men and women. You'll identify this one... and probably end up staying long through the night chatting about it.
Pour a glass of wine and settle with this fun choice. A trio of former best friends take turns unraveling old growing pains while reunited at the Jersey shore. Maybe a great pick for your upcoming lists when the weather gets warmer?
An unsolved murder in the Midwest becomes an obsession for a retired cop and a thrill for an escaped killer. The cat-and-mouse game detailed by the king of crime fiction has readers hooked from the beginning. And you know your group loves that.
How does a nerdy husband type look for love? A socially inept professor designs wife potential a different way — coming up with the "Wife Project" for a perfect partner. He crosses paths with a woman named Rosie on her own search for her father. There's also a sequel for when you fall in love with this one!
Image: Dogan Kokdemir/flickr