The 'Princess Diaries' Actors Are Their Characters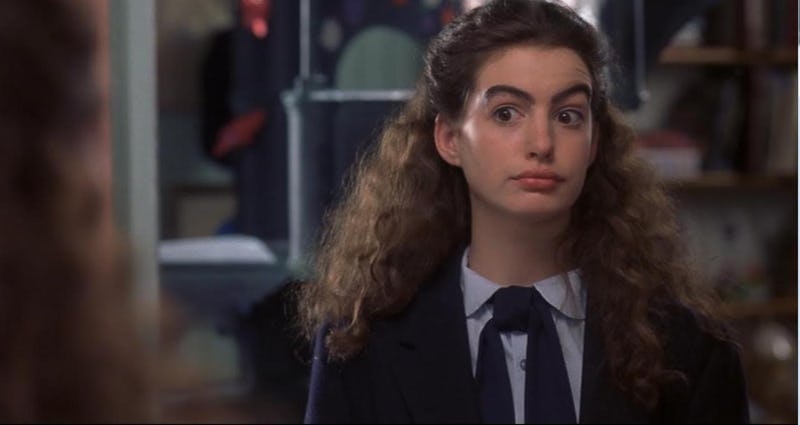 In some of the more heartbreaking entertainment news as of late, there won't be Princess Diaries 3. Though the Internet felt like Christmas came early last week when rumors flew that Disney would be making a third installment in the Princess Diaries series, and was seemingly confirmed by the fact that one of the films' stars, Heather Matarazzo — who plays Princess Mia's outspoken best friend Lilly — tweeted that it was "definitely happening." But cruel fate intervened, and Disney denied that any such sequel or remake or reboot was happening. Thankfully, art imitates life, as evidenced by Matarazzo's essay on women in movies that was posted to her personal blog on Wednesday.
Princess Diaries came out in 2001, can you believe it?! Fourteen years ago the world was introduced to Anne Hathaway in her very first role as Mia Thermopolis, a nerdy girl in San Francisco that finds out, lo and behold, she's actually the heir to the throne of the fictional kingdom of Genovia, and her grandmother is Julie Andrews, aka Queen Clarisse. Sound ridiculous? It is, but I don't think it would be ridiculous to call it a cult classic.
And even though the plotline might be totally cuckoo bananas, it turns out, the main characters in the movie are actually a lot like the actors that play them. Here are five stars from the Princess Diaries that are just like their characters.
Robert Schwartzman, aka Michael
Ahhh, yes, the hot, dark musician who we're supposed to believe is an L-7 Weenie. Robert Schwartzman played Lilly's brother, Michael, who of course had a huge crush on Mia and just couldn't understand why she would be interested in that boneheaded dude, Josh. And Michael and Robert are basically the same guy: Robert Coppola Schwartzman (yes, from THOSE Coppolas; he's Sofia's cousin) is the lead singer in the band Rooney, who all the girls were screaming for in the early 2000s —myself included. Dreamy and mysterious and a little off-beat, indeed. Basically, he just had to show up and play himself.
Heather Matarazzo, aka Lilly
The producers of The Princess Diaries might have just gone forward into the future, and then based the character of Lilly off of actress Heather Matarazzo herself. She's the quirky, weird, loud and crass best friend that is always trying to remind Mia to be herself and not let the prospect of riches and royalty change who she is — plus she wears the greatest scrunchies. In real life, Matarazzo is just as outspoken — her Twitter bio even reads, "If you like authenticity and honesty, you've come to the right place." Her impassioned blog post on Wednesday expressed first her frustration about the lack of equality for women in Hollywood, and then went on to thank all the women in Hollywood that were making a difference, obviously starting with Shonda Rhimes. "Thank you to the ones who care about women, and are willing to tell their stories," the actress said. Girl Power!
Mandy Moore, aka Lana
Obviously Lana is the villain in The Princess Diaries, and Mandy Moore seems like a really sweet girl. But there's the one big similarity between them: they are both candy-sweet pop princesses. Moore has had some of the most classic bops ever that you probably jammed to at your middle school dances, and Lana, ever the popular cheerleader, performs a saucy little number at the scandalous beach party. Note: My high school experience did not include beach parties where the paparazzi showed up. Also, little-known fact: Mandy Moore went to a Catholic school, too.
Anne Hathaway, aka Princess Mia Thermopolis
There are a lot of ways that Anne Hathaway is like her first character, Princess Mia. She's smart, she's funny, she's humble, but maybe the biggest similarity was the transformation she's made over the years. Hathaway was, unfortunately, the victim of the rudely-named Hathahate for many years, and it made her take a break from acting. But she realized that she didn't need to bend so much under what people thought of her or do what they expected of her, and now she's back, baby; she told Elle in October of 2014 that she realized she "didn't need validation from anybody." She found a way to be comfortable with herself, just like Princess Mia. An inner and outer makeover.
Julie Andrews, aka Queen Clarisse
How isn't Julie Andrews exactly like her character, the elegant, charming, kind Queen Clarisse Marie Renaldi? First of all, you may not know that Andrews is actually DAME Julie Andrews, so she, too, is literally royalty. She's graceful, she's beautiful and benevolent — and she even writes children's books in her spare time. Someone really should give Julie Andrews her own kingdom to run, stat.
Images: Disney, Giphy (5).