The Ultimate Guide To Becoming A Mermaid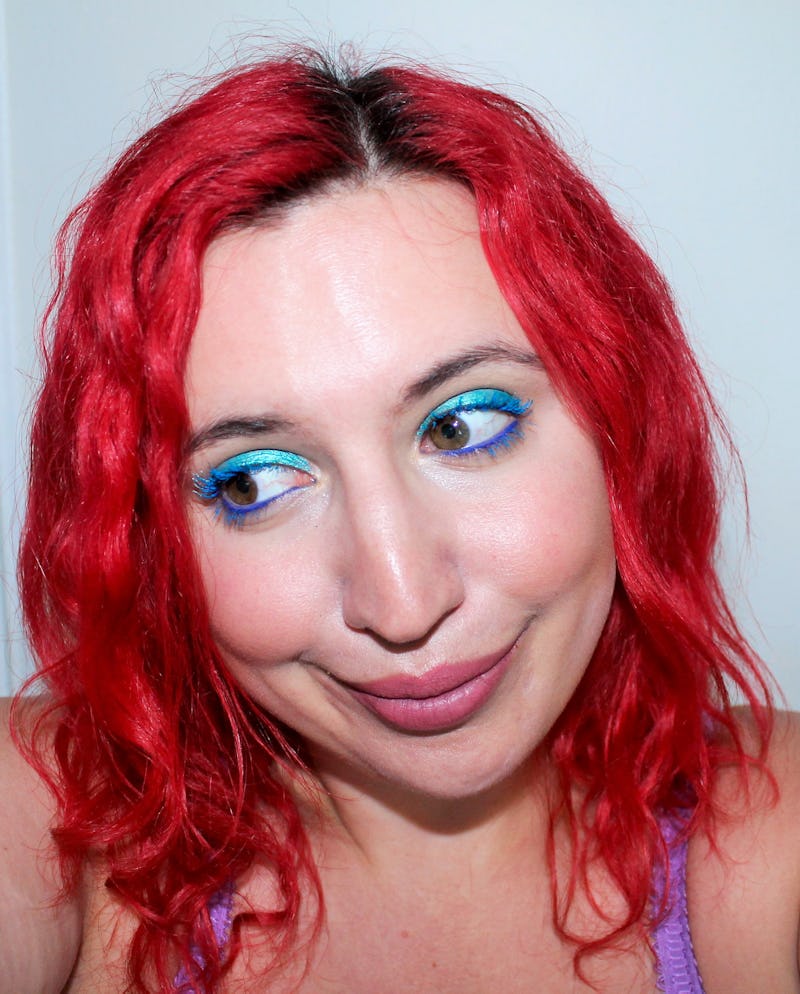 Although we've basically accepted that mermaids are mythical and have never, ever been real (ahem, I'm looking at you, Animal Planet), there's no reason why we still can't dream. There are those who are so committed to their mermaid mania that they slip into custom-made latex tails, learning to live and dress like a mermaid (or merman). Others who are lucky enough to actually get paid to be a living mermaid, and others still who express their fantastical fashions once a year at the Coney Island Mermaid Parade. And even though 2015's parade has come and gone, there's no reason why you can't work some mermaid magic into your everyday ensembles.
Since I dyed my hair red, I have had multiple mermaid moments; swimming in my in-laws' pool with my red hair floating around me and dogs paddling past like furry manatees, and being called "Ariel" by my friend's daughter every time she sees my picture, since she is completely convinced that I am a living, breathing mermaid. (Although I would never give up the ability to talk just to land a guy. I have waaaay too much to say.)
Since summer is the perfect time to embody your favorite mythical creature, I put together seven different mermaid-inspired makeup looks, ranked from easiest to most challenging in terms of application (and wearability). So, if you just want to dip a toe into the mermaid makeup pool, you're ready to dive right in and make a major splash, or you land somewhere in between the two, there's an option for you!
Mascara
I started with a base of Maybelline Dream Fresh BB Cream, which is always my go-to because it moisturizes my skin, feels very light, and has SPF 30, which is SO important to wear everyday. It also adds a more dewy texture to my skin, instead of that matte look that many powders or heavy foundation can cause. And also, mermaids don't have matte skin!For lips I used Revlon Colorburst Matte Balm in Elusive, which I thought was an apt name since those 'maids have been eluding us for years. To begin my mermaidization, I layered on Kiko Milano Super Color Mascara in 07. The formula is super thick and chalky, reminiscent of the colored hair mascara that I was obsessed with in high school, but it goes on well and the color is significantly brighter than many other colored mascaras. If you saw step one, and were like, that's not enough mermaid for me, then keep reading...
Mascara + Liner
I rimmed my waterline with Rimmel London Kate Eye Shadow Stick in Electric Sapphire. The 24/hour, waterproof formula is perfect for waterlogged mermaids!
Mascara + Liner + More Mascara
This is my favorite level of makeup mermaid-ness. I love the combo of the turquoise mascara and the sapphire eyeliner. By pairing two complementary, but not identical, shades of blue it offers more depth and almost gives it a gradient appearance. Even though the only change is an additional layer of blue to my bottom lashes, it really amps up the voltage.
Mascara + Liner + More Mascara + Liquid Eyeshadow
Here's when the look starts to become a loooooook. I slicked on a coat of Revlon Photoready Eye Art in Green Glimmer over my entire eyelid up to the crease. (I only used the liquid eyeshadow side, not the glitter side.) By not extending the color to my eyebrows and keeping it below the fold, it offers a strong impact without heading into costume territory. Besides the stunning color, I chose this specific product because it's a liquid and it looks satiny once dried, as opposed to the matte look that most pressed powder eyeshadows offer. I recommend doing one eye at a time and keeping it closed until it's dry to prevent smearing.
Mascara + Liner + More Mascara + Liquid Eyeshadow + Liquid Glitter Eyeshadow
After I let the liquid eyeshadow dry, I dipped into the glitter side of the Revlon Photoready Eye Art, and slicked on a very hefty dose. Go sparingly with this, as a little goes a long way. Once it was completely dry it actually looked scale-like (and a bit messy).
Mascara + Liner + More Mascara + Liquid Eyeshadow + Glitter Liner + Blush
I attempted to use Wet N Wild Glitter Eyeshadow in Distortion as "blush." I had assumed it was a more concentrated glitter (seriously, where are the high-quality glitters of the '90s?), but surprise, only the top layer had loose glitter. Once I scraped through the top, I was left with a blue creamy base, which didn't transfer as well to my cheeks as it did on my fingers.
Mascara + Liner + More Mascara + Liquid Eyeshadow + Glitter Liner + Contour + Lipstick + MORE GLITTER
So clearly this final look is not for the faint of heart (or to be worn around those with a heart condition). I actually wore this to go visit my parents and my mother could not. stop. staring. I smeared some more of the Wet N Wild glitter into my eyebrows (because, of course mermaids have sparkly brows!) and I slicked on a coat of NYX Wicked Lippie in Envy (I always thought "envy" was green, right? "Green with envy?" Anyway). Although it's a nice royal blue shade, because I had directly layered it on my existing lip color, it came off looking more purplish than I had expected. I patted Mattese Elite loose green glitter on top of the lipstick while it was still tacky, and it settled nicely into the lines on my lips for a very cool contrast.
While I didn't grow fins by the end of this, I absolutely felt more in touch with my inner mermaid than I ever have before. Expect to see me at the Mermaid Parade next year; I'll be the chick with the bright red hair and glitter-covered visage.
Images: Liz Black