7 Celeb Maternity Instagram Selfies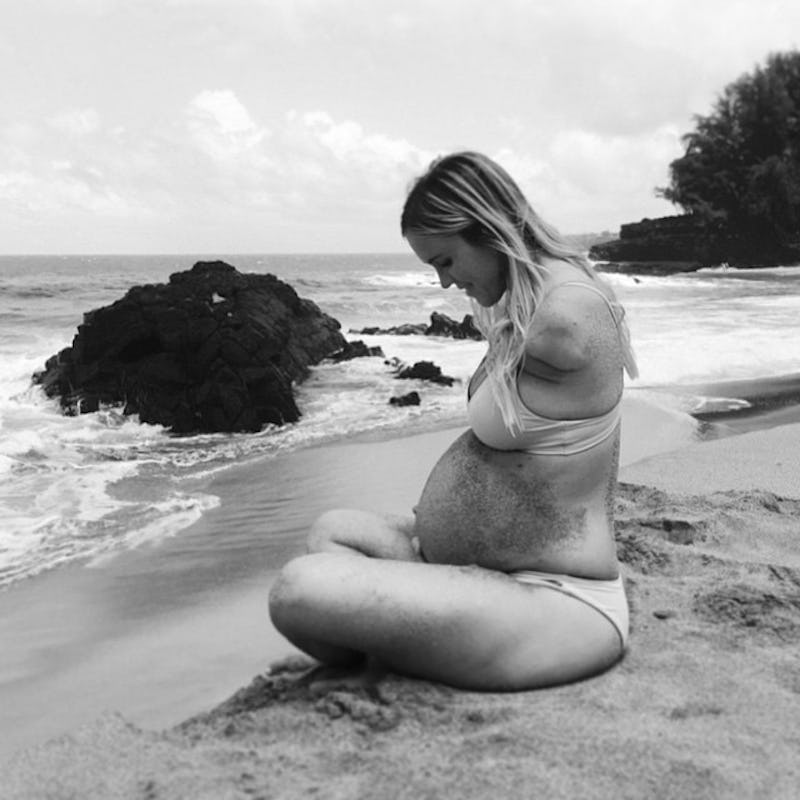 Pregnant women have a special glow factor that is hard to ignore, and celebrity maternity Instagram photos more than prove that point. Pre-pregnancy, I wasn't all that into seeing how anyone, celebs including, made their maternity fashion choices, but as I'm expecting my first child this fall, I just can't get enough of all the cute maternity photos online, from Pinterest to Instagram.
I love seeing my friends and peers' baby bump photos on Facebook and Instagram, but I've actually been following pregnant celebs on their social media accounts a lot more this year, and the sweetness overload is too much. I wasn't so sure about the fascination with pregnant celebs before, but I totally see the appeal now!
Just like we gain fashion inspiration from our favorite Insta It girls, I'm doing the same and taking some mental notes on my favorite maternity wear styles I've seen on Instagram. From the ethereal and indie style of Lily Cole to the active lifestyle of Bethany Hamilton to the perfectly put together and chic-style of Leah Jenner, here are seven celeb moms who are definitely teaching me how to master maternity fashion:
1. Lily Cole
I'm not sure when model Lily Cole is due, but here's a very recent photo posted of her baby bump. She's wearing a tee from the indie brand Impossible, which makes her "Buddha Belly" that much cuter. Though she hasn't posted a ton of belly or maternity outfit shots, this sweet capture shows she's all about comfort.
2. Blake Lively
Though she's already given birth to her baby, this post shows off Lively's ability to keep her outfits fun and unique during her pregnancy. Kudos to her wearing those gorgeous heels, too! But there's something especially cute about her patterned blouse, especially knowing there's a baby in that belly.
3. Olivia Wilde
I don't think I really need to comment on how cute this look is on Olivia Wilde. Visions of cute toddlers with their backpacks flood my mind seeing her sweet horizontal striped bag. I also love how adorably she's holding her belly in that angle with a maxi-dress that must be super comfortable while accentuating her bump.
4. Bethany Hamilton
I love how Bethany Hamilton looks absolutely in her element on the beach in her bikini with her baby-to-be. Stunning.
5. Carrie Underwood
New mom Carrie Underwood has stunned us all with her killer looks during her pregnancy, and I particularly love this shot of her in an embellished LBD. Not to mention, her makeup looks flawless.
6. Jill (Duggar) Dillard
This photo shows how amazing it really is to carry around a growing baby in your womb for nine months! Jill's casual and effortless style is something that can appeal to the average woman as well.
7. Leah Jenner
This gorgeous white flowing dress with a pink rose just speaks to my girly side and is a lovely way to express the excitement of her baby girl to come. I used a rose in my gender reveal photos recently, so I'm totally gushing over this pic. She's been posting a ton of great maternity outfit photos, full of traditionally feminine and romantic pieces with lots of floral dresses.
Images: lilycole, blakelively, oliviawilde, bethanyhamilton, carrieunderwood, jillmdillard, leah_jenner/Instagram