Underwear That Prevents Camel Toe Is Now A Thing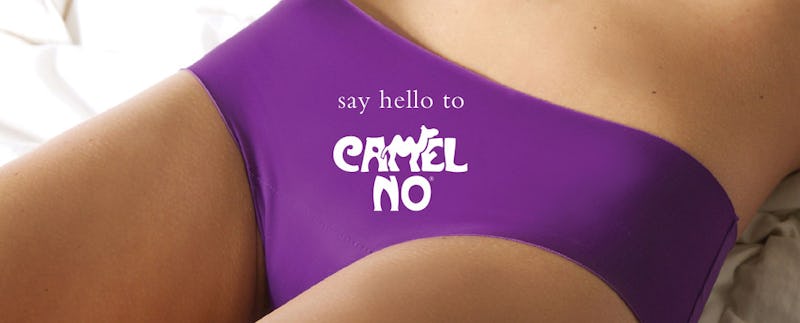 While I personally cannot recall even twice having experienced camel toe, apparently it is enough of an issue that an underwear line has been specifically designed to prevent it. Seamless Thread underwear designer Maggie Han created an underwear line that is evidently camel-toe proof called "Camel No," pun intended. Now women everywhere no longer have to live in fear of the nightmare that is a vagina wedgie. Cue dramatic sigh of relief.
The polyester, spandex blended underwear is lined with medical-grade silicone, which is also used to enhance a woman's breasts by the way, to avoid that pesky, not to mention uncomfortable, crease. It also takes your body's temperature and will not smell when you sweat. Hopefully no one gets that close to your crotch that they can smell your vaginal sweat, but just in case you were worried, Han's got you covered.
As previously stated, I personally have not been horrified by the awful experience camel toe seems to create, however, according to an interview with Mashable, Han has her own fair share of camel toe insecurities. "I always was conscious of my own camel toe," she says. "I'm 5'11. If I have camel toe and I walk into a conference room it's at everyone's eye level. I'm tall and obviously the taller you are."
It wasn't until Han's godmother had major camel toe while giving a speech in New England that the light bulb went off. Horrified, the idea for Camel No was born.
She tells Mashable:
Women are very aware of that area, especially when wearing tight jeans, yoga pants, or form-fitting apparel — this gives them the liberty to wear anything without having to think twice that something is inverting. If you're working hard on your ass then you shouldn't have to hide behind your McQueen leggings with a longer t-shirt over it.
It's refreshing to see the progression in women's underwear flourish. Now if only we could design a pair of underwear prepared for that time of the month — oh wait, it already exists!
Images: Seamless Thread(1)