The Best Time To Apply All Your Skincare Products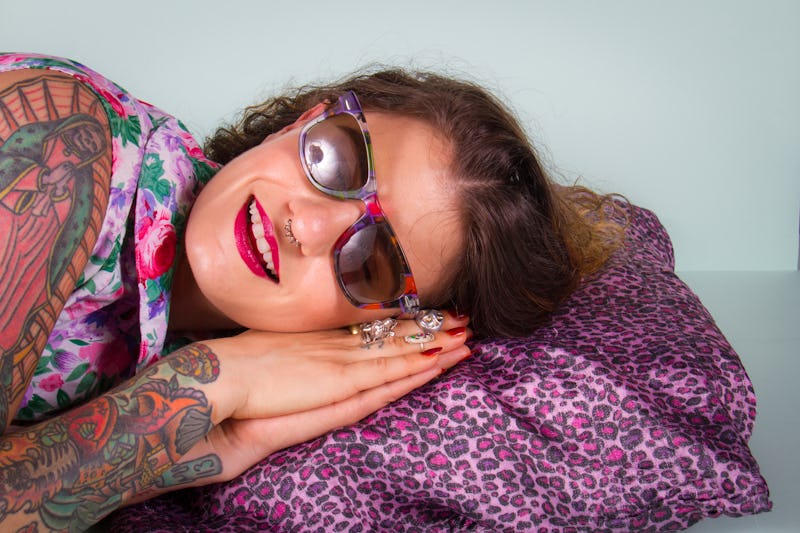 When it comes to successful skincare techniques, knowing which active ingredients are best for your skin is the most important step. Active ingredients can make or break your skin, and when you use them incorrectly the stakes are high. One ingredient might work really well for your mom but cause an instant breakout for you, so it's key that you understand what each thing is good for before you start layering serums, lotions, and SPF.
On top of knowing what each ingredient is supposed to do, you need to understand when to use each one. The way your skin absorbs product is different during the day from how it works at night, which means that certain products will only be effective once you hit the hay — and vice versa. If you're finding that a particular product everyone's been raving about isn't working for you, it could be because you're not applying it at the right time. A little bit of knowledge goes a really long way, and if you stick to these basic principles, you can get the best skin ever, now and in the future. Some active ingredients have a fast turnaround, others need a few weeks to see major results, but after reading this baby you will be a skin scholar and know how to find what you need.
Daytime Active: Vitamin C
L to R: Dr. Dennis Gross Hydra-Pure Brightening Serum, $95, SephoraGloTheraputics Vitamin C+, $135, GloKadaku C Face Cream, $65, Dermadoctor
Vitamin C is so so so crucial for healing scarring and providing overall brightness, as it helps cells turn over and keeps melanin production on the low end. It's an antioxidant and using it gives your routine a head start against the environmental pummeling your skin gets from daily exposure. I highly advise making a C-infused product the first step in your skincare.
Dr. Dennis Gross is one of my fave skincare brands: Their Hydra-Pure Vitamin C Brightening Serum packs an 18 percent vitamin C concentration (ideal is 15-20 percent), along with moisturizing fermented black tea, camellia extract, hyaluronic acid, and light doses of A and B vitamins. It works amazingly as a primer, but I prefer it under moisturizer.
GloMinerals is such a fun makeup line, so I was impressed to see that their skincare effort is just as good. Their Cyto Luxe Vitamin C+ serum combines a 20 percent concentration of vitamin C with flower extracts, plant stem cells, and hyaluronic acid. It feels like a light toner, and I would consider it a serum/ampoule hybrid, as it works beautifully before serums, sunscreens, and moisturizers. If you like to keep it simple, grab some DermaDoctor Kakadu C Face Cream. The rich plant butters help give you an all in one type of experience while the repairing stuff gets to work.
Daytime Active: SPF
L to R: DHC BB Cream, $38, Amazon LBD Women Mineral Sunscreen, $65, La Bella Donna
Using an SPF of 15 or higher even on overcast, winter, or indoor days can really protect your skin from damage, wrinkles, and discoloration for the long haul. Ingredients that provide sun protection without penetrating the skin's surface include titanium and zinc oxides.
DHC BB Cream allows you to double down on light coverage and SPF 20 for maximum convenience. For a lighter and more travel friendly option, La Bella Donna's Mineral Sunscreen is literally effortless. Just dust on mineral powder and get two hours of SPF 20! With any degree of SPF whether 4 or 40+, the key is to layer over your typical routine (or somewhere within it) and reapply every 120 minutes.
Day AND Night Actives: Hyaluronic Acid
L to R: Renée Rouleau Skin Drink, $43, Reneé RouleauSibu Sea Buckthorn Replenishing Night Cream, $34, Amazon
I have been addicted to the goodness that is hyaluronic acid for some time. It absorbs many times its weight in water, so you get all that moisture directly into your skin. Staying moisturized is the most important part of good skincare, so apply this stuff in the morning and the evening.
I like a gel based formula like Renée Rouleau's Skin Drink for day. The texture is perfect when it's humid and sticky because it allows your sweat to evaporate, rather than be trapped with buttery or greasy moisturizers. This gel is fragrance free and fast absorbing, so it's a low maintenance gal's dream come true.
For richer moisture at night time, I like the antioxidant punch of Sibu's Sea Buckthorn Replenishing Night Cream and its light creamsicle scent. Omega 7s and hyaluronic acid help skin stay soft, helping acne by not allowing dead hardened skin to build up on the surface. Veggie extracts like broccoli, cabbage, and cauliflower help deliver carotenoids, which sea buckthorn oil is also very abundant in. Shea butter and olive oil help seal in your entire routine under this rich (but not greasy) cream.
Day AND Night Actives: B Vitamins
L to R: iS Clinical Reparative Emulsion, $85, Amazon GloTheraputics Dual Advantage Cream, $67, 800 Choice
All B vitamins are great in action, but some of my favorites are niacinamide and panthenol. Vitamins B3 and B5 are so integral to preventing photodamage. Healing redness, preventing excess keratin, and providing deep hydration are also all benefits of using B. For either day or night, try GloTheraputics Dual Advantage Cream with B3 and azelaic acid. This is a game changer for excess redness, so if you are prone to cystic acne or rosacea you can slather this on to control things.
iS Clinical's Reparative Moisture Emulsion is definitely a newfangled beauty product. I LOOOVE fermented skincare. Treatment essences have changed my life, so carrying it over into a lotion/emulsion just makes sense for me. This emulsion is light but moisturizing enough to be a standalone. I prefer it within my routine as a way to boost my panthenol(B5) levels and add some rich peptide, protein, and yeasty action to my face. Panthenol is repairing, hydrating, and works great on hair too!
Night Actives: Alpha and Beta Hydroxy Acid
L to R: Origins Original Skin Renewal Serum, $30, AmazonDr. Dennis Gross Alpha Beta Daily Glow Moisture, $65, AmazonRenée Rouleau Skin Smoothing Serum 17%, $49, Reneé RouleauVMV Hypoallergenics Re-Everything Eye Serum, $85, Amazon
If you have acne, wrinkles, or dryness but are skipping AHA and BHA, you are missing out. AHA is gentle enough for mature skin issues, but not to be overlooked for acne. AHA's are usually lactic acid and glycolic acid, generally derived from milk and sugar, and they can completely transform your skin. BHA's like salicylic acid help fight acne from beneath the surface. In combination, you can tick all of your boxes — but using these in the daytime can cause even more sun damage. Using such things at night is absolutely critical, as burns, peeling, and even permanent skin discoloration can occur when you misuse these acids.
VMV Hypoallergenics is so revolutionary as they put every bit of effort into insuring that their products work powerfully without harming skin or triggering allergies. The Re-Everything Eye Serum has glycolic acid to turn over new cells asap under the eyes, and I find it brightens and helps with those little eyelid milia that never seem to budge otherwise. To get this effect on the entire face, Renée Rouleau put a 17 percent AHA solution in an aloe base. The resulting glow you get from using glycolic acid is due to its exfoliating properties, as it helps skin cells dump the deadbeats much faster.
Want a faux tan with those exfoliants? Dr Dennis Gross' Alpha Beta Glotion adds vitamin D, salicylic acid, and glycolic and lactic acids along with a slight bronzing agent. You basically get sun kissed skin while actually protecting skin from sun damage. It's definitely a multi use wonder. For solo BHA action, Origins has this lovely willowbark-infused serum called Original Skin.Despite the hate, I love this lightweight and acne scar reducing serum, and it has a lovely grapefruit scent.
Nighttime Actives: Retinol
L to R: Dermelect Outcrease Retinol Trifecta Serum, $39, DermelectPhilosophy Help Me, $49, Sephora
This one may be the most important to remember to never ever use in the daytime. Retinols are powerful exfoliants and help rebuild sun damage, but it's this action that can also really harm skin if you don't use SPF at any point during the full 24 hours after using. Seriously, do NOT forget the sunscreen. Retinols are fueled by vitamin A, so they're like a milder topical version of Accutane. This causes the dead skin cells to shed at a much faster rate, and helps repair wrinkles and acne for good in many cases. The retinol creams prescribed by a doc can be really really harsh, but I have been having excellent results with these more chill OTC versions from Dermelect and Philosophy.
Called Help Me, Philosophy's retinol cream is meant to help all manner of skin problems where exfoliation is needed and pronto. I like to use it two/three times per week under my rose moisturizers. I find it to be really effective, and it's been an overall boost to my strict exfoliation regimen. Its straightforward and works with a teeny tiny amount. If I want to sneak a little extra in, Dermelect's Outcrease Retinol Trifecta Serum before using my DIY face oil. This serum has three types of retinol for maximum effects and is oil soluble which fits into my nighttime routine.
I hope you learned the do's and don'ts of active ingredients and can now help patch together your routine simply and safely. Once you learn how to use actives, the results you get are so wonderful that its actually impossible to give them up. Knowing that your skin is steadily getting better and better is kind of the best thing ever!
Photos: Darnell Scott