This Hyper-Realistic Food Art Looks Delicious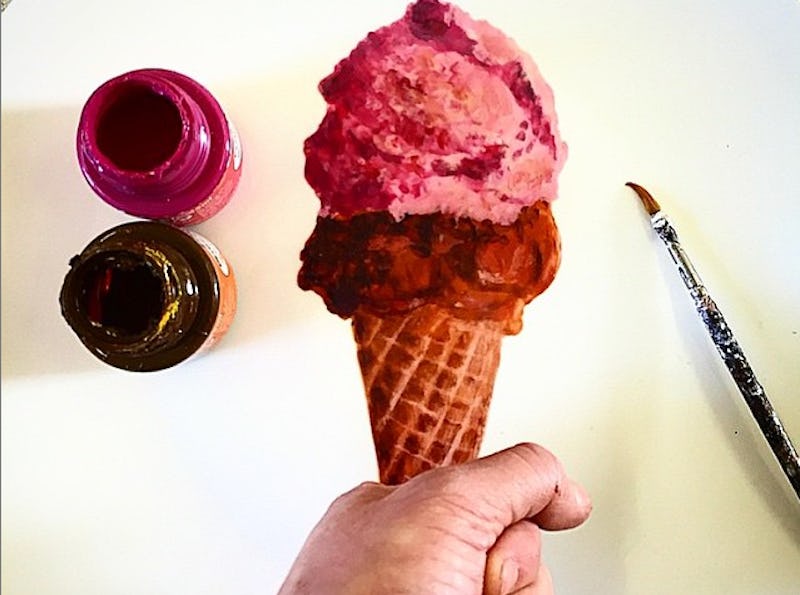 Are you hungry? If you aren't already, you will be once you get a look at the work of Jacqueline Poirier, a.k.a. the Crazy Plate Lady. Trust me, I would know. I've already gone through half a bag of pita chips in the time it took for me to write three sentences, and I have a feeling it's only going to get worse from here. Consider yourself warned.
Poirier is currently the Resident Artist of the Ritz Carlton Hotel in Toronto, where she spends her days painting hyper-realistic food on plates for the hotel's signature restaurant, TOCA. If that's not the coolest job you've ever heard of, by the way, you need to reevaluate your priorities because clearly you aren't giving food the respect it deserves. If, on the other hand, you're desperately wondering how you can follow the same career path, it's simple. Just follow these six easy steps:
Practice drawing and painting from birth.
Start working with ceramics and porcelain.
Win an Art Battle in front of TOCA's manager, during which you were such a badass that he asks you to design the restaurant's charger plates.
Do such impressive work that you end up the Ritz's signature artist.
Amass almost 84 thousand followers on Instagram thanks to your awesome "plart," as you prefer to call it.
Enjoy your new life!
See? Easy peasy.
Poirier wrote at Bored Panda that she has painted more than 1500 plates over the course of her career, including plate settings for the Toronto International Film Festival. Her work has included depictions of the Chicago Bean, Bette Midler, and even Mario Batali, but food is (understandably) where her heart truly lies.
"While I love to paint a variety of things, food is definitely one of my favourites," she told Bustle via email.
Although hyper-realistic art is a field often dominated by pencil drawings and acrylics, Poirier says she prefers her chosen medium. "I love painting on plates because my art becomes functional this way," she said.
In case you're wondering, Poirier's favorite foods are ravioli, cheeseburgers, and grilled cheese, but she actually enjoys paintings sweets like donuts because "they are really vibrant and colourful!"
As you can imagine, she's gotten some pretty strange requests for art from her 83 million Instagram followers, such as one for a "hot dog dressed up as a carpet layer... and another one for a mole (the animal) wearing Yves Saint Laurent heals [sic]."So is there a plate painted with a well-dressed mole proudly displayed on someone's mantle in Toronto? "I didn't end up painting them, but now that you have jogged my memory maybe I'll get started!" she told Bustle.
To see more of Poirier's work, check out the Crazy Plate Lady Instagram or her website.
Image: The Crazy Plate Lady/Instagram (11)