The Dos & Don'ts For Merman Hair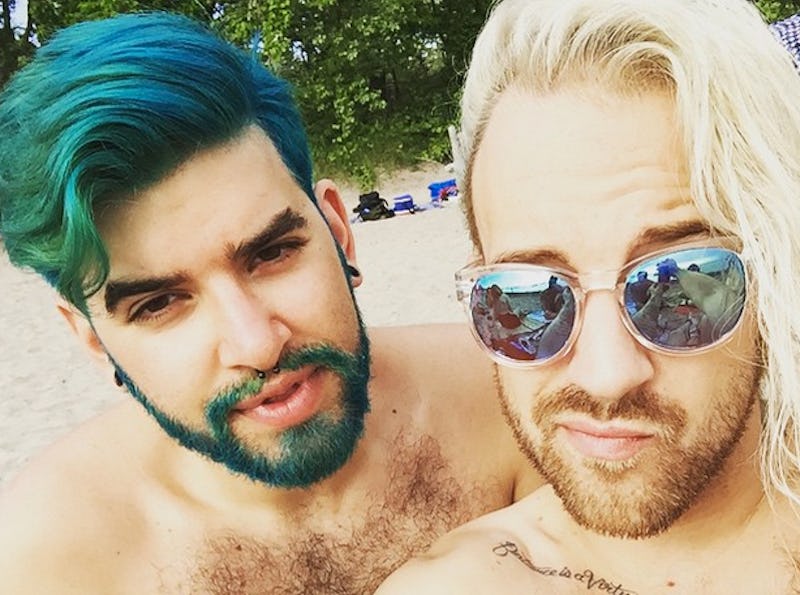 Mermaid beauty trends, like fishtail braids, often assert themselves for the ladies (Ariel's famous red locks, anyone?) But there's a new trend among dudes called merman hair that proves sea creatures are perfect style inspo for all genders. I saw this trend pop up on social media a few times last night and I had to investigate.
Apparently, more than a few dudes are dyeing their hair and beards an oceanic shade of blue. It's sort of like the bold, blue color Kylie Jenner and Hilary Duff have been known to rock. It's all very Manic Panic, very crazy, and very summery. It's also got some roots in Pride events, which of course I support! That concept is even more timely given that SCOTUS ruled gay marriage bans unconstitutional on Friday. But what about the look itself?
Do I like this hair trend? Do I hate it? Hmm. The jury remains firmly out on that. But I can say with confidence that I don't love this look just yet. At first, I thought, "Hipsters."
Then I thought, "Maybe this is a unique way for guys to express themselves through their look?" It's anything but Bros Being Basic!
Since this could be the trend for gentlemen this summer, replacing the man bun or the topknot, I figured it's the right time to dole out some advice on the dos and don'ts of this look. There are right and wrong ways to pull it off.
So here goes.
1. Do: Subtle
I can hang with this. It's subtle, the blue blends into the pushed-off-his-face hair, and isn't overpowering his entire head and face. It's a pop of color amidst his bushy brows and beard. This is the best execution.
2. Do: Have Fun
A merman mohawk? This guy is clearly having fun and not taking himself too seriously. If you're gonna be a merman, add something fun to the mix. This is cute without being too punk rock. I also love that it's not a faux hawk.
It's just as good from the back. The color palette isn't too out there nor does it clash. It also looks artfully done.
3. Do: Monochromatic
If you want to color your beard and your hair, a soft, monochromatic presentation like this works. He looks amazing. I am glad he didn't overdo it with his brows. It breaks up some of the blue. This I like.
4. Don't: Too Bright
This is a lot of blue and a lot of brightness. It's like a Smurf exploded on his head. This merman would look better if he only did his hair, skipping his beard sideburns. The blue is almost swallowing his noggin. But the smile suggests he digs it, so there's that for the plus column.
5. Don't: Too Much Contrast
I love the color of his hair and the little curl rolls. I just wish the curtains matched the drapes, so to speak. I'd be over the moon about this if the brows were the same shade or not dyed at all. Bonus points for that perfect pout, though!
How one does merman hair is a matter of personal style. But there are certainly some elements that make it look fun, expressive, and anything but clownish.
Images: Hames Jinkle/Instagram (1); Miss Late4Tea/Instagram (2); Matty1028/Instagram (1); Fest300/Instagram (1); AcidSpring/Instagram (1)