'Fresh Dressed' Doc Examines Fashion & Hip-Hop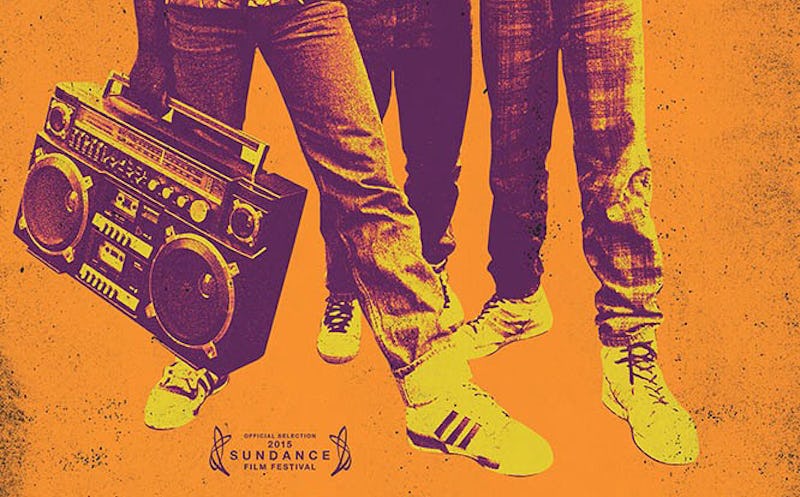 Kanye West has recently infiltrated the world of fashion, without leaving his hip-hop roots behind. Instead, he's brought the two together to create something much like what viewers will see in the new documentary Fresh Dressed . From Run DMC's love for Adidas to Jay-Z co-founding Rocawear, hip-hop and fashion have always gone hand in hand. But it wasn't until recently that their connection has been a determining factor in what walks down the runway.
Directed by Sacha Jenkins, Fresh Dressed has a similar vibe to the newly ultra-popular film Dope. Both feature classic styles from the '90s hip-hop culture that I only read about as a child. And it seems that not much has changed over the years, at least not to Jenkins. He sees their connection to be all about attitude. "Hip-hop is the spirit of something that speaks to a lot of people who have a similar mindset," Jenkins said. "It's really about the energy...It's how it's worn as opposed to a particular item of clothing."
I couldn't agree more. Part of the fun of fashion to me is recognizing how an outfit makes me feel. But like the original hip-hop culture from the Bronx, that feeling doesn't come from high-priced items. "In the inner city, fashion isn't really a privilege," Jenkins said. Instead, it's all about doing what feels right, not what "is" right. I mean, we can all agree that some of the outfits worn by TLC, Destiny's Child, A$AP Rocky, and Kanye West himself were far from right. But because of the way they wore those outfits, it worked.
This bent towards originality is something that has been cultivated in New York for years, and a lot of that can be seen in hip-hop culture, and thus, in fashion. Since the documentary traces the culture back to the beginning, viewers will really get a chance to see where it all started. But even more than that, it gives the recognition to the culture that started it all, which I think is the best message a film can give.
Images: CNN Films