6 Ways To Spend The Fourth Of July In NYC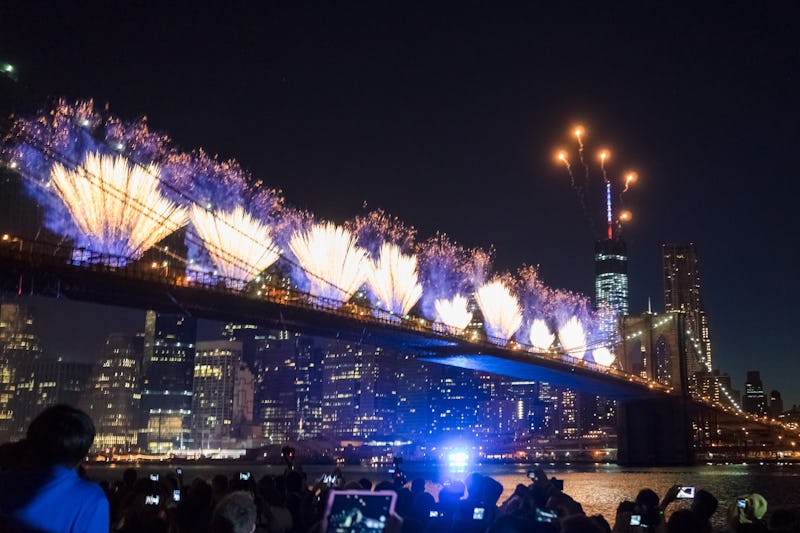 If you are lucky enough to find yourself in the Big Apple on July 4th, you will also be lucky enough to find yourself with a handful of options for celebrating America's independence. There are so many amazing ways to spend the Fourth of July in New York City, and each one is as memorable and unique as the next.
While you should be sure to squeeze in a fun barbecue, and maybe even a run through a fire hydrant sprinkler on the most patriotic Saturday of this year, don't let your festivities stop at that. From a 3 a.m. walking tour of the city to burlesque shows and fireworks cruises, New York City really does it all.
Throw on your best red, white, and blue duds, and pick up some American flags from the closest drugstore, because it's time to start celebrating America's independence. If there's one city that represents all of the beauties of America, it really could be none other than the one and only New York City. Take a look around, you guys. You really do have it all. America may be the land you love, but New York is the city you live for.
1. The Macy's Fourth Of July Fireworks Spectacular
If you've never caught the Macy's Fourth of July Fireworks Spectacular in New York City, you're missing out. This year's fireworks will be shot off from the East River, meaning they can be viewed from either the Brooklyn and Queens riverfront, or the Manhattan riverfront. I personally recommend catching the show from Brooklyn or Queens, because it's nearly impossible to beat a fireworks display in front of the Manhattan skyline.
2. Nathan's Hot Dog Eating Contest
The world famous Nathan's Hot Dog Eating Contest is a New York City staple on the Fourth of July. Thousands of spectators make the journey down to Coney Island to catch a glimpse at what has been called "the most unique sporting event in the world." Both men and women compete every year, with Joey Chestnut currently holding the record for men at 69 hot dogs, and Sonya Thomas holding the record at 45 for women.
3. Revolutionary New York Walking Tour
If you're an early bird, or really, a super late night owl, then you may just want to check out the Revolutionary New York Walking Tour that happens annually every year from 3 a.m. to 7 a.m. in Lower Manhattan. James S. Kaplan leads the tour, providing walkers with information on New York City's role in the Revolutionary War. It really is a unique and memorable experience to be walking the streets of NYC in the wee hours of the morning.
4. The Liberty Belle Extravaganza at Hudson Terrace
The Liberty Belle Extravaganza is not where you want to take your children on the Fourth of July, but that being said, it's a damn good time. This vintage celebration includes the likes of live musical performances, burlesque dancers, and "riskay" performers who aren't afraid to show a little (or a lot) of skin. I feel like this is the type of event everyone has to attend at least once in his or her life.
5. Travis Parade
If you're looking for a parade to attend in New York City on the Fourth, you'll have to make the trek out to Staten Island for the Travis Parade. The parade's ceremony begins at noon, with the actual parade beginning at 12:30 p.m. Make sure you're decked out in red, white, and blue, and catch an early morning ferry to get a good spot along the celebration route.
6. July 4th Cruises
It's pretty hard to go wrong with a cruise, especially when it's along the Manhattan shoreline. Circle Line, North River Lobster Company, and World Yacht all offer Fourth of July cruises where you can take in the sights of the city. Again, this is an experience not to be missed — just make sure you get tickets in advance, as these cruises do tend to sell out before the Fourth.
Images: Dan Nguyen, Douglas Palmer, Amaury Laporte, Jason Howie, Andy Cross, Anita Gould, Michael Rutkowski/Flickr