Jon Stewart Reacts To Bobby Jindal's Announcement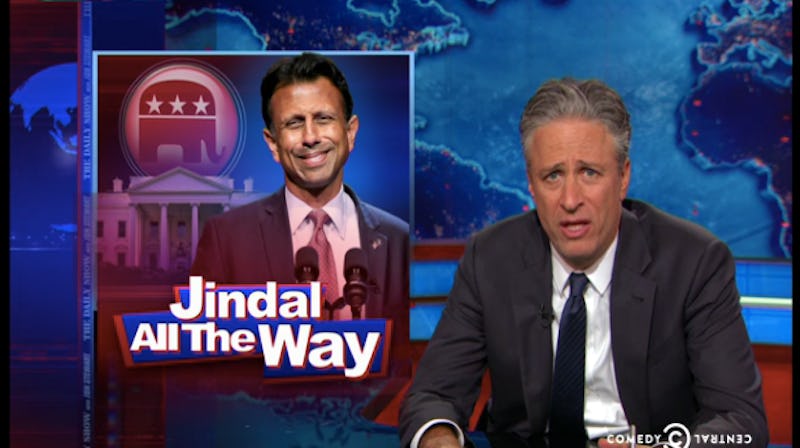 Republican presidential candidate Bobby Jindal launched his 2016 campaign last week and his announcement has drawn some interesting reactions. Rather than unveiling his intentions at a massive campaign rally or event, the former governor of Louisiana posted a hidden video of his kids' reactions to the news. The result is bizarre. Jindal's video is awkward and shows a candidate barely able to hold his family's attention, let alone that of the rest of America. Host of Comedy Central's The Daily Show Jon Stewart skewered Jindal's announcement in a hilarious segment on Thursday.
Jindal gave the comedian plenty of material to work with. Filmed high above a dining table in what appears to be the Jindal family's backyard, the scene opens with the candidate and his wife Supriya telling their three kids about why dad will be spending a lot more time in Iowa. "Mommy and Daddy have been thinking and talking a lot about this and we have decided that we are gonna be running for president this year," Jindal says. "Things are gonna change a little bit. We're gonna be busy, obviously, this year. You guys will be traveling. Maybe you'll get a chance, if you behave, to go back to Iowa. Would you like that?" The kids giggle politely and talk about how much they love the popcorn in the Hawkeye state. The video is a snooze at best, but what's missing is the enthusiasm and energy that normally come with a presidential announcement.
To be fair, Stewart isn't the only one questioning Jindal's announcement strategy. The clip has been met with reviews ranging from confusion to disappointment from reporters and political pundits.
But Stewart's review is — as usual — sharp and astute in a way that few others can muster. He starts out by reminding us all how very high the other candidates have set the bar for launch events:
There was Ben Carson's announcement at the Grammys. You had Donald Trump descending like Zeus from a gold Olympus. [...] Jindal, you're gonna have to crank it up to 11 to top that.
Then, Stewart shows a clip from the actual video. His reaction: priceless.
I am not a political scientist. I'm obviously not a campaign manager. I believe a sign that your campaign may be in trouble [is] when you cannot carry a majority of your immediate family.
Images: Comedy Central