'Magic Mike XXL' Is Cameo Central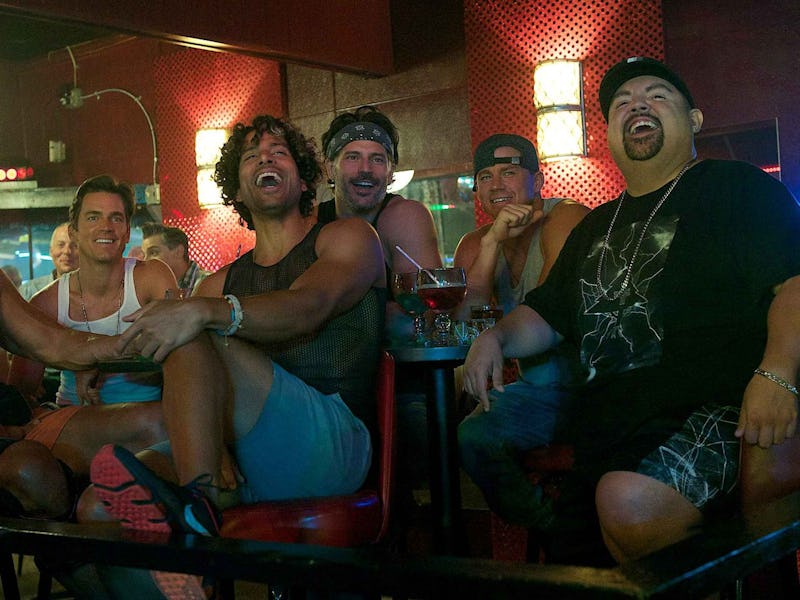 One of the best things about sequels to good movies is knowing that while some things like plot or setting might change, whatever made the first film so great is probably going to be repeated – meaning that for movies like Magic Mike XXL, the return of stars Channing Tatum, Joe Manganiello, Matt Bomer and more was practically inevitable. The first movie's endlessly watchable ensemble was one of its very best elements, so it's no wonder most of the cast re-appears in the July sequel. Fans will be surprised, though, to see that this time, they're not alone – Magic Mike XXL features a whole bunch of cameos from people you wouldn't expect in addition to appearances from the ones you've come to love. Not that I'm complaining — when it comes to these movies, the bigger, the better couldn't be more true.
So who are all the new faces in the Magic Mike XXL cast? Some seem like such obvious additions to the ensemble that you'll wonder how they weren't in the first movie, but others are much more surprising choices. Either way, you'll be glad they're there, because every one of them adds something special to the movie. Eight people you didn't realize were in Magic Mike XXL (minor spoilers ahead):
1. Elizabeth Banks
Elizabeth Banks must have like, 10 clones running around Hollywood, because this woman is everywhere these days. She's starring in (and directing!) Pitch Perfect 2, appearing in the Hunger Games movies, filming Netflix's Wet Hot American Summer series — and that's just scratching the surface. Somehow, Banks found the time to film a quick cameo in Magic Mike XXL, playing Paris, the woman running the stripper convention that the boys attend in Myrtle Beach.
2. Donald Glover
Glover's role is a substantial one, which fans will appreciate — it gives the multi-talented star the chance to act, dance, sing, and strip. What more could you ask for?
3. Michael Strahan
Yes, the Live! With Michael and Kelly host appears in the movie, playing — you guessed it — a stripper. The role came after Strahan, during promotion for the first Magic Mike , joked with talk show guest Tatum that he'd be interested in a part in the sequel. Clearly, the actor took him very seriously.
4. Brandon Cyrus
Brandon Cyrus, aka Miley's little brother, has an uncredited role in the film as a stripper. Alrighty then.
5. Andie MacDowell
You might've seen her in the previews, but that won't stop your draw from dropping when you meet the, um, uninhibited character MacDowell plays in the movie. This is not rom-com material.
6. Vicky Vox
Early on in the film, the boys go to a drag club, where they encounter Tori Snatch, played by real life drag queen star Vicky Vox. For those unfamiliar, Vox is also a singer, known for the now-defunct pop group DWV.
7. Ric Flair
Flair, a well-known professional wrestler memorably called "the dirtiest player in the game," has a brief cameo in Magic Mike XXL.
8. Stephen "tWitch" Boss
The So You Think You Can Dance favorite has a substantial role in the film, playing Malik, one of the dancers working under Rome (Jada Pinkett Smith).
Keep an eye out for these guys when you watch the movie — that is, if you can take your focus off Channing Tatum's abs for a few seconds.
Images: Warner Bros. Pictures; Getty Images (2)