Anna Gunn's New Film Is The 'OITNB' Of Movies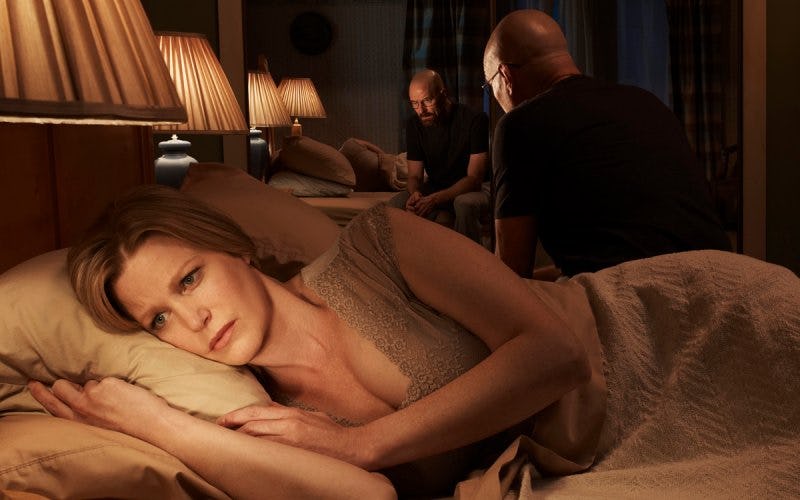 If you are a fan of Breaking Bad, Orange is the New Black, female-driven production companies, or empowering women, then I need to you to sit down. If you are, like me, a fan of all four, I need you to take a deep breath and prepare yourself for some of the biggest entertainment news to come across my desk in weeks: The star of Breaking Bad, Anna Gunn, is starring in her first feature-length film since wrapping her breakout role as Skylar White two years ago, according to Variety.
Big, right? Huge? Well, hold onto your Gunns, ladies, because that is not all: The actress has signed on to star in Equity, the first female-driven film about Wall Street. HOLD ON. Save your squealing for this reveal, because the hits just keep on coming: The film is one of the first projects to be produced Broad Street Pictures, a production company run by Orange is the New Black star, Alysia Reiner, and Backwards star, Sarah Megan Thomas, with the mission to produce films with strong female roles both in front of and behind the camera.
OK. Commence happy dance now! Because, honestly, I don't know what else to do with myself after hearing this amazing news. It feels kind of like how birthday parties used to feel as a kid when all of your favorite things were in one room together — your cool older cousin, your best friend, pizza — and they were all for you. So many of my favorite people and things are being wrapped up into this one movie, and all I can think of to do is faceplant into a My Little Pony sheet cake.
Admit it, you're totally feeling the same way, because this movie is bound to be epic for all of the reasons listed above: female-centric, female-driven, starring the oh-so-amazing Anna Gunn (aka the most important thing about Breaking Bad right after crystal meth), and produced by someone from Orange Is the New Black. But also because it is following so closely in the footsteps of OITNB. In fact, it may as well be the film version of OITNB.
What with the whole women cast as characters usually saved for men, and the whole idea of women playing characters who are more than just sexy vixens and prude bosses, and the whole women running the production team too thing, this film is traipsing down the path that OITNB laid out for television and film and kicking some serious ass already.
Now if only they can strategically time the release so I can use Equity to tide me over until the next season of Orange Is the New Black comes out. That would make this whole thing all the more perfect.
Image: AMC; Giphy