'OITNB's Alysia Reiner On Being a Feminist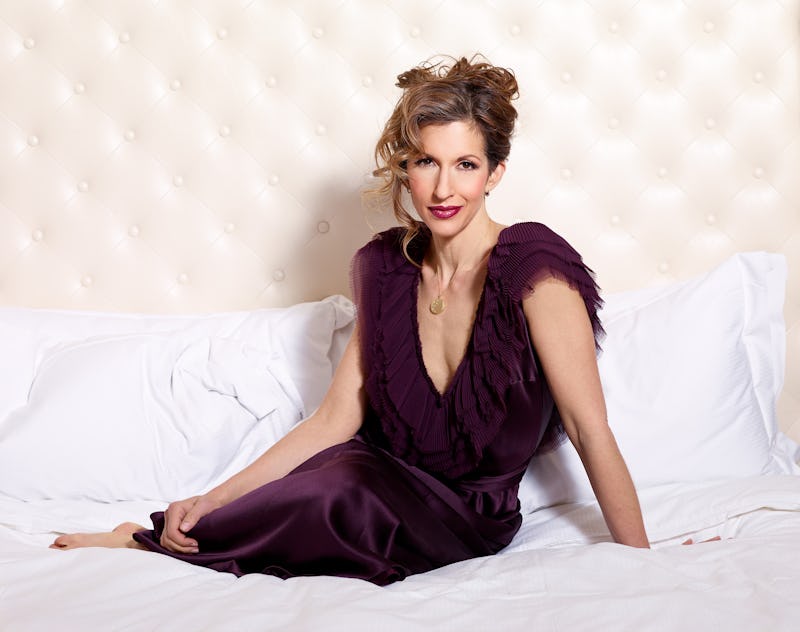 "People ask me all the time, 'How do you play something like that?'" begins Alysia Reiner, better known as Fig on Orange is the New Black . "But I didn't know that she would be this crazy villain."
Reiner has played that "crazy villain" for two seasons now, with a third currently in the works, and still, people want to know: How does she do it? According to the actress, it helps to never see any of Fig's most wild, cruel, or just plain ridiculous antics coming.
"I basically get it the way you guys get it, one episode at a time," Reiner tells Bustle.
Which means she had little warning before learning the details of that now famous final scene, in which her character gave a blow job in the desperate hopes of saving her job. Although played for laughs, it's a painful moment that showed Fig at her lowest, a power-hungry woman turned pitiful and weak. Earlier, Reiner told Bustle that she can't watch that scene, because it's "a little too heartbreaking."
Although her character's fate on the show was unknown at the end of last season, Reiner tells Bustle that she will definitely be back next year. As for how many episodes, that's currently still unknown.
When the actress first got the part, though, she knew nothing about what the writers had in store for Fig, including how hated her character would become.
"I didn't know anything when I signed on," says Reiner. "I originally read for Alex, and didn't get it, and I was heartbroken. Then, when Fig came along, I didn't even have a script, but I said yes. I had read the pilot, and thought it was one of the most genius pilots I'd ever read, and I jumped in the air and was like, 'Yes, I will do anything with these people!' So I did! But I really, really, really had no idea what I was signing on for." Which included playing a boss "bitch" character — while being a feminist.
Although Fig was given a much more complex storyline in Season 2, the show's original episodes featured her as a relatively one-note character, the archetypal female villain. Reiner, meanwhile, is a staunch feminist; in June, she and fellow actress Sarah Megan Thomas began Broad Street Pictures, a production company set on creating strong female roles.
"Our goal in starting a film company is not just to do movies made for women, but by women, getting as many female writers and directors, amazing women, both behind and in front of the camera," explains Reiner.
The company's first film is "a female-based thriller," Reiner says, and will be written by the "crazy talented" Amy Fox ( Heights ).
Starting Broad Street was hugely important for Reiner, an actress whose feminist beliefs go far beyond starring in a female-led TV show.
"There've been a lot of hugely successful films, and none of them have women in them," she says. "Movies make millions upon millions of dollars, and we never see women in that world. So we're really, really, really excited about it."
As a cast member of Orange, Reiner's seen firsthand how necessary companies like Broad Street are, and how women supporting other women can make an enormous impact. Along with many of her castmates, Reiner has worked frequently with the Women's Prison Association (WPA), an organization committed to helping current and former female inmates. In May, the actress received an award from the WPA for her work, including a locket she recently designed with KiraKira that donated 100 percent of its profits to the organization.
"I was on the red carpet last night and someone said, 'Who's your inspiration?', and I said Piper Kerman, the real one, because she has dedicated her life to really changing the prison system and changing women's lives," says Reiner. "That's what it's all about. And I certainly hope that with Orange, we not only create more love and compassion in the world ... but that we really incite change in the actual system."
The Orange cast has done much over the last two years to show their support for women, from dancing at NYC Pride to packing backpacks for the WPA. Asked if it's hard not to be politically engaged while working on a show like Orange, Reiner says "absolutely."
"Oh my god, 100 percent," she says. "There's a call to action, there just is."
And especially so when you're surrounded by a cast and crew of women all fully aware of their opportunities, and, rare for an ensemble, are actually happy for one another's victories, whether that be getting nominated for Emmys or covering an issue of Time .
"It's so beautiful," said Reiner. "It's so, so, so beautiful. There are not words for all the support that I feel for these girls."
Going in blind to the show may have been a risky move, but it clearly has worked out well for Reiner, an actress previously known for Off-Broadway plays and films like Sideways and That Awkward Moment . Since its 2013 premiere, Orange has developed into compelling, hilarious, and must-watch TV, thanks in large part to the skills — and camaraderie — of its ensemble cast.
"To be on a show like this, with such talent on so many levels," Reiner says, "and the writing is just really incredible — I'm really, really glad."
Although her character's fate on the show was unknown at the end of last season, Reiner tells Bustle that she will definitely be back next year. As for how many episodes, that's still unknown. In the meantime, though, the actress has been keeping herself plenty busy; she has several movies in the works, including Life Itself (not the Roger Ebert doc), a New York set-dramedy about a couple (Diane Keaton and Morgan Freeman) who attempt to sell their home.
"I love this movie so much," Reiner says. "It's such a love letter to New York City. I'm a born and raised New Yorker, and anybody who's spent time in the city and knows anything about New York's real estate will love this movie."
In the film, Reiner plays a woman stuck in a bidding war for the apartment, the longtime home of Freeman and Keaton's husband and wife.
"It's a spectacularly beautiful love story between those two characters," says Reiner. "I mean, first of all, they're such incredible actors, and you can watch them do anything, right? But on top of that, it's just such a delicious story about these two people and what they're going through in this moment of making a decision about what's next in their lives."
A character-led film featuring a complex female character? No wonder Reiner's on board.
Said the actress, laughing: "I just love supporting other women. What can I tell you?"
Images: Josh Merwin Photography; Netflix