Pikachu Rules The "Where Are U Now" Music Video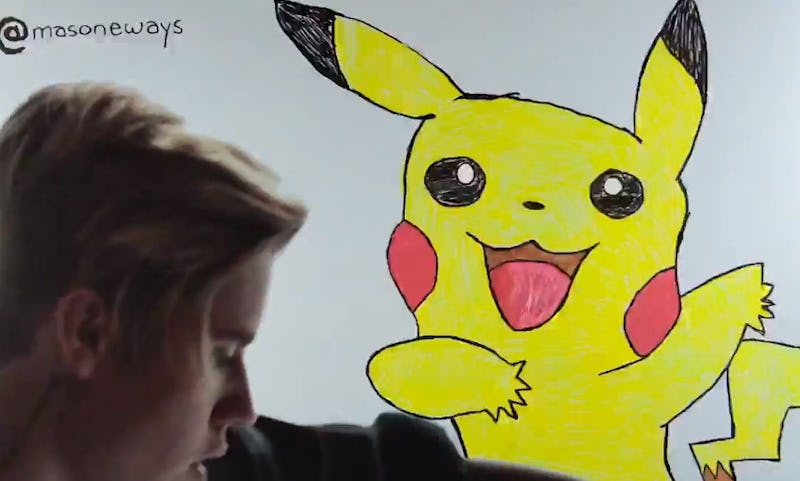 Monday morning, the music video for Skrillex, Diplo, and Justin Bieber jam "Where Are Ü Now" umlauted its way on the Internet. The clip features a time-lapse slideshow of fan-sourced scribbles and sketches, and said slideshow is superimposed on a singing and dancing J-Biebs. Out of the three gazillion (rough estimate) drawings that made it into the vid, there is one drawing in particular that grabbed my attention by the shirt collar and refused to let go: Pikachu. At the 1:57 mark of the video, Twitter user @masoneways's rendering of the Pokémon character pops up behind the Biebs. The image has since made a nest in my brain. And now I'm dying to find out the meaning behind the Pikachu cameo.
"Wait, why are you reading into this? It's probably nothing more than a random doodle, Kristie," you say. "It doesn't have to 'mean' something."
My rebuttal to that: Ugh, LAME. I think it'd be fun if the Pikachu in this video meant something, so I'm going to go ahead and assume it means something. (Did you feel the temperature drop just now? My ice cold argumentation skills are to blame. Seven years on the speech and debate team really paid off.)
OK, now that we've cleared that up, let us get to the theorizing! What does that Pikachu in the "Where Are Ü Now" music video mean?
REASONABLE THEORY #1: Justin Bieber is Ash Ketchum
The pairing of Pikachu and Bieber brings to mind another human/Pocket Monster duo: Ash Ketchum and Pikachu.
Is Justin Bieber Ash Ketchum?
For starters, both can rock a big baseball cap.
Ash Bieber? Justin Ketchum? Gotta Bieb 'em all!
REASONABLE THEORY #2: "Naturally" is about Pikachu
Here are some of Pikachu's moves: Thunder Shock, Thunderbolt, and Thunder Earthquake. Notice a trend?
When I see the words "thunder" and "Bieber," I begin humming this song by Selena Gomez and the Scene:
Why in the name of Professor Oak am I singing a five year old track by Biebs's ex-girlfriend? Because of a lyric, duh: "You are the thunder and I am the lightning."
Who is the thunder? Might it be, oh, I don't know, PIKACHU? What if Selena has been singing about Pikachu this whole time?
REASONABLE THEORY #3: It's a shoutout to the Pikachu Song
While we're on the subject of Pikachu and music, here's the Pikachu Song:
If Pikachu in the "Where Are Ü Now" vid's goal was to get the Pikachu Song stuck in my head for the rest of the day, it succeeded with flying colors.