Hood By Air Does High Fashion "Babycore"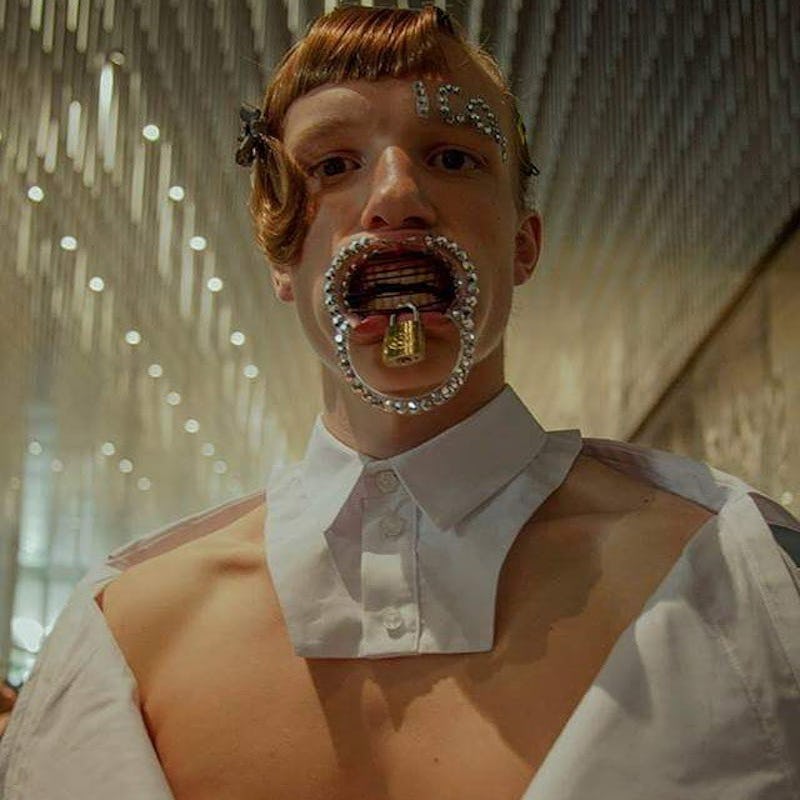 The menswear silhouette has changed so much in the last few years, ever since male models began walking down the runway in plaid kilts and pencil skirts. One young designer who continues to defy male beauty standards and exploring gender-fluid fashion is Shayne Oliver, who sent male models down the runway in blinged out braces and pacifiers for Hood By Air's spring/summer 2016 menswear runway show at Paris Fashion Week. The 28-year-old designer told Dazed what inspired the "infantile glamour" aesthetic of the collection, titled "Galvanize."
"We did pacifiers, and we just sort of wanted to consider this idea of how when you're being vocal, you're being very open," Oliver said. "This is a voice, physically you can see it, but this person is trying to say something to you even though they are silent." Hood By Air's "Babycore" inspired collection featured bejeweled mouthpieces, including pacifiers, grills, and braces, as well as exaggerated cheek separators, fangs, and padlocked mouthpieces. The models' hair were styled into androgynous bangs and fringes, punched up with barrettes and rhinestone-studded letters spelling out fetishistic words on their foreheads. The clothes consisted of deconstructed shirts and jackets, pleated shorts, and oversized leather trousers.
"It was these silhouettes that could be really intimidating, but when you put into this context... they're meant to be beautiful and appealing and alluring," Oliver said. Aside from the growing nostalgia movement in fashion, the designer was also inspired by street drug culture, which is something that he witnessed throughout several trips to the U.S. Oliver even went as far as using codeine bottles as invitations for the spring/summer 2016 show. But his intent to use such paraphernalia was in the context of joy rather than pain. "The idea of having to always drink something, it's like a pacifier in a way — it's just a comfort thing."
See more of Hood By Air's "Galvanize" collection on The Cut.
Image: wearereadymade/Instagram