Why Taking A Date To 'XXL' Will Get You Laid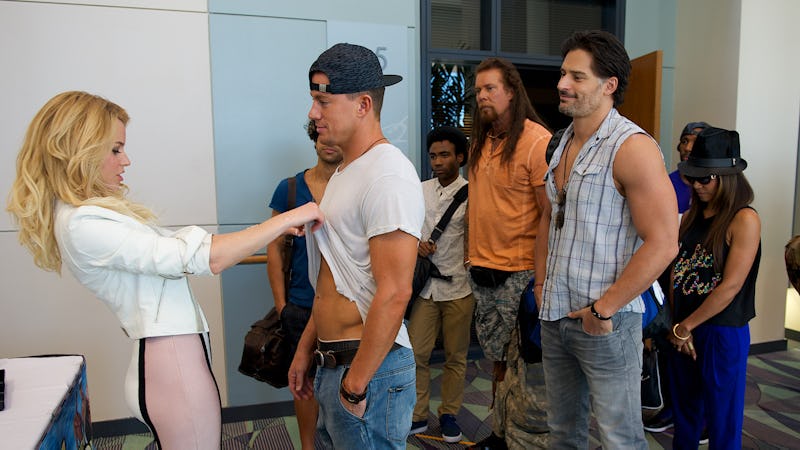 With a three day weekend for many, a trip to the movie theater is inevitably one appealing way to escape the Fourth of July heat. And this holiday weekend, moviegoers have two shiny new sequels to choose from: The fifth Terminator installment, Terminator Genysis, or Channing Tatum's second stripper flick, Magic Mike XXL. "Terminator doesn't stand a chance," says Magic Mike XXL star Joe Manganiello. "We're gonna get all the guys [to the theater], trust me," jokes Tatum.
But there's one member of the stripper squad who feels particularly passionate about why the sequel will shine at the box office. Seasoned actress Andie MacDowell is convinced the male-centric movie will attract both men and women come July 1. "First of all, there are a lot of hot, sexy women in that movie," she says, referencing Jada Pinkett Smith, Amber Heard, and I can only imagine — herself.
"It's a great date movie because the guys are going to go with their ladies and be inspired," she continues. "Hopefully, they have it all set up at home... the music picked out ahead of time, and they've got their little costumes prepared and the tone already set." Well hot damn, MacDowell, that isn't a half bad idea. "I found [the movie] a little arousing," she confesses — and surely, she isn't alone. "So I think the best thing to do is to take your woman to see this movie and have some plans for after the movie because it's already warmed up!"
"July 1st is now international give your partner a lap dance day," Tatum jokes.
...That's enough convincing for me! See Magic Mike XXL in theaters July 1.
Images: Warner Bros.; Tumblr