My Pride Party For One In Conservative Arkansas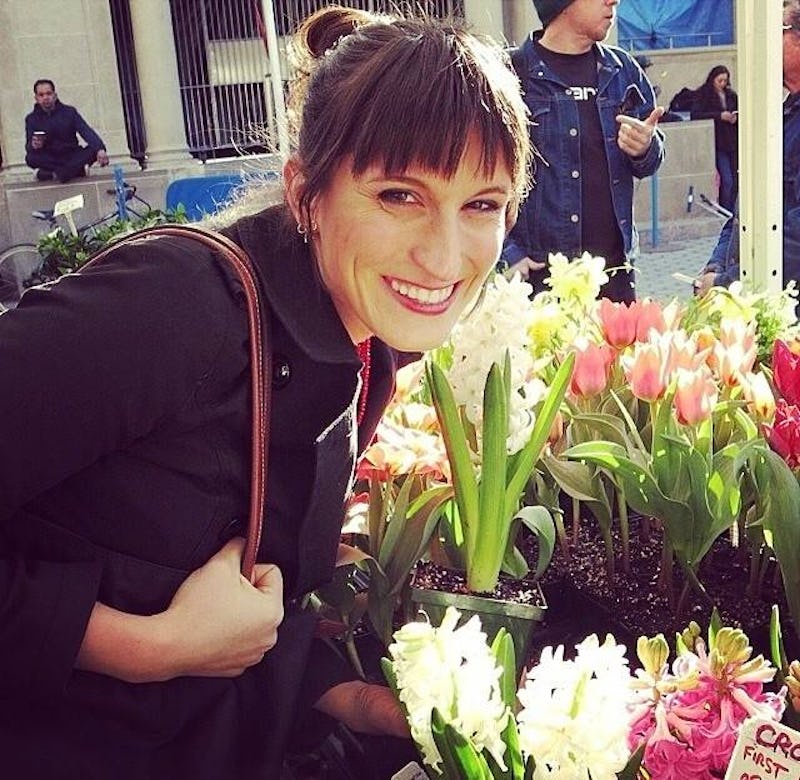 There are many things that will never show up on my bucket list. "Attend a recording of the Rush Limbaugh Show" and "Listen to Ted Cruz ramble against abortion rights without throwing something" are two. A third — that I didn't realize even needed to exist — would definitely be "celebrate Pride in Bentonville, Arkansas" with my conservative Texas-based extended family. But on Saturday, the day after SCOTUS ruled in favor of gay marriage, making it one of the most monumental days in history, that's exactly where I was. I was in a primarily red part of the country, about as far north from Texas as my cousins will travel. I could have been in Hope, where at least I would have felt connected to Hillary. But nope, it had to be Bentonville.
And then I saw her. Standing just ahead of me was — no doubt about it — Michelle Duggar, of 19 Kids and Counting fame. Everything in her profile matched the description I'd seen in countless interviews on national news. But where were… Yep, just over there, near the ice cream parlor at the front of the museum. A gaggle of children ranging in ages scattered throughout the building, clearly on a family outing just like me and my less-sprawling clan. I had no idea which ones were actual Duggars, but the group of visitors gawking was a pretty dead giveaway at their visibility. Oh, I sure hit the jackpot: Bentonville, Arkansas, and the family of Duggars, who are well-known for their anti-gay and anti-abortion activism and, most recently, for their son's history with sexual assault. Happy Pride from Arkansas.
"Congrats!!!!!" My friend Heather's text was the first to arrive Friday morning. I hadn't even peeled myself off the couch to check the news. I had just arrived from New York City for an extended visit in the Midwest, and the only thing I had done that morning was get through two back-to-back episodes of Golden Girls reruns. I hadn't achieved anything. I sent her back a row of question marks. Congrats on what? Running away from life in the city to hide out in my parent's basement? Congrats on the post-graduate depression that was getting harder by the minute to conceal? Female Benjamin Braddock right here.
Then Heather shot back a screenshot of the AP's tweet that read, "BREAKING: Supreme Court says same-sex couples have right to marry in all 50 states."
Whoa. There it was. I stared at the tweet for several more minutes. First, I was so proud of RBG and crew that I wanted to paint a rainbow mural of all of their faces. No, I wanted to sew together a quilt of their rainbow-tinted photos and just wear it around my shoulders for the rest of my life. I was giddy. I was happily stunned that our Supreme Court had made a long overdue decision, but as I scrolled back to Heather's text, I was baffled at how personal this had become. She was congratulating me. As an out gay woman in my friend group, this had become personal for those who loved me, too. As more congratulatory messages rolled in, I enjoyed the mini-text celebration. Suddenly, and maybe selfishly, I felt as if I had achieved something that day.
But the luster wore off as I rolled out of my post-SCOTUS bliss and into my parent's mini-van for a weekend trip to Bentonville for a reunion with our mostly conservative family. While on the road, my parents didn't have much to say on the subject. My mom gave me a quiet hug but told me I shouldn't be planning a wedding until I could at least get a full-time job. I counted her comment as a show of maternal support (insert mental row of question marks).
When we arrived, the first questions out of my great-uncle's mouth contained the words "bachelors, "chasing," "boyfriends" and "engaged." I usually welcomed his thick, deep-Texas draw, but damnit if he was going to rain on my inner-Pride parade. Yet I had to remember that I saw these people about once every five years. And at our last reunion, I wasn't even out to myself. Maybe it would be easier if I were still closeted, I thought. At any rate, I knew I wasn't going to make it to neighboring Fayetteville's Pride Parade without causing a family coming-out scene more public than Ellen's fictional airport faux pas.
And then, in the haze of Obama administration bashing and boyfriend questions, I met Jane, the 60-something Brooklyn-based cousin I didn't know I had. Correction: the ally I didn't know I had. We started talking New York, and of course the politics of our blue-bleeding state. Finally, I took a look around the room and said, as I located my grandfather with my gaze, "So, I'm gay, and he doesn't know that."
In fact, I told her, he was one of the few people in my life who didn't know. I hadn't figured out yet if the admission would help or hurt our relationship, and I was scared to find out. At this, Jane smiled and patted my shoulder, gesturing for me to go on.
"Are you sad to be missing Pride this weekend?" she asked. And then she gave me the hug I needed. It was the tangible "congratulations" I had received in the texts from my friends.
Jane's hug didn't come along with any qualified statements like, "Don't go planning a wedding anytime soon." It said, "I know being honest about your identity was hard, and you should be proud of yourself. Congratulations on your fundamental human rights."
And I realized that I had just hosted a Pride parade for myself — in the middle of the reception hall of a commercial hotel in Bentonville, Arkansas. I hadn't come out to my family at any past reunions because then I hadn't even reached the point of being honest with myself. And here I was, worried about outing myself to my grandfather, the single relative who isn't aware of my giant romantic crush on Allison Janney.
Sure, I still had more work to do, but I knew that work would only lead to more honesty and empowering vulnerability. No matter what followed that weekend, be it more boyfriend inquisitions or a whole host of Duggars ordering ice cream in bulk. If I had to choose between the loud, boisterous NYC Pride Parade (a festively excited Ian McKellen included) and my conservative Arkansas retreat, I would still go with the latter. Thanks to the help of so many allies, both ever-present and unexpected, I've got enough pride for myself to fill the streets of Greenwich Village. But I could have done without the Duggars.
Images: Hilary Weaver (4); Giphy (1)