19 #GoldenConfidence Photos Of Amazing Women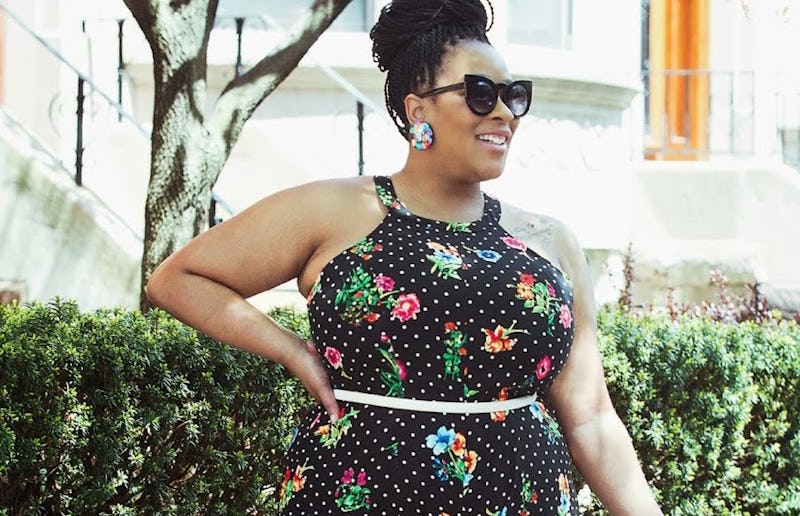 When blogger, model, and body positive advocate Essie Golden started the #goldenconfidence hashtag, she probably didn't have any idea that it would become one of the most popular body positive hashtags on social media. Since its inception, over 14,300 people have used the tag, and the movement grows each and every day.
As someone who is deeply ingrained in body positive communities, it's hard for me to ignore the dozens of hashtags people use to connect with one another. However, there's just something so sincere about the #goldenconfidence tag, that sets it apart from the rest. It's not about trying to fit a certain mold: It's about sharing a photo that represents anything and everything you are, no matter what.
"Golden Confidence is all about being unapologetically yourself," Golden tells me in an email. "It's about embracing yourself as you are, having tons of "feeling yourself" moments, and feeling sexy, beautiful, and confident."
And though the tag is popular with women who want to do just that, it's expanded even further: Golden hosted the 1st Annual Golden Confidence Pool Party in New York City in June, which brought together women from all walks of life to celebrate and support one another.
"It was everything and then some," says Golden. "The vibe of the party was so happy. So many women came by themselves and left with new friendships. It was just so amazing to see so many women not only looking good, but having the time of their lives."
The Golden Confidence party was so successful, Golden plans to host more next year in NYC, LA, and Miami. Until then, here are 19 women who are totally manifesting everything the #goldenconfidence tag is all about.
1. @essiegolden
The woman behind it all shows her followers what it means to have bold, unapologetic confidence.
2. @brokenlevee
These two women look like shining stars in their adorable swimwear.
3. @flightofthefatgirl
Oozing confidence and killing it on the streets of Manhattan.
4. @beautiffullyme
Making backyards and wooden fences look good since the day she was born.
5. @weareyourvoicemag
Looking beautiful and impossibly cool in matching leggings.
6. @soft_bananaa
Taking black lingerie and lacy robes to a whole new level.
7. @annoulz
Changing the stigma that people never look good in dressing rooms.
8. @ayejennyb
Loving the double denim and red sneakers in this look — not to mention the flawless confidence.
9. @plussizebeausion
The confidence and happiness of this woman basically radiates through the photograph.
10. @wannabeprincessuk
Love all of the looks here, and I love the gorgeous self-assurance even more.
11. @_the_b_word_
It's official: This woman looks like royalty.
12. @thequirkyfatshionlover
Looking incredible and rocking an amazing swimsuit.
13. @iamnikkifree
Absolutely killing it in this summery maxi, and looking like someone I wouldn't mind partying with.
14. @itsonwithdevonne
This woman's style is all about confidence and individuality, and for me, it's basically perfect.
15. @beautywithplus_bysusie
She looks so majestic in this royal blue gown, it's hard to believe she's not the queen of something.
16. @megskay
Confidence isn't just about looking fly — it's about being fearlessly you. Also, I'm a sucker for a women who can execute a good funny-face.
17. @vanouelicious
Because everything about this photograph is perfect.
18. @jewelzjourney
This image puts an enormous smile on my face. The sheer joy captured in this moment is truly inspiring.
19. @igabistarr
When I think of confidence (and ridiculously hip style that I wish I was cool enough to pull off), I will forevermore think of this picture.
Images: Essie Golden; essiegolden, brokenlevee, flightofthefatgirl, beautifullyme, weareyourvoicemag, soft_bananaa, annoulz, plussizebeausion, wannabeprincessuk, _the_b_word, thequirkyfatshionlover, iamnikkifree, itsonwithdevonne, beautywithplusbysusie, megskay, vanouelicious, jewelzjourney, igabistarr