15 Whimsical Bags That Make A Style Statement, From Pizza Slices To Unicorn Tears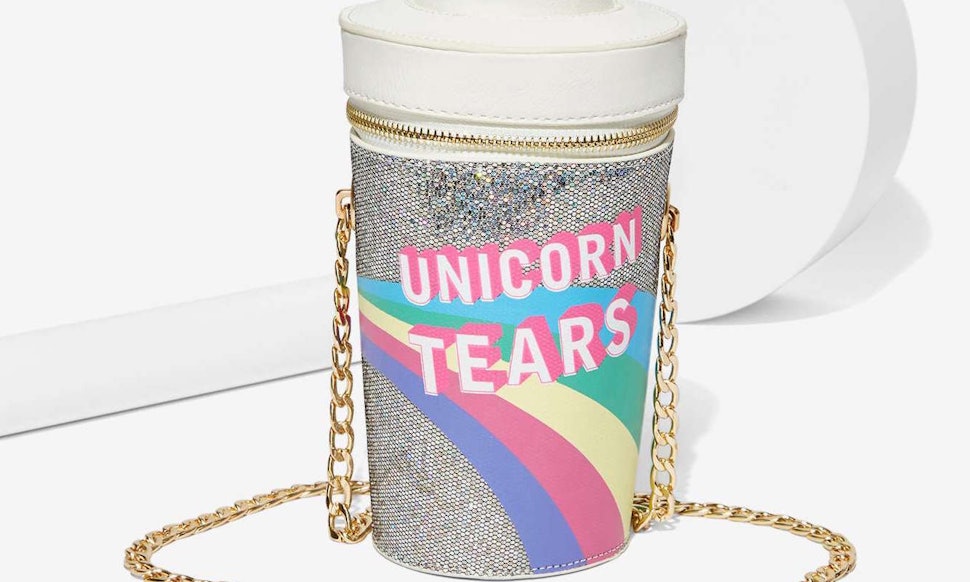 One of the quickest and easiest ways to inject a hefty dose of amusement to any outfit is with a standout statement bag. Fashion is more than just preventing nationwide nakedness; it's an expression of self, a way to wordlessly convey who you are and what you're all about. Some people take their sartorial leanings too seriously, insisting on following those antiquated fashion rules that are thrown around from time-to-time, but others understand that fashion is meant to be fun and enjoyed.
Whether you're being fancy in a formal gown or keeping it casual in jeans and a t-shirt, adding a whimsical bag to your ensemble is a guaranteed ice-breaker at any event. Fortunately for all of us, there are plenty of droll designers across the interwebs that are offering quirky purses that are bound to elicit a few smiles.
Need some inspo? Then click through the slideshow of some of the best statement styles, starting at only $18!
Pucker Up
Kiss your fashion woes goodbye.
Model Radical Large Lips Clutch, $36, Cool Gal Blue
Drink It In
It's filled with vitamin chic.
Skinnydip Pineapple Juice Crossbody Bag, $46, ASOS
Treat Yo'self
Because who wouldn't want to showcase their sweet tooth pride?
Goretto Change Purse, $18, Aldo
How Does Your Garden Grow?
Just don't add water.
Kitchi Watering Can Top Handle Bag, $70, Betsey Johnson
Cause A Fashion Frenzy
Give every look some bite with this fierce fishy.
Piranha Your Request Bag, $70, Modcloth
Tastes Like Glitter
Don't worry, unicorns only cry when they're happy!
Skinnydip London Unicorn Tears Bag, $48, Nasty Gal
Get Crabby
Now's not the time to pinch pennies; crack open your wallet and add some stylish shellfish to your wardrobe.
Betsey Johnson Crab Wristlet, $48, Macys
Puff, Puff, Pass
I'd never Bogart this totally legal look.
Gelareh Mizrahi Peace Maker Embossed Leather Crossbody Bag, $250, Nasty Gal
We're Not Horsing Around
You can't possibly say nay to this stylish stallion.
My Little Pony Clutch, $38, Pixie Market
Sweet & Sour
Pucker up with this tart trend.
XMiniLife Fruit Pattern Evening Bag, $29, Amazon
Jurrasic Style
Keep your look out of the stone ages with this stylish specimen.
Dinosaur Clutch, $63, The White Pepper
NOM NOM NOM
Don't blame me if you end up ordering pizza every time you use this tasty bag.
Slice Of Heaven Clutch, $875, Gelareh Mizrahi
Extra Storage In The Trunk
They say elephants never forget; you'll certainly be unforgettable when you wear this adorable style!
Strut Your Stuff Wicker Elephant Bag, $278, Kate Spade
Scent Of A Woman
There's no antidote for this intoxicating style.
Cronkite Bag, $50, Aldo
Just Purrfection
Purrfect practice for your future decent into becoming the crazy cat lady from The Simpsons.
Cat To The Chase Bag, $40, Modcloth