8 Women On Killing Fashion Rules In Their 30s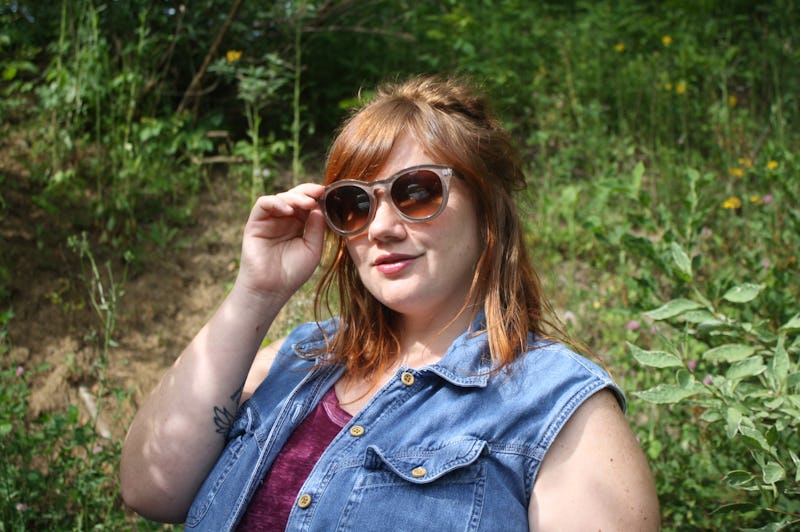 I waited expectantly for my 30th birthday to arrive last year. I was by no means dreading the new decade; in fact, I was eager to see what it might bring me, and I had already decided that my "young at heart" switch wasn't going to be automatically turned off — which included my choices for fashion in my thirties as well.
The big 3-0 (that our society seems to be afraid of) came and went with a huge party my husband threw for me, my friends all surrounding me in love and celebration for the future. I'm so thankful for that experience. It felt the way entering a new decade of life should feel.
There are a ton of expectations put on a woman when she turns 30, though — from what beauty should mean to her to what her attitude in life should be to what clothes she should wear. I'm sure you've seen the lists and articles out there explaining all 30-year-old women need to dress very specifically to be "age-appropriate." Because their lives and sense of experimentation are, obviously, over.
Apparently, the only discovery period we're allowed to participate in comes in our twenties, so by 30, having a signature look down pat seems to be the expectation. And the common theme from many fashion experts is that women over 30 should be dressing more professional and less revealing.
We're told to turn in our low-rise jeans for slouchy boyfriend ones, our "little girl" shoes (saddle shoes/Mary Janes) for a pair of pointy flats, our crop tops for slinky camisoles, our miniskirts for pencil skirts, our fast fashion favorites for quality basics, our tutus for the more "appropriate" circle skirt, and our graphic tees for more simply designed T-shirts.
Those aren't necessarily bad rules, but they are limiting, and the truth is that not a one of us is (or wants to be) exactly the same.
Personally, I like what designer Marissa Webb told Harper's Bazaar in a 2013 article about dressing your age:
"I don't think a number defines your age. Your lifestyle and energy do. What's appropriate for one person can be very different for another."
And so I took this conversation to my peers, who shared with me their own photos of their so-called "rule-breaking," which has inspired me to decide how I want this fantastic decade of my life to go — sartorially speaking, anyway. Their rule-breaking serves as a reminder that letting fashion empower and inspire you had no age limit.
1. "Don't wear bodycon dresses."
Rachel, 30
I once read an article that claimed that instead of wearing bodycon dresses, women over 30 should try an LBD with the back cut out. I'm not sure how that's supposed to be less revealing (or why "less revealing" is made such an over-30 priority anyway), so I say go on with the bodycons! They're cute and sexy, and like my friend Rachel is showing off above, they tend to bring out that sassy side of your personality!
Rachel says, "I dress appropriately for work and meetings, but when it's me time and family time the real me comes out and I dress a lot more funky."
2. "Don't wear 'little girl' shoes."
Gabrielle, 32
I'm not sure how saddle shoes, as shown on Gabrielle's feet, became known as "little girl" shoes, but it's apparent that you can cross them over into adulthood just fine. They are a super cool vintage look that will never go out of style, so "little girl" shoe or not, if Elvis can rock 'em, then so can we!
"I'll give up my Hello Kitty shirt and saddle shoes when you pry them from my cold, dead hands. I turn 33 in two weeks," says Gabrielle. You go, girl.
3. "Don't wear novelty headbands."
Dana, 37
Ruth, 35
So headbands are supposed to be okay in our thirties if we wear sophisticated versions of them. Well, who the heck is supposed to be the judge of that? If brightly patterned prints or flowers are only for your twenties, then I'm okay with breaking the rules. And so are my friends — because no matter our age, everyone has the right to express themselves via a cutesy, fun look.
Ruth says, "I love headbands and hair flowers and still play around a lot with different styles." That's what makes fashion fun to me — playing around — so there's no need to stop once 30 hits.
4. "Don't wear crop tops."
Abbi, 32
There's so much stigma surrounding showing our bellies, and I'm willing to bet it only gets worse as we grow older. But maybe you're proud of your tummy, whether you work out or not — whether it's flat or flabby. Girl, just because you're in your thirties doesn't mean you can't bear it if you want to!
Abbi says, "I'm 32 and rocking a crop top, and yes, I can wear odd socks, too!"
5. "Don't wear band T-shirts or low-rise jeans."
Laura, 31
The thing about all of these "rules" is that successfully breaking them just takes confidence. Wearing what you love is usually what makes you feel comfortable.
Laura says, "I live in tees and low-rise jeans (cause the tees are long enough to cover the low rise)." Pairing your old favorites with a blazer like Laura still gives you the playfulness of your twenties with the sophistication you might be aiming for in your thirties. Just know that there is always a way to make a look work for you.
6. "Don't wear minidresses."
Dana, 37
Whoever said legs were only worth showing off in your twenties is completely wrong! Heck, I feel like my body has only gotten better with age as I've learned to love every single part of it, and I'm sure many other women feel the same.
Dana says, "While I'm not that rebellious for a 37-year-old, I wear what I like: short dresses, graphic tees, bandanas."
And that's just it. As I've mentioned before, wearing what you like is the key to dressing in any decade.
7. "Don't wear novelty makeup or accessories."
Kayla, 36
Can you see a pattern here? Apparently, fun and colorful things are only for your pre-teens, but I'm happy to see my friends and I busting that myth.
Kayla says, "Purple mascara for the school run! And I probably shouldn't be wearing hair clips to work like this in my thirties, but I am!"
When purple mascara (or whatever color you like) makes your eyes pop out this beautifully, why wouldn't you want to keep wearing it in your thirties. IMO, Kayla is the coolest mom out there.
8. "Don't wear graphic tees."
Sarah, 29, but already ready to break the fashion rules come 30
"Nerdy" graphic tees are something usually reserved for teens and college-aged humans — those allowed to like off-beat entertainment because they're young. I'm sure the guys on the Big Bang Theory have disproven that notion for most of us, but here's even more evidence that rocking those eccentric fangirl tees isn't just for adolescence.
Sarah says she's a mom who often feels like she wears things "too young" for her according to society. "My hair is neon fuchsia, I love low-rise skinny jeans, and am always rocking a graphic tee (usually with something nerdy on it) with either Chucks or my trusty combat boots. So I get lots of 'judging you' stares from the other moms at the park for how I look."
But she's still rocking her signature style and has no plans to change it for the future. Break every last one of those rules, guys!
Images: Christie Drozdowski; Courtesy Interviewees; Laura Blanton/Jay Baker