Looking to amp up your space this summer? These easy DIY home ideas by Porch.com prove that you don't need a lot of time or money to create something that's truly spectacular — you just need a little creativity and a positive attitude to add some Instagram-worthy DIY flair to your pad. The long, lazy, and seemingly endless days of summer are perfect for honing up your crafting skills, and even the most DIY-challenged beginner can get started on one of these stress-free projects and feel like a crafty rockstar by the end of the day. From chic serving trays to practical organizers to ultra cute (and ultra simple to make) patio furniture, there's an idea here to meet all your decor needs. Oh, and the best part? These projects all cost $15 or less to complete, start to finish. How is that for inspiration?
By: Taylor Horn, Porch.com Blogger Relations Specialist
Looking for quick and easy DIY projects to tackle this summer? We challenged five of our blogger friends to show us their best home projects for under $15. From swings to an ottoman, you'll be amazed at what these Porch Bloggers came up with on such a tight budget.
1. DIY Wood Pallet Bed Swing by Restless Arrow
Amber blogs at Restless Arrow where she searches daily for inspiration, whether it be from her husband, children, or friends. If she's not at home, she is usually on a walk scouring the road for her next DIY project.
About the Project:
After dreaming of a bed swing for years, I quickly realized this could be an easy project. A little rope, some free pallets, and leftover wood made this a simple and VERY affordable project. Summer certainly would not be complete without starting every morning on this swing on our front porch!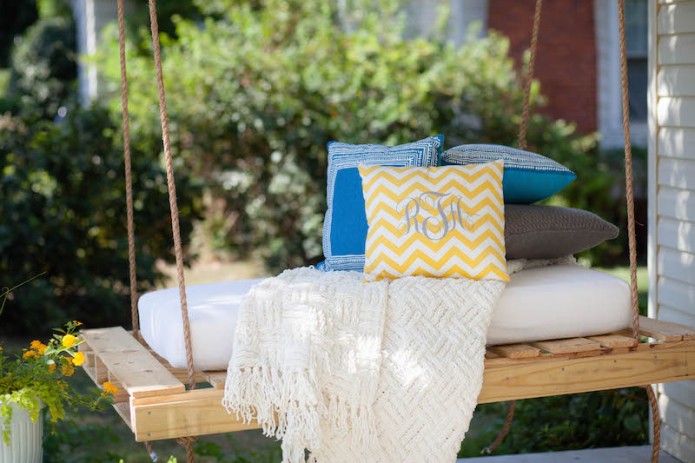 Complete tutorial at Restless Arrow
Meegan blogs over at What Meegan Makes, where she loves thrifting, finding vintage pieces, and creating something at hardly any expense. Loving the ocean while living in the desert, she tries to give her condo a beachy cottage feel.
About the Project:
Creating something under $15 always sounds fun to me. Since I love the ocean and all of its natural colors and elements, a sea glass tray was just what I needed. Using purchased sea glass, a tray I already had, and some school glue, I was ready to make my creation. I love the look it brings into our beach cottage in the desert.
Complete tutorial at What Meegan Makes
Ananda is a home and garden designer, artist, and lifestyle blogger at A Piece Of Rainbow, where she shares beautiful DIY projects and inspiring ideas from building furniture and making art, to living green with style.
About the Project:
Make a stylish and gorgeous ottoman from one coffee bean bag! Very little sewing required and it's almost free. The detailed tutorial will show you how to create a useful and unique piece of home decor in no time!
Complete tutorial at A Piece of Rainbow
Maria Provenzano is a Los Angeles-based lifestyle blogger specializing in food, beauty, crafts, and mom topics. On her site you can find original recipes, easy crafts, beauty tutorials, and inspiration on how to make your house a home.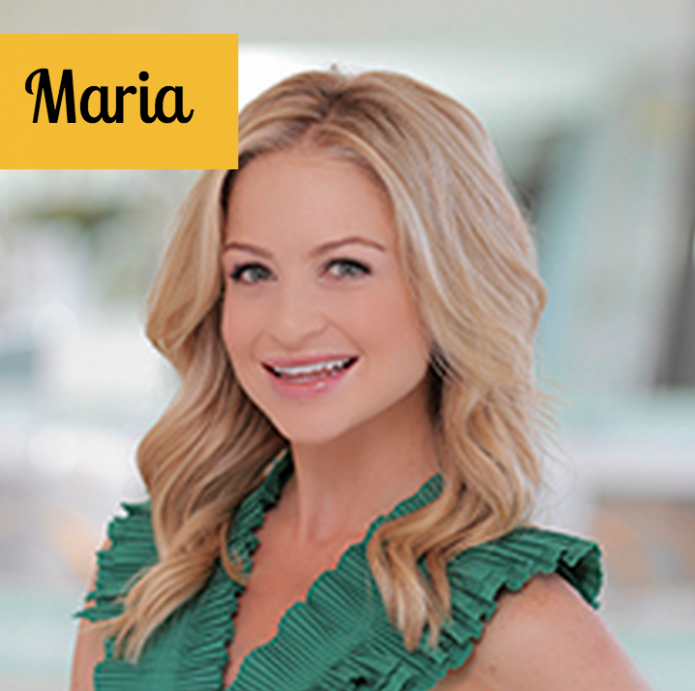 About the Project:
A busy life can mean a messy house! A little organization can make a huge difference. Adding a "drop spot" to your home as a place to put things, like keys and mail, is a way to "drop" items while still keeping the space clean. This can easily be created without spending too much money. With a message board, paint, and chicken wire, you can create a "drop spot" for your own home.
Complete tutorial at Maria Provenzano
Lindsay is the blogger behind DIY blog, My Creative Days. She's obsessed with old wood, rusty treasures and everything in between. She's passionate about finding frugal and creative ways to decorate her home, and creating fabulous crafts to do with the kids.
About the Project:
I love the challenge of making beautiful things for your home without breaking the bank, there are so many things you can do for under $15. I decided to share a quick and easy project I made to keep my summer essentials organized for the next few months. Not only did this project cost a lot less than $15, but it took less than 15 minutes to make! Inexpensive and easy to do. My kind of project.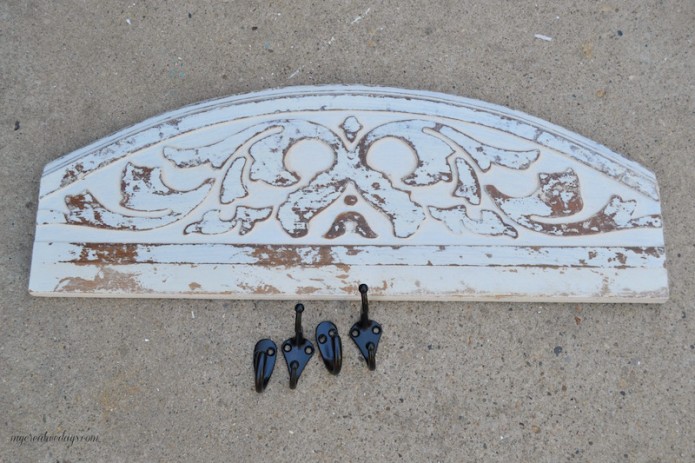 Complete tutorial at My Creative Days
Like these ideas? Give us a Pin!
Want to become a Porch Blogger? Learn more here and become a part of the family.
This article originally appeared on Porch.com