6 All Natural Products For Non-Toxic Sex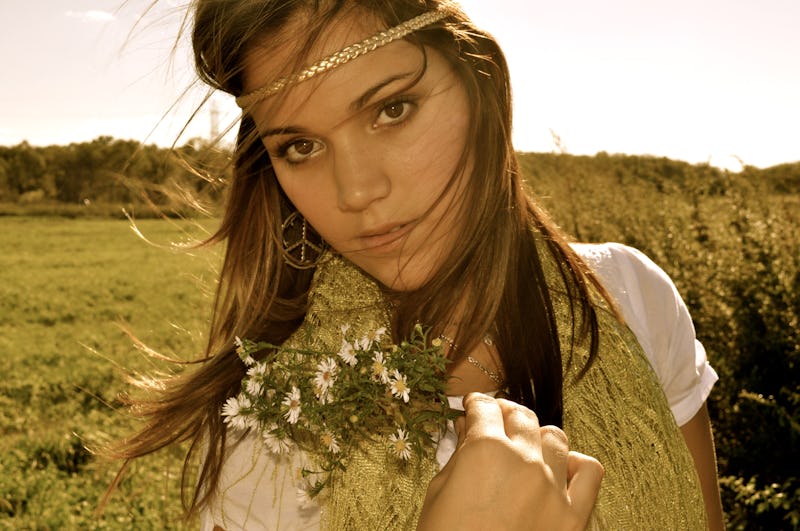 Newsflash: the vagina is hella absorbent. Considering that its ability to facilitate the continuation of the human race by sucking in sperm, that should come as a no-brainer. However, one thing that should be a no-brainer but is only recently getting attention is the fact that the super absorbent nature of the vagina means that it's also absorbing all kinds of nasty chemicals from sex toys and other sexual products. Why don't we have more all-natural sex products available? For some reason, the government closely regulates what we put in our bodies when it comes to food and drugs, but when it comes to what we put in our vaginas, there's not a whole lot of oversight.
So what's an eco-friendly, chemical-adverse lady to do? Give up vibes and dildos and lubes and be satisfied with fingers and spit alone? Some of us may be down for that but let's be real: a lot of us love our toys and plenty of us have trouble staying wet. Luckily, 2015 is shaping up to be the year of sexy eco-awareness, as more and more companies are getting on the non-toxic bandwagon.
The latest is an announcement from Sustain Condoms, my own hometown heroes, who've just launched a water-based, organic, all-natural lube. Unlike mainstream lubricants, Sustain's new product has no parabens, glycerine, petroleum, or propylene glycol. It's 95 percent organic and 100 percent vegan, gluten-free, can be used with latex or polyisoprene condoms, and has no silicone, dye, or animal testing. It also comes unscented or in lavender, if you wanna add a little herbal goodness to your sexy times.
But why stop at lube? There's no reason why all of your sex products can't be vagina and nature-friendly. Here are five more products that are good the earth, good for your body, and good for getting off.
Ursa Clear Glass Dildo With Handle, $115, Good Vibes
While a lot of sex toys are packed with nasty chemicals, this handmade artisanal dildo won't put anything into your body other than pure pleasure!
Fair trade, vegan, and sustainably sourced: Lovability condoms are the prophylactics you'll be proud to carry.
Lingerie is so often made of nasty synthetics that hurt the environment and scratch your skin, but when you buy a beautiful, handmade piece from Luva Huva, you can rest assured that your custom piece is made from bamboo, soy, organic cotton, or hemp and is dressed up with vintage lace and trims.
We-Vibe II Plus, $120, Amazon
For those of you looking for something special to share with a lover, We-Vibe's couples toy is totally body-safe and has no phthalates, latex, or BPA.
ContraGel Spermicide, $28, Amazon
One awesome thing about diaphragms is that they're hormone free, but a not awesome thing about them is that the chemicals in spermicide have been found to increase your risk of STIs. For a greener, body-safe option, check out ContraGel spermicide, which doesn't include nonoxynol 9 and is non-toxic, vegan, gluten free, and water based.
Images: Good Vibrations; Lovability Condoms; luvahuva/Etsy; We-Vibe; Ethical Family Planning; taylor.f11/Flickr