All Of Rihanna's "BBHMM" Video Looks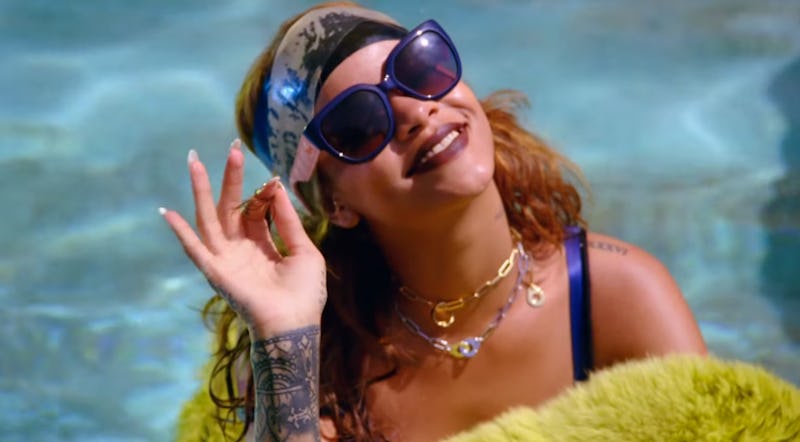 Hell hath no fury like a woman who has had money jacked! Rihanna goes gangsta and off the rails in her controversial, NSFW, kidnap-and-kill "Bitch Better Have My Money" video. A shady accountant steals her fortune and Rih's having none of it, forcing his wife to bear the brunt of her fury. Despite the violent, disturbing, and bloody content, Rihanna's fashions and style in the "BBHMM" video ping pong back and forth between street and chic.
The Bajan beauty exposes her raw side with her actions. But she cycles through sexy outfits and urban attire, including a denim patchwork trench that looks yanked right out of the continually resurgent '90s. She also goes with a sheer, feathered lingerie piece, too. For such a furious woman, Rihanna makes sure to exact her revenge while well-dressed.
I'm sure critics and some anti-violence advocates will lose their minds over how brutally Rihanna behaves in this video. But you cannot deny that she remains one of pop music's most unpredictable and fashionable stars. She's not pandering to anyone.
Yes, the video is way, way different than her Dior commercial, where she ran through Versailles in stunning couture.
If anything, this clip and the Dior spot show us just how multi-faceted and dramatic Rihanna can be.
Here are 11 of the looks she rocked.
1. Product Placement
She often wears Adam Selman creations and she pimped him out on her t-shirt.
2. Denim Diva
Rih paired a patchy denim overcoat with a knee-length skirt and bustier top. Very '90s.
Did you ever have a coat like dat?
3. Loafin'
Check out those loafers with the clear panels and heels. It's men's footwear done right.
4. Get The Red Out
Red hair, red eyes, and berry-stained lips. Rih's rage comes to the surface in her makeup.
5. Beret + Boots
RiRi topped her red curls with a beret. She also owned those over-the-knee leather boots, which were super '70s, IMO.
6. Yacht Chic
She donned feathers while cruising the high seas on a yacht.
7. Layers
She also wore a fitted, striped overcoat.
8. Shower Cappin'
During some hotel shenanigans, the singer wore a shower cap of sorts. With lipstick, of course.
9. General Badassery
Here's how you chill on a big boat.
10. Fits Like A Glove
Rihanna was unimpressed while rocking red leather gloves.
11. Poolside
Those purple shades and lock necklaces, though!
Watch the NSFW video below. There's some nudity and some raunchy activity. It's certainly not for the faint of heart
Images: YouTube (12)