Camp Superlatives For The Cast Of 'WHAS'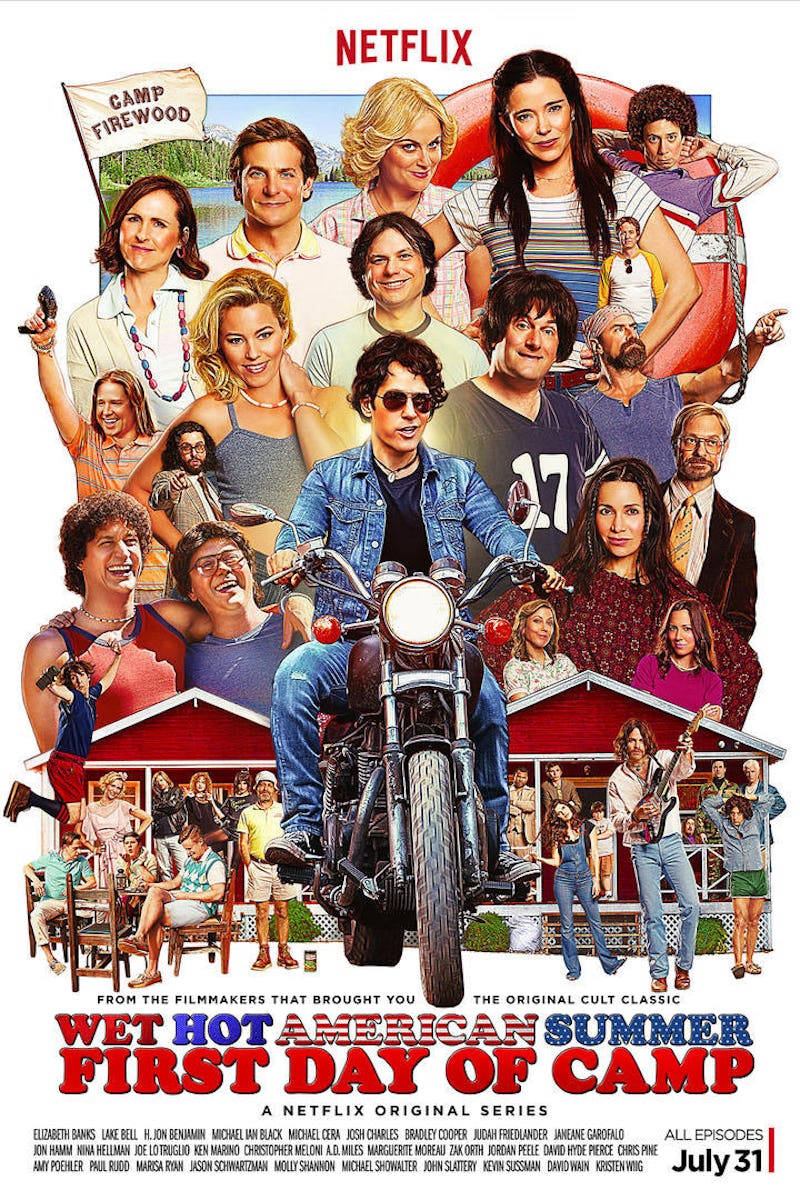 Netflix released the trailer for Wet Hot American Summer: First Day of Camp on Thursday, and it is absolutely magnificent. Seriously, every celebrity ever is in it, including (an impression of) Ronald Reagan. David Wain and Michael Showalter are bringing their iconic film back for an epic prequel, which will be a TV series, rather than a movie, gifting us with eight full episodes to start binging on July 31st.
Watching the trailer is an experience, first for the jokes alone ("Tell me you don't want to hack yourself off a slice of this long, greasy d***," Paul Rudd says, somehow managing to make it charming), and then for the endless stream of celebrity names. Amy Poehler! Bradley Cooper! The aforementioned Paul Rudd! Elizabeth Banks! Kristin Wiig! Jon Hamm? John Slattery? When did the cast of Mad Men go to summer camp? The list goes on and on.
Seriously, the trailer is an embarrassment of riches, and watching it makes you wonder how they managed to get all of these famous people together at once. I mean, Netflix's previous resurrection Arrested Development couldn't get all of its cast together at once, which resulted in some strange green screen action. So, in honor of this epic cast coming together and going back to their high school years, we have decided to give out a few some senior superlatives.
Most Likely to Make You Behave: Amy Poehler
Different tactics than Leslie Knope, but just as effective.
Most Likely to Kill You With Sexual Tension: Bradley Cooper & Michael Ian Black
"Nothing" is never nothing, Bradley.
Most Likely to Save Your Life and Then Ruin It: Paul Rudd
He has the face, body (thank you, Ant-Man!), and comedy chops of a total life ruiner.
Most Likely to "Ghost": Molly Shannon
Before "ghosting" meant gracefully ignoring someone's texts, it meant sensually sitting at the potter wheel imaging Patrick Swayze behind you.
Most Likely to Make You Wish You Were a Rowboat: Kristen Wiig
Row your boat gently down the stream... life is but a dream.
Most Likely to Get a D*** Transplant: Christopher Meloni
Ouch. (That's Jon Hamm doing the damage, BTW)
Most Likely to Crimp Your Hair While Listening to Madonna: Elizabeth Banks
With that cool girl stance and ultimate '80s casual outfit, this popular counselor would be your go-to girl.
See the trailer (and every celebrity who has ever been in a movie) below.
Images: Netflix (1) andyorhostkristenwiig (1), ramonajp (2)/Tumblr Giphy (4)