Will There Be A 'Minions' Sequel?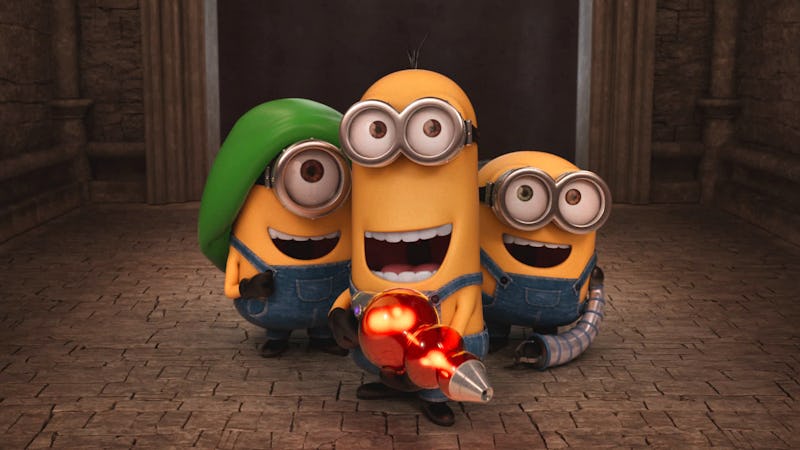 The Despicable Me franchise has managed to make itself a juggernaut in the world of animation, carving itself a little quirky universe with Gru and his three adorable little girls. The franchise has blessed us with a sequel (and a third installment on the way), a ride at Universal Studios, Pharrell's ubiquitous song "Happy", and, of course, those silly, gibberish-talking minions. This summer, those bumbling Twinkie-shaped creatures are getting their own movie appropriately titled, Minions. Is this the start of another franchise? Will there be a Minions sequel? So far, the signs are all pointing to yes.
Based on the success of Despicable Me and the fact that we are living in a cinematic world of spin-offs and sequels, there's a definite possibility of a Minions sequel being in the works. In an interview with The Shuttle, producer and animator Chris Renaud and producer Chris Meledandri mentioned that a Minions sequel could very well happen, with the site saying that it's certainly in the cards. The filmmakers said that the Despicable Me and Minions universe is so big that there are so many possibilities to expand on new characters. So why wouldn't they jump at the chance? Besides, they already have some actors in mind. Said Renaud,"I personally think it's fun to play against type. If you take a nice guy like Chris Pratt and put him in as a villain, that's always an interesting idea."
So could Jurassic World's Pratt be the next Minions supervillain? It's possible, but he might need to deal with some competition; Meledandri, apparently, wants Robert Redford to twirl his mustache as a villain in the films. Then again, perhaps the villains from Despicable Me and Minions could just return, instead. Meledandri said that "one of the things we've found about villains is that the nicer the actor, the better they are as a villain. Steve Carell and Sandra Bullock love playing villains, but it couldn't be farther from who they are."
If the filmmakers do go with an actor like Pratt for Minions 2, it's not as random a pick as it might seem; the casting choices for the franchise's movies have been consistent in terms of having a strong comedic actor play evil. There was Steve Carrell as Gru, Jason Segel as Vector, and now, Sandra Bullock as Scarlett Overkill and Jon Hamm as Herb. Having a actor inject humor into a role that is normally menacing is an approach that the filmmakers clearly enjoy doing. Some movies have an anti-hero, but these movies have an anti-villain. Someone who is evil, but in a weird way, totally likable — a balance that can only can happen in the world of Gru and the Minions. We would welcome someone like Chris Pratt as a villain in Minions 2 with open arms.
And the filmmakers' casting wish list may come true considering the traction Minions is already getting overseas. Since it opened abroad on Jun 11, it has already raked in $124.2 million internationally. According to Variety, it set a record for the biggest opening day for an animated film in Germany, Spain, Argentina, and Colombia. It looks like Australia really loves the yellow jibber-jabbering misfits the most because it has been the top movie there, making $15.1 million in two weeks. It's probably safe to say all this money bodes well for its U.S. opening — and gives plenty of financial momentum for a sequel.
And what a sequel it could be. The movie out now serves as a prequel to Despicable Me — an origin story, really. At the end of Minions (spoilers ahead!), viewers see Stuart, Kevin, Bob, and the rest of the fellas meet a very young (and adorable) Gru in his early stages of becoming the next big super villain. It would be fun to see the early adventures of mini-Gru and his minions in another film. We get a taste of their silly relationship during the closing credits of the movie, and it's so entertaining that it makes you want way more of their world domination shenanigans. Plus, based on the ending, I have a feeling that we haven't seen the last of Scarlet Overkill. To see her go head-to-head with Gru and his minions during his high school years would be the perfect. It would complete the Despicable Me universe!
Images: Universal Pictures (2), Giphy