When Will 'Maleficent' Be On Netflix?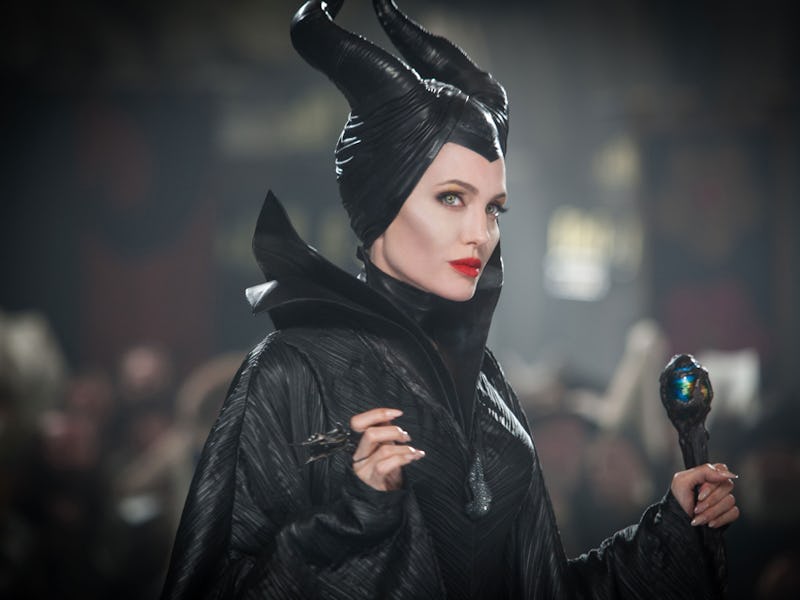 Of all the characters that Angelina Jolie has played, it seems like it she was born to play the title role in Maleficent like it was written in her DNA. The severe cheekbones, the piercing eyes, the blood red lips, and the towering black horns — the actress works it like no one's business. In a surprise to no one, the movie scored high marks with critics and audiences, and it's currently available for purchase and rental on digital download, DVD and Blu-ray. But when will Maleficent be available on Netflix? It's already there in some other countries; Aussies are lucky enough to enjoy Maleficent along with other Disney titles on the streaming service. For those of us living stateside, though. it might be a little while — 2016, to be exact.
Considering what a must-see the movie is, the wait for it to arrive on the site is certainly frustrating. Showing us the another side of the story of Sleeping Beauty, Maleficent tells us the story of Maleficent, a fallen fairy who sets out to put a curse on a baby princess as an act of vengeance. Turns out that Maleficent wasn't treated so kindly when she was younger, which is why she is a little peeved about things, to say the least. Yet she's just misunderstood, and not as evil as we're led to believe.
Many fans got to enjoy the film in theaters, but as said, it hasn't yet arrived for streaming. In 2012, Disney signed a deal with Netflix where it would become its "exclusive U.S. subscription television service," but it won't happen until 2016. Only then will we be able to have access their catalog of titles, Maleficent likely included. If you're desperate to watch in the meantime, you can purchase or rent the movie on DVD (or, you know, move to Australia), but if you can manage to wait, stream any of these eight movies about strong heroines and villainesses to satisfy your need for Maleficent:
1. Charmed
If you need a witchy fix, then marathon this cult favorite of three sisters who happen to be witches (the good kind) fighting off the forces of evil in some of the best fashions of the late '90s.
2. Carrie
Of all the ladies on this list, Carrie could probably relate to Maleficent the most. Based on the Stephen King novel, Carrie shows what happens when you have untapped power and you unleash it after being bullied, oppressed and emotionally abused. Spoiler: it doesn't turn out that well. The 1976 original starring Sissy Spacek isn't streaming, but the Chloe Grace Moretz remake will definitely do the job.
3. Heathers
Another cult classic for all you Swatch Watch dogs and Diet Coke heads out there. Heathers is a cautionary and darkly humorous tale about how treating people the wrong way can have its consequences.
4. Mean Girls
It's basically Heathers for the 21st century complete with Lindsay Lohan and one of the smartest and funniest scripts written by Tina Fey.
5. Mulan
Mulan's story arc mimics Maleficent. She feels like she has more purpose than what is expected of her. She then becomes something totally different and then is banished from society. But in the end, she is seen as a hero. You go, girl!
6. Teen Witch
Another delightful witch movie on the list — and this one has a lot of dancing and one of the most iconic rap scenes in history.
7. Buffy the Vampire Slayer
Buffy fights off the forces of the Hellmouth throughout the series, but there are times when she blurs the lines of good and evil just like Maleficent. Also, you don't need an excuse to marathon this. I did it in one and a half months.
8. Once Upon A Time
If you want to see another version of Maleficent played by the glorious Kristin Bauer van Straten, watch this fairy tale action soap opera on ABC. It only makes sense.
From fantasy to comedy, there are enough movies and TV streaming on Netflix to make the wait for Maleficent a little easier.
Images: Walt Disney Pictures (2); Warner Brothers (2); Sony Pictures; Paramount Pictures; Giphy (2)